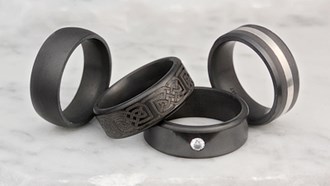 New Trend Alert: Solid Black Diamond Wedding Bands
October 16, 2015
The Hottest New Trend
in Men's Wedding Bands!
Follow my blog with Bloglovin
Men's wedding bands are anything but simple these days, and we couldn't be happier about that. Though traditional white or gold metal rings are still popular, newer offerings from trailblazers like
Lashbrook
come decked out in intricate patterns and made of alternative materials like
meteorite
,
Damascus steel
and even wood.
see the full article