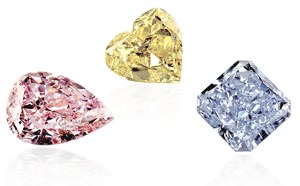 Fancy Colored Diamonds 411
August 12, 2015
Want a Fancy Colored Diamond? Then Read This!
Jenny McCarthy. Carrie Underwood. Jennifer Lopez. Kelly Clarkson. The list of celebrities who have rocked fancy colored
diamond engagement rings
is long—and it's easy to see why. These rare, tinted stones add an exotic touch to a treasured piece of jewelry, and since each one is unique, you're guaranteed a one-of-a-kind creation. What woman doesn't want that?
Luckily, you don't have to have an A-lister's bank to buy a fancy colored diamond (FCD). Though natural, untreated ones are pricey—especially in ultra-rare blue—there are plenty of lower-cost options that are just as beautiful. Here's what to know before you shop for one of these colorful sparklers.
see the full article