Krikawa Gift Certificates
The absolute best way to say I Love You! Help your loved one create the most meaningful piece of jewelry they will ever own. Purchase a Krikawa Gift Certificate to create your meaningful keepsake!
Read below for Terms and Conditions.


Can't decide on the perfect item to surprise someone you love? Give a Krikawa Gift Certificate and let them design their dream piece.

The perfect gift for any occasion or put it toward re-designing your engagement ring to reflect your more mature status.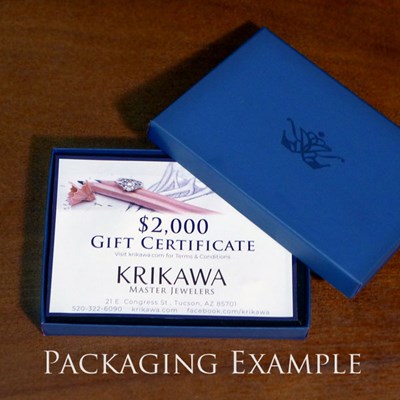 Gift Certificate Terms for Purchase & Use
•To purchase a gift certificate, you will need to register an account with us through our website.
•All certificates are registered with a unique number and delivered electronically to the email address provided at the time of order. We are not responsible if you enter the email incorrectly and someone else uses the certificate.
•Certificates do not expire and are not subject to transaction or dormancy fees.
•Certificates cannot be purchased and applied to orders already in production with us. An order is deemed "in production with us" if a deposit payment has already been made. Certificates may be used for new orders only.
•Certificates are non-refundable, cannot be reloaded or resold. We do not exchange gift certificates for cash, except as required by applicable law.
•The certificate balance is applied to the final payment on your order, not the initial deposit. Only one (1) certificate may be used toward the purchase of a single item.
•Certificates may not be used toward sales tax, shipping, appraisals, repairs, samples, center stones, initial deposits, or to purchase gift certificates. Gift certificates that are purchased with a discount code or during a special promotion may not be combined or redeemed with any other discounts or special promotions.
•Please email accounts@krikawa.com or call 1-888-574-5292 to check the balance on a certificate.
•We reserve the right to cancel a certificate if we suspect that it was obtained or used unlawfully or in violation of these terms.
•The laws of the State of Arizona, without regard to principles of conflict of laws, govern our gift certificates. If any provision or part of these terms is unlawful, void or unenforceable, that provision is deemed severable and does not affect the validity of the remaining provisions. We will notify you of any changes to these terms by email and on our website.