Unique Engagement Rings
Handcrafted For Women, Exquisitely Different

Are you ready to take the next step and propose? Look no further! At Krikawa, you'll receive a luxurious experience in creating your unique engagement ring for a woman, a symbol of love your partner will cherish forever. Looking for unique men's engagement rings? Not to worry, we make those as well!
Explore Unique Engagement Ring Collections
Explore our best-selling and most popular engagement rings for women! If you're seeking something truly one-of-a-kind, our artisans can craft custom engagement rings tailored to your vision. We're all about celebrating love, and our best sellers are ready to steal the show. Discover designs that have captured hearts and become fan favorites, with each gemstone whispering tales of everlasting love.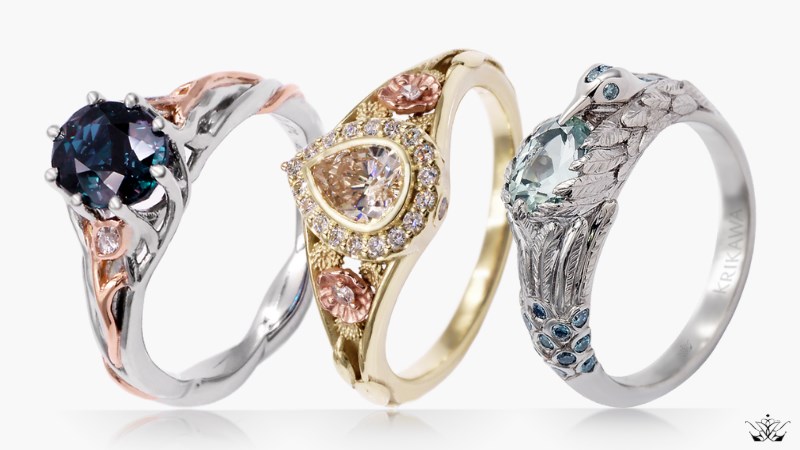 Embrace the beauty of the natural world with enchanting designs featuring branches and diamond leaves, blooming roses, exquisite flowers, and captivating creatures of the air and sea. These rings are a poetic expression of your love's connection to nature's wonder.
Blue sapphire, pink diamond, and aquamarine featured here are lovingly held by halos, feathers, and branches, a daily delight for the lucky wearer.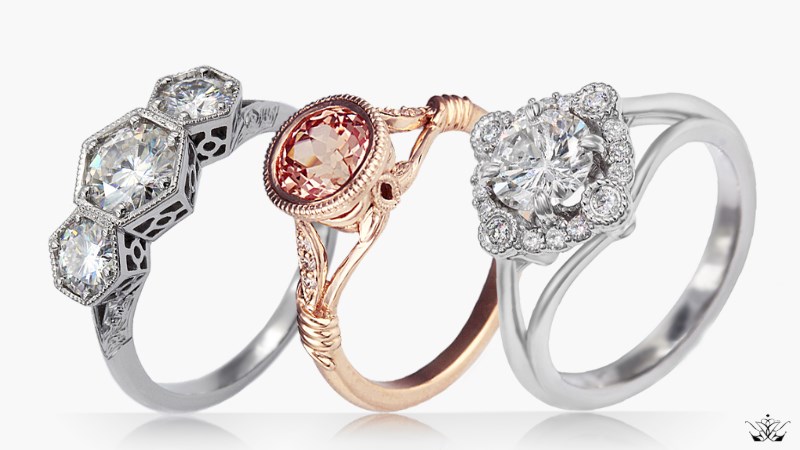 Step into a world of timeless elegance with our reimagined vintage collection. This exquisite jewelry collection draws inspiration from the most stunning elements of antique rings, ensuring your sapphire or diamond engagement ring becomes a cherished heirloom for generations. Emeralds, a favorite stone choice in this collection, add an aura of classic charm.
Whether it is a three-stone ring, a solitaire, or a halo design in white gold, peach sapphire, or rose gold, your ring will come to life.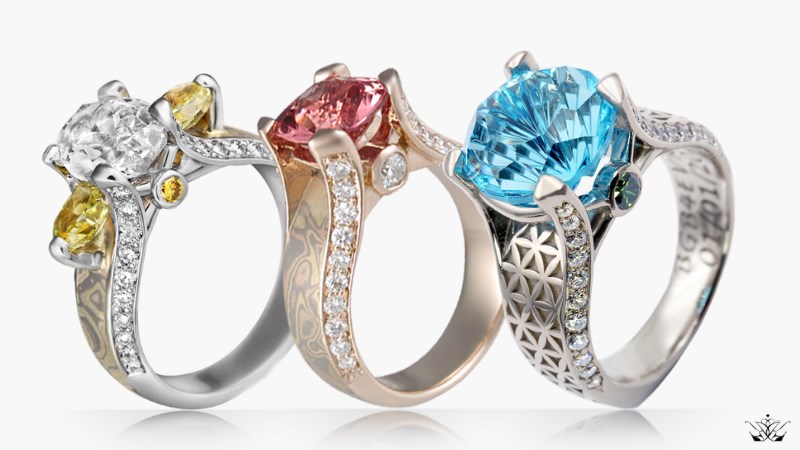 Get ready to be mesmerized by our jaw-dropping designs, creatively incorporating curves and secret symbols into a work of art that would captivate even the genius of DaVinci. These women's rings are an ode to luxury and opulence, celebrating your love with grandeur.
Fancy yellow diamonds, mokume gane, and pave set diamonds scream luxury in this exquisite collection. Take them as inspiration, or personalize one of our designs to your taste.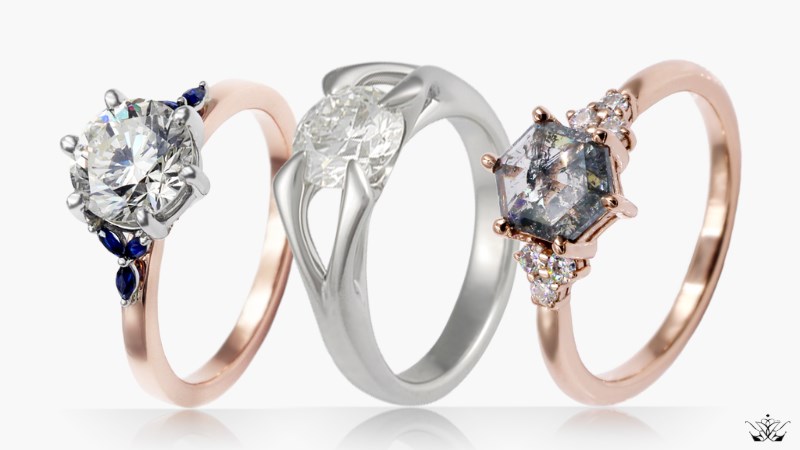 Our unique solitaire designs redefine classic elegance. Bold, innovative, and petite, these rings transform traditional choices into something original and true to the woman you love, making a bold statement with a touch of sophistication.
Unique gemstone choices make these designs shine:
Moissanite
, a lab-created or salt and pepper diamond, might make your ring stand apart. They're great diamond engagement rings for women, as well!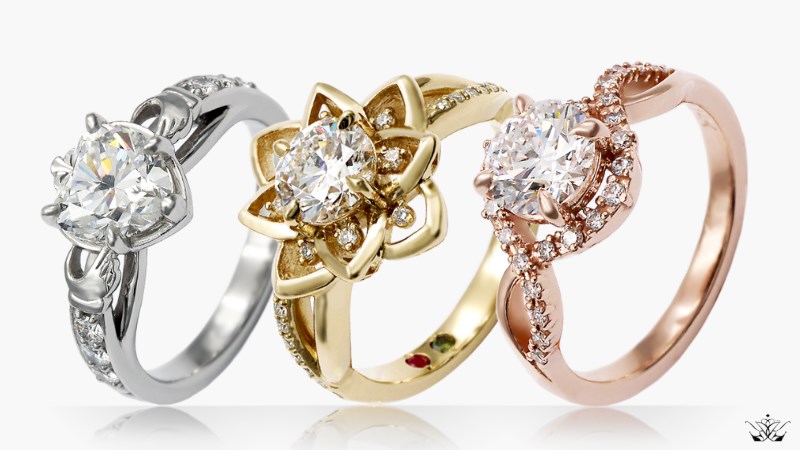 For those who dare to be different, we offer a collection of unique and unusual rings reflecting your inner being and individuality. Extraordinary diamonds add a touch of brilliance and rarity to these exceptional rings.
The quickly growing demand for lotus, infinity, twist, and music-inspired rings keeps us on our toes!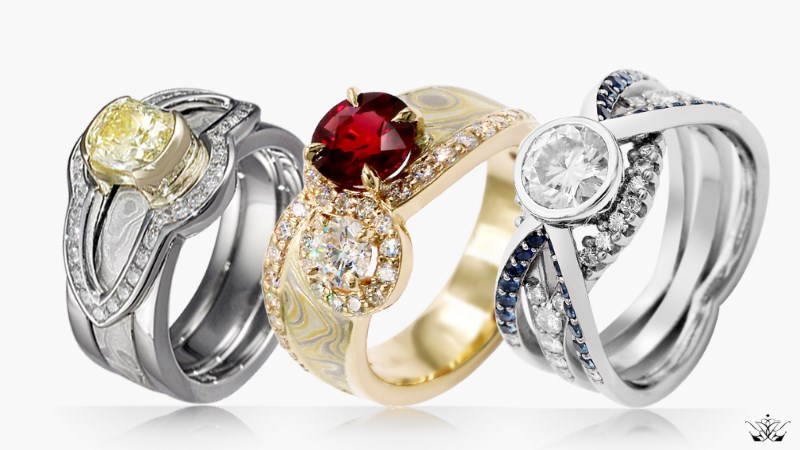 Embrace your creativity and love for all things imaginative with our non-traditional collection. This collection inspires the bold soul with fantasy, architecture, space, and artistic creations.
Whether a two-stone ring called Toi et Moi or a galaxy-inspired ruby and diamond mokume ring calls your woman's name, your true inspiration may start from this collection.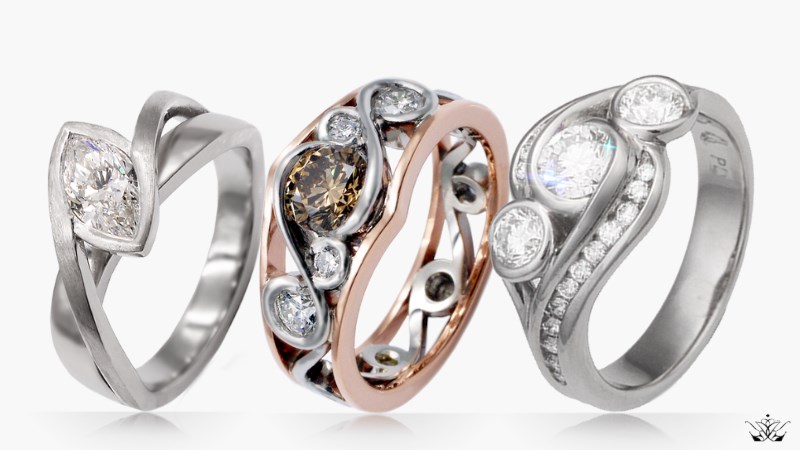 Simplistic elegance takes center stage in our modern engagement ring collection. With perfect lines, curves, and negative space, these rings encapsulate the essence of contemporary jewelry design, capturing the beauty of simplicity.
The Bauhaus movement deconstructed design into the simplest forms, and this modern collection does the same. Is it a bypass, a semi-bezel, or a three-stone you desire? Let our designers pare it down to the perfect line.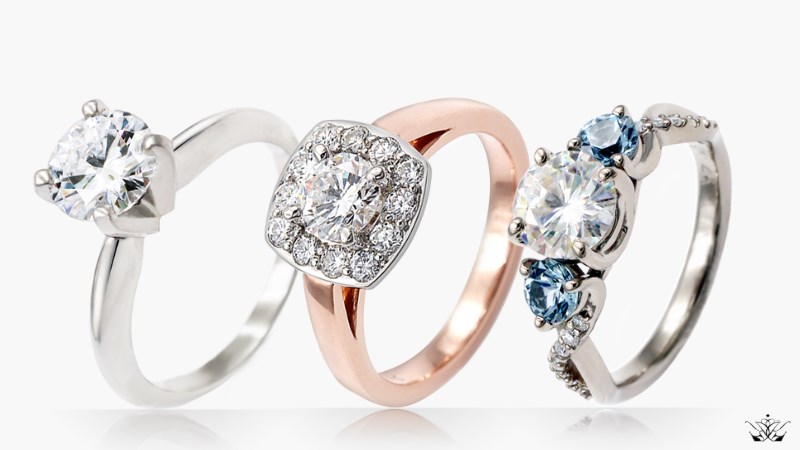 Tradition never goes out of style, and our classic engagement rings are a testament to that. Timeless diamond rings in white gold, rose gold, or platinum have a special place in the hearts of jewelry enthusiasts, transcending generations.
Perfecting a simple solitaire, creating the perfect halo, and handcrafting a simple but elegant three-stone are challenges we delight in.
---
Why Choose Krikawa?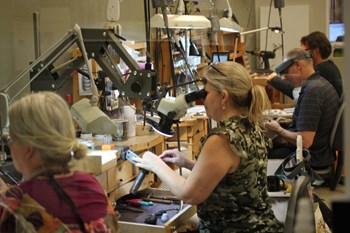 Finding the right engagement or wedding ring can be challenging when you have countless options. Krikawa offers a solution by personally helping you craft a uniquely customized ring that captures the essence of your special love story.
With a legacy of helping over 15,000 couples worldwide, an outstanding 5.0 on Google, numerous design awards, and a satisfaction guarantee policy, Krikawa is your trusted guide to handcrafting the perfect ring.
Your path will include one of our expert guides, whether you opt for the complimentary consultation service or order online and remain digital. Either way, you'll have a dedicated Krikawa guide working with you to create your unique ring that symbolizes your love's beginning.
Schedule your consultation now or browse our portfolio of starting point ring ideas. Experience the pride of wearing an exquisitely crafted ring forged from the fire of your love, soon to become a cherished heirloom.
---
Here's a Sneak Peak at our Favorite Unique Engagement Ring Styles
Imagine the Design Made for You with Your Favorite Gems and Metals
We have hundreds of different unique engagement ring styles and dozens of collections. Here, we're showcasing our favorite unique engagement ring designs for you to gain inspiration from. Every design can be made in any precious metal and gemstone combination, personalized just for you.

This elegant design evokes an extravagant feeling with bold lines and intricate details.

As a symbol of new beginnings, this custom engagement ring is a beautiful start to your next chapter in life.

Elegant and whimsical, this nature-inspired design features leaves and flowers that beautifully frame the center stone with a brilliant halo of diamonds.

Petite vines and leaves accent this nature inspired engagement ring.

The brilliant pear diamond stands out proud while being supported by champagne clusters of diamonds.

A herald of spring and symbol of perseverance and hope, petite plum blossoms are scattered across the top and sides of this hand textured floral engagement ring.

Fresh, simple lines showcase your center stone to perfection, accented with brilliant pave set diamonds.

This lovely halo engagement ring features a prong-set center stone surrounded by a halo of diamonds or gemstones in a square head.

Create your own unique, vintage-style leaf ring with the gold and stones of your choice.

A secret halo of diamonds sits below your center stone on this modest yet intricately adorned handcrafted engagement ring.

A classic design gets a special Krikawa twist with a comfort band, fishtail set diamonds and a peekaboo diamond side stone set within the elegant cathedral beneath the center stone.

A thin band swirls around the bezel in this asymmetrical engagement ring. Paved gemstones are set by the center stone.

This handcrafted ring features a Mokume Gane band and a subtle taper meeting a solitaire stone. Simple and enchanting, this wedding band is made to order.

This mokume engagement ring has a silhouette of paved diamonds. The center stone is set into a rolled semi-bezel. The band curves and tapers towards the palm-side. 0.36 ctw accent stones.

Sculptural prongs set a cushion-cut sapphire into a Mokume Gane band adorned with diamonds. This unique handcrafted engagement ring is made to order.

Similar to its predecessor, the Carved Curls Engagement Ring, this luxury ring's band is inlaid with mokume gane.

This handcrafted ring is made to contour to your flush-set stone. Mokume and channels of accent stones make this ring spectacular.

Inspired by Frank Lloyd Wright's famous designed home, Fallingwater, This beautiful engagement ring features four round and two princess cut stones.

Delicate little leaves sparkle with dollops of precious stones. A prong basket crafted of leaves cradles your stone of choice and shines bright in this cathedral-style setting.

Symbolic of your eternal love and growth, this simple tree branch engagement ring showcases your solitaire stone within elegant branches that rise up from the band.

As you walk through the forest, beams of light twist around the trees. The organic patterns of the branches twist and curl into each other.

This designer engagement ring has a princess-cut diamond set diagonally to its mokume band. The sharp lines of the princess-cut and the angled taper of the band make this a modern ring.

Double the artistry with this mokume engagement ring featuring two center stones embraced by a bridge of pave diamond accents.

Luxurious and sculptural, this is the three stone version of our signature Juicy Light Engagement Ring.

A true work of art that will last a lifetime and become that special heirloom piece you treasure for generations.

This vintage engagement ring is elegant and floral with hand-carved scrollwork design for an airy, lighter feel. The rose petals wrap and embrace the center solitaire stone.

A remarkable design that combines nature and symbols of your eternal love.

Luxurious details and impeccable craftsmanship unite in this vintage style engagement ring.

Inspired by Moulin Rouge, this stunningly intricate handcrafted engagement ring scaffolds to hold your wedding band with delicate diamond paved curls.

Inspired by royalty during the Elizabethan Age, this ring is fit for a Queen. Opulence exudes with pave diamonds embellished on every angle.

This open lotus mandala design celebrates the peace you found with your partner. In Hinduism mantras, the lotus is a symbol of enlightenment.

Our wider mokume gane ring design, adorned with accent diamonds, highlights the sculptural beauty of the lotus. Your favorite diamond or gemstone nestles within its delicate petals.

A lion's mane symbolizes majesty, courage, and spirituality.

Brilliant diamonds float like bubbles around the large center stone!

Be transported to the grand parties where the stars and champagne sparkle. The extravagance of this ring showcases a classic tale of opulence and love.

A beautiful blend of angles and curves, this deco design is ready to be customized in the metals and stones you love!

Inspired by vintage jewelry, this ring resembles the fashion of the gilded age.

A beautiful combination of interesting shapes, accents and details!

With a Luxurious profile, the bold stone takes center stage, being raised up by two-toned prongs.

Glamourizing an Irish classic is the Beaded Claddagh Engagement Ring.

Each love story is unique like each snowflake that falls from the sky.

Grow your love in a garden she will wear every day! Shown here with an oval pink sapphire. What sapphire or diamond would you love in your flower halo engagement ring.

Delicate and elegant, this vintage inspired engagement ring is intricately handcrafted and made to order with classic swirls and paved diamonds.

A towering Gothic cathedral can now be worn with this hand-crafted engagement ring.

 The ring shimmers and sparkles with clusters of diamonds. Bubbling bezel accents flow underneath a prong setting.

The flowing band wraps around the center stone with channels lined with diamonds. The two side stones are wrapped in elegant bezels of their own.

Woven with love, this unique ring features a trinity of polished and diamond or gemstone accented bands.

A river of spinel gemstones flows beneath the stunning lab-created alexandrite!

An organic flowing design, the Carved Wave Engagement Ring winds gracefully around your finger and around the diamond or gemstone in waves and eddies.

Two sets of branches unite in the center of the Carved Branch Engagement Ring, representing unity and growth. This airy but substantial design fits round diamonds or sapphires.

This unique contemporary engagement ring is designed to scaffold around a wedding band (priced separately). The wedding band cleverly slides in between the two plain bands of the engagement ring.

A simplified, modern version of our classic River Twist Engagement Ring this engagement ring features a solitaire stone set at an angle and suspended above a polished band.

Unique Modern Engagement Rings Designed around your Diamond or Sapphire. Award Winning and Unusual Designs.

Wear the song that sings to your soul!

An intricate woven knot emerges from the solid band and frames the center stone.

With a crown setting and heart-shaped stone inspired by a Claddagh, this Celtic engagement ring's band is a traditional knot carved from precious metal.

This intricate engagement ring features a carved hummingbird with gem accents and wings cradling a center stone, handmade in the stones and metals you choose.

This handcrafted ring is made to contour to your flush-set stone. Mokume and two channels of accent stones make this ring spectacular.

Be bold and brilliant with this dynamic engagement ring.

Clean lines and beautiful symmetry enhance the large center stone in this vintage deco design.

The Diamond Orbit Engagement Ring is a celestial work-of-art. Have it with a raw diamond or pearl, with your favorite accent stones flush-set in the band.

Dazzle her with diamonds that glitter like raindrops on this double-band engagement ring!
Engagement Ring Guide

Diamond Engagement Rings
Make an educated diamond selection with the help of your design consultant, or gain insight from our Diamond Buying Guide. Your diamond will shine with your love and reflect your style and personal values.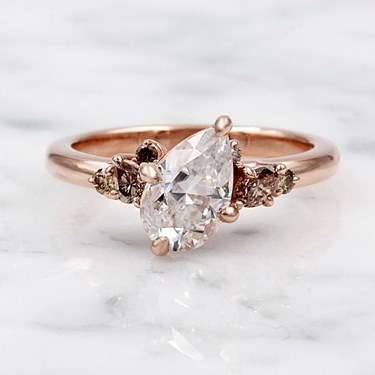 Diamond Shape and Size on Hand
What do different diamond shapes and sizes look like on a hand? Check out our
diamond shape chart
. What shapes are available in natural GIA-certified diamonds? Check out all the
diamond shapes.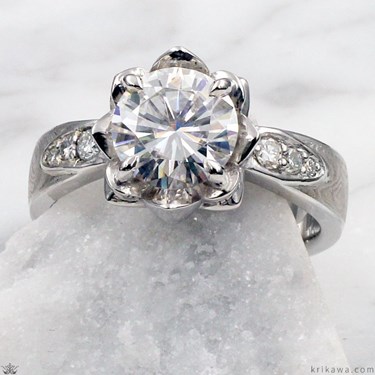 Lab-Created Diamonds
Growing in popularity, lab-created diamonds are available in various shapes and sizes. Express your love with an affordable diamond grown in a lab, not in the earth.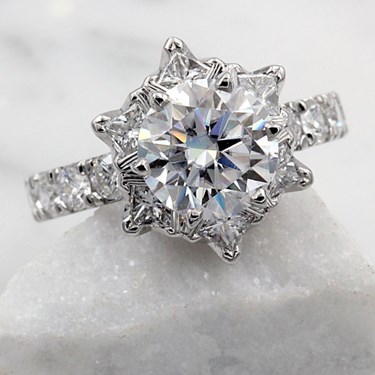 Comparing Diamond Alternatives
Moissanites are a popular alternative to diamond. Learn more about Moissanite and other alternatives like white sapphire and cubic zirconia.
---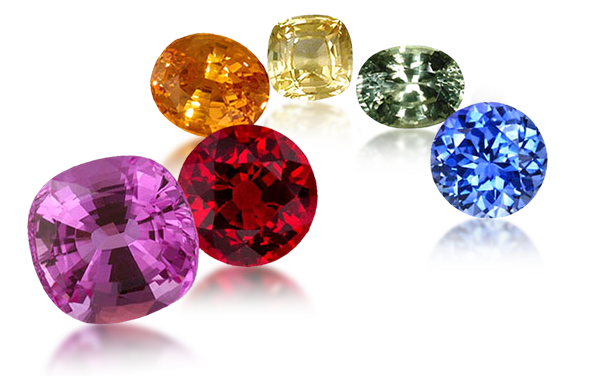 Sapphire and Gemstone Engagement Rings
Make a statement with a favorite color or gemstone. Select your stone from our incredible online collection, or let your design consultant scour the earth for the perfect gem.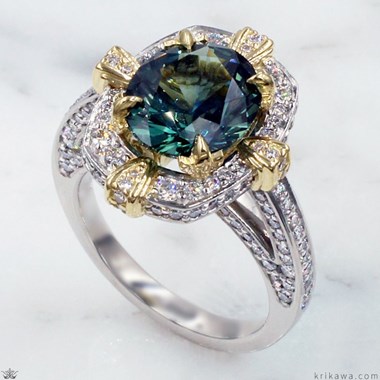 Sapphires: A Rainbow of Colors
Did you know that sapphire comes in many colors, including green, pink and yellow? Learn more about blue and fancy-colored sapphires, and search our extensive inventory of exquisitely cut stones.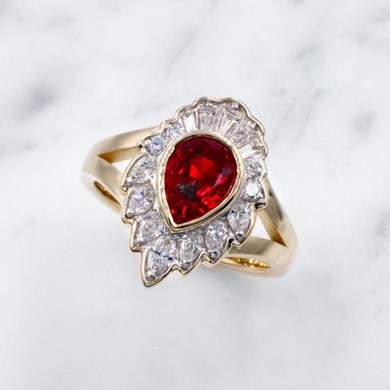 Lab-Created Gemstones
Rubies and emeralds are not just for royalty. Be your own queen and choose a rich ruby. Whether natural or lab-grown, the timeless red will inspire you for a lifetime.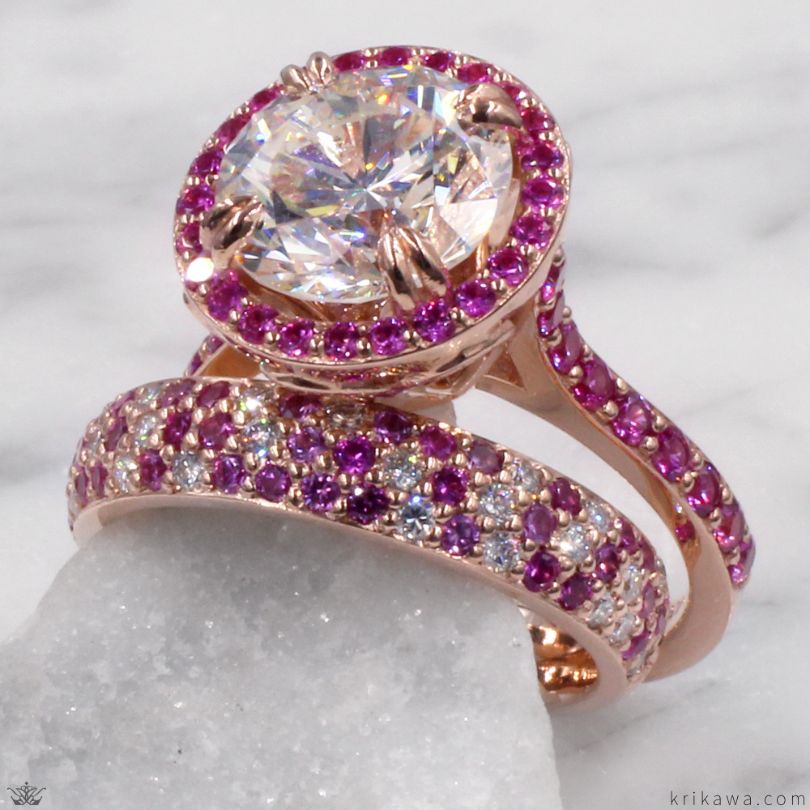 Accent Stone Choices Galore
Bring your splash of color with accent stones! Whether fancy colored diamonds or blue and pink sapphires, colored accent stones can make a statement and dazzle your ring.

The Engagement Ring Design Process
Finding the perfect bridal ring can be overwhelming, but with Krikawa, the design process becomes unforgettable. Create a unique, handmade engagement ring for a woman that reflects your style and taste, symbolizing your everlasting love and devotion. Each couple deserves a unique piece of jewelry, which is why we specialize in crafting beautiful engagement rings for women and men that are timeless and unforgettable, regardless of whether it's a popular delicate style or a more avante-guard bezel style.
1. Gain Inspiration from our vast portfolio of unique engagement ring styles.

These are just starting point ideas! We do not stock any inventory; your ring will be made one at a time just for you.
2. Book a Complimentary Design Consultation OR order your selected style through the Shopping Cart.

Either way, a dedicated Design Consultant will help you finalize and confirm your choices.
3. Receive your exquisite heirloom and tell your love story and your unforgettable, joy-filled experience with Krikawa.

Enjoy it every day for the rest of your life together.
Rest assured, our master jewelers can handcraft any ring style with any stone shape and customization. Our materials are of the highest quality, including unusual gemstones, diamonds, and precious metals. The result is a one-of-a-kind masterpiece, as no two rings are ever alike.
How to Design Your Own Ring
Let us guide you on the path. Our extensive custom ring guide can help you make choices one by one. If you prefer "face-to-face" our dedicated design consultant will walk you down the path.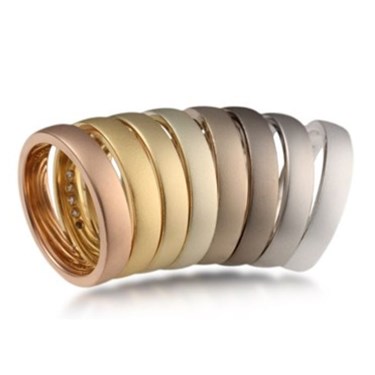 Precious Metal Choices
Choose the precious metal color that you love and that serves your lifestyle. Working with Krikawa gives you an extensive palette - from rose, white and yellow gold to green gold and platinum!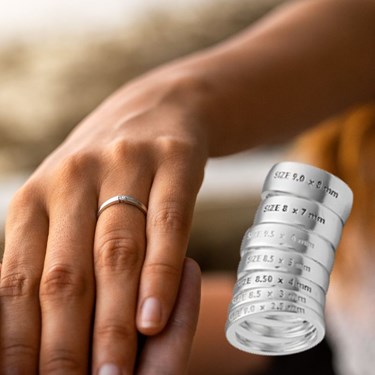 Ring Size Perfected
You want your custom ring to fit perfectly. Krikawa's exclusive ring sizing process assures that! We'll send you sizing rings in the size and width you want, so you can confirm a perfect fit for your hand.
Experience the Joy of Creating
Designing your engagement and wedding rings with Krikawa is an experience. The process of crafting a ring that perfectly embodies your love story is both joyful and meaningful. It's a celebration of your unique bond and an expression of your devotion to one another. Our expert team will guide you through every step, ensuring your vision becomes a reality. Witness the transformation of raw materials into a breathtaking symbol of your love, and relish the joy of creating something your partner will cherish for a lifetime.
Unleash Your Imagination - Create an Unforgettable Moment
Celebrate your love with a beautiful, one-of-a-kind engagement ring that perfectly captures your unique story. Visit our custom engagement rings page to learn more about the easy design process and start creating the ring of your dreams today!
A vintage-style emerald engagement ring or nature-inspired gold diamond cluster engagement ring awaits your command. Are you looking for an art nouveau marquise diamond ring or a black diamond halo engagement ring? These are the words that inspire and delight our designers!

Perhaps it's a delicate champagne diamond engagement ring or a 14k rose gold blue sapphire engagement ring you're looking for? Whether you want a woman's white gold wedding ring for the perfect bridal set, a vintage floral design with grey diamonds, or a fantasy diamond signet ring, it's all in the realm of possibilities.


Your Love Is Unique - Your Ring Should Be Too
At Krikawa, we understand that your love is one-of-a-kind, and your forever ring should reflect that uniqueness. Each woman's engagement ring and wedding band we create is carefully handcrafted to order, ensuring every detail meets your preferences and desires. You can start with one of our portfolio designs or let your imagination run wild with a concept from scratch. Choose the perfect diamond or gemstone that speaks to your heart, and personalize every aspect of the ring to create a symbol of love that is truly yours.
The Krikawa Difference - A Luxury Ring and Experience
The Krikawa difference lies in our commitment to providing a personalized and exclusive experience. Our experienced design consultants are passionate about bringing your dream ring to life. Collaborate with them to create the perfect design that resonates with your style. Witness the transformation of your vision into reality as our skilled jewelry artisans meticulously craft a sparkling symbol of your everlasting love.
Choose Your Perfect Center Stone
The center stone is the heart and soul of your engagement ring, and we offer an array of stunning options. Whether you prefer GIA-certified white diamonds for their brilliance, conflict-free diamonds for their ethical appeal, or the alluring colors of gem-quality sapphires, we'll uncover the perfect stone to suit your taste and preferences.

Because of our virtual inventory of unusual diamonds and gemstones, you are not limited by what we own. Your design consultant will carefully curate your stone options.
Should you choose a classic or unusual stone cut? From round brilliant cut diamonds, pear cuts to rose cut diamonds, and European cuts to Asscher, your classic or rare cut is just one free design consultation away.
Curious about lab-created diamonds vs. natural diamonds? Wondering about Moissanite? We'll help you make the best decision for you, and whether grown in a lab or grown within the earth, your white diamond will have certification boasting its origins, either way.
Are you thinking of a non-traditional stone? From salt and pepper diamonds to moss agate or pearls, our creative consultants are excited to make your dream a reality. Know that you'll receive guidance and education if choosing stones with lower durability than diamonds and sapphires.
Already have a cherished heirloom diamond? No problem! We can create the perfect diamond engagement ring to complement your woman's precious stone.
For those seeking a touch of elegance and rarity, we also provide an internationally curated collection of natural fancy-colored diamonds, color-enhanced diamonds, and lab-created fancy color diamonds that exude timeless beauty.

What type of ring setting is perfect for your chosen stone? From prong settings to bezel-set and unique sculptural settings that scream "I'm one-of-a-kind!" our artists and illustrators will work with your vision to design a ring setting that suits your aesthetics and lifestyle.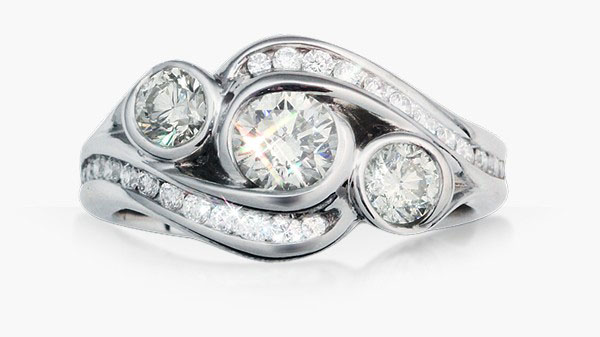 Start Designing Your Dream Ring Today
Book a free design consultation with us today and embark on an extraordinary journey of creating the most meaningful jewelry you'll ever wear. Our passionate design consultants will guide you through the process, helping you discover the perfect setting, band, finish, details, and accent stones for your ring. Witness your dream ring come to life with every detail carefully crafted to perfection, leaving you with a symbol of love that your family will cherish for generations.
Our caring and knowledgeable design and diamond consultant will collaborate with you to create unique rings that will tell your story. Book your consultation today and prepare yourself for an experience of a lifetime as you embark on this memorable journey with Krikawa Custom Jeweler.

Raving 5-Star Reviews!
With over
10,000 happy couples worldwide
, our reputation speaks for itself. We take immense pride in delivering exceptional customer service and world-class design. Our customers' rave reviews testify to the passion that goes into every unique ring we create. Experience firsthand why our customers love us.
BBB Ethics Award Winner
Krikawa takes
responsible practices
seriously. Our Ethics Award from the Better Business Bureau is one way to express our intent. We are a leader in responsible practices, including inclusive practices for lovers of all colors, nationalities, religions, sexual orientations, and gender.
100% Satisfaction Guaranteed
We take pride in our craftsmanship and commitment to our clients satisfaction. With
our guarantee
, we stand behind the quality and beauty of every engagement ring and wedding band we create. Your happiness is our top priority, and we guarantee you will be thrilled with the result.
Choose Krikawa - Where Love and Artistry Meet
Your engagement ring is more than just jewelry; it symbolizes the love and commitment you share with your partner. When it's ready to ship, and you get your package, you open your ring box for the first time to view your unique creation, or when you place it on the finger of your beloved, when you retell the story of how you designed it, when you pair it with a cool men's wedding ring, or when you gaze at it twenty years from now, you'll know you made the right decision.
At Krikawa, we believe that your engagement ring is more than just a piece of jewelry - it's a work of art that tells the story of your love. That's why we pour our heart and soul into creating exquisite, one-of-a-kind engagement rings. Trust Krikawa to bring your dream ring to life and celebrate your love with a masterpiece that will captivate your woman's heart and stand the test of time.
---
Read for Yourself - A Recent 5 Star Review
"Over the moon with this gorgeous custom solitaire engagement ring from Krikawa. We worked with Mica and Lindsey who were both amazing. I was able to bring a reference photo and request every little nit picky detail I could dream up. The result is incredible and I am so, so pleased. What a treat to be involved in the design of your own ring! I selected a pear-shaped moissanite stone, despite hearing that shape will snag on clothing constantly. I was determined to just deal with it carefully for the rest of my life because I loved the shape so much. Well, when we picked up the ring, I was pleasantly surprised how smooth the ring felt, even on the point! Mica informed us that every ring is thoroughly checked for snag-factor before delivery. Guess what? It's completely snag-free, even with sweaters that I carelessly shove my ring hand through. It just glides right over clothing. The ring itself is comfortable to wear and came with a beautiful wooden box. The rose gold came out gorgeous and subtle... I just love it! Every detail is just perfect. Every part of the experience was perfect. 10/10 for Krikawa and their team. Can't wait to come back for our wedding bands." - Savanna S

---
What Will Your Dream Ring Look Like?
Get help designing.
Book your free design consultation today
and prepare yourself for the experience of a lifetime.

Or, explore on your own.
Unique Engagement Ring Galleries:
Nature | Vintage | Modern
Unusual | Sculptural
Luxury | Classic
Choose with care, choose with love, choose Krikawa.