Unique Engagement Rings
Breathtakingly Gorgeous
and handmade just for you.

Avoid being overwhelmed with the ring buying process.
We PROMISE we won't let you make a bad decision.
Our 100% satisfaction guarantee rests on it.

Create the most beautiful and meaningful diamond or gemstone ring
you or your sweetheart will ever wear.
Superb customer service is the cherry on top!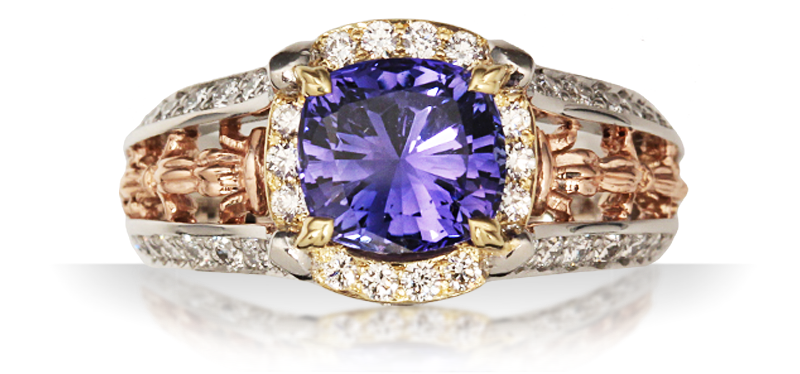 Explore our Engagement Ring Galleries
---
These nature inspired designs include branches and diamond leaves, roses, flowers and creatures of the air and sea.
Explore the Nature Designs >
"One touch of nature makes the whole world kin."
---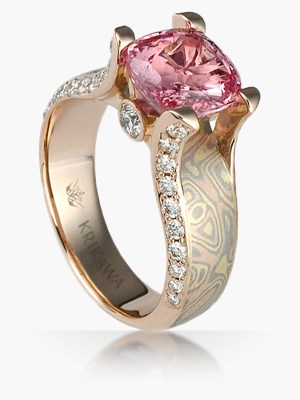 Mokume-Gane, a wood grain metal, blends colors of precious metals like rose and yellow gold together like the beautiful burl of a fine wood. Our favorite collection!
Explore the Mokume Designs >
"Mokume is the perfect marriage of metals."
---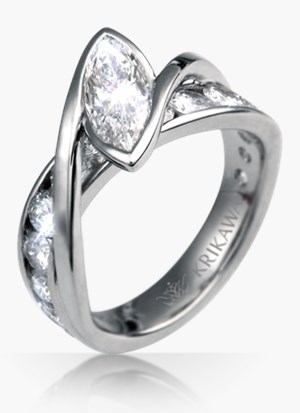 Modern jewelry design relies on the perfect line, curve and negative space to create simple elegance. From Bauhaus to the modern era, the Krikawa diamond collection truly shines.
Explore the Modern Designs
Simplicity is the ultimate form of sophistication.
-Leonardo da Vinci
---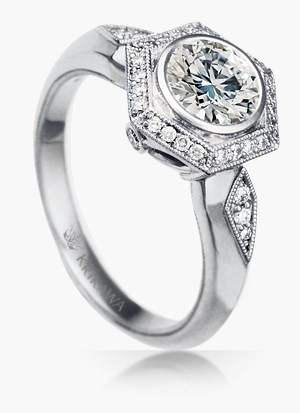 This is truly vintage reimagined. Inspired by the most stunning elements of antique rings, this vintage jewelry collection is destined to be a favorite heirloom. Emerald is a favorite stone choice in this collection!
Explore the
Vintage Designs
"Hopelessly devoted to you."
-Olivia Newton John
---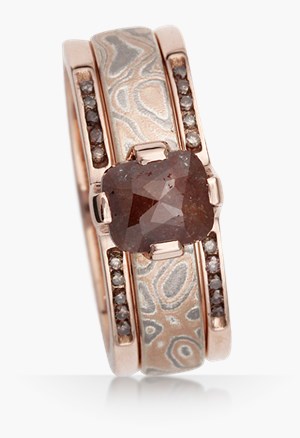 To really stand out as the One of a Kind that you are, express yourself with a ring that is both unique and unusual, a true expression of your inner being. Unusual diamonds are perfect for these rings!
Explore the Unusual Designs
"Be yourself no matter what they say."
---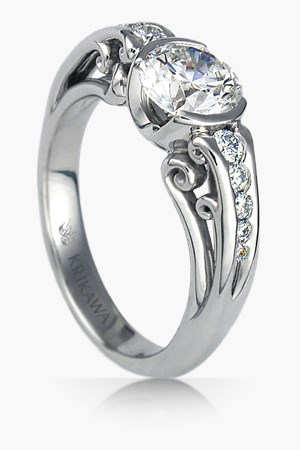 This sculptural collection is at the true heart of Krikawa. Sprouting from a degree in Fine Jewelry Arts, the founder's first vision for unique rings inspired these designs. Blue sapphires are a popular go-to for this beautiful collection.
Explore the
Sculptural Designs
"I saw the Angel in the Marble and
carved until I set him free."
-Michelangelo
---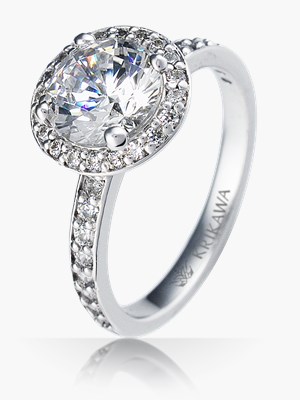 Not to be forgotten, traditional diamond rings will forever have a place in the heart of jewelry lovers young and old, for generations to come. White gold is a classic, or select rose gold or platinum for something a little more unique.
Explore the Classic Designs
"A Classic never goes out of Style."
---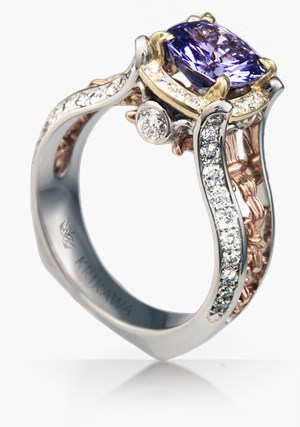 Exquisite, jaw-dropping designs make the mouth water with curves and secret symbols masterfully designed and crafted into works of art that even DaVinci would favorite.
Explore the
Luxury Designs?
"There's no such thing as too much Sparkle.
"
-Lisa Krikawa
---
Choose from a Gorgeous Collection of Center Stones
From GIA certified white diamonds to conflict free diamonds and fancy colors,
gem quality sapphires, rubies, emeralds and other birthstones,
we'll have the stone you're looking for or we'll find it.
Have your own heirloom diamond?
No problem, we'll make the ring just for it.

You Can Enjoy the Journey!

Our caring and knowledgable design and diamond consultants are dedicated
to helping you create unique rings that tell your story,
for this lifetime and beyond.

You'll be surprised by the joy of creating
the most meaningful rings you'll ever wear.

Your love is unique, and your ring should be too.
Each and every ring we make is carefully handcrafted, to order.
Start with one of our portfolio designs or a concept from scratch,
select the diamond or gemstone that's perfect to you,
and personalize to your heart's content.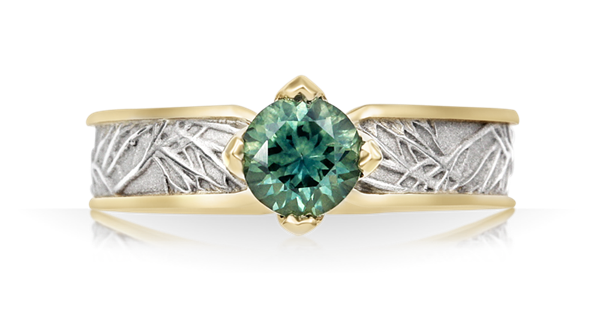 ---
100% Satisfaction Guaranteed

After helping 10,000 couples from all over the world create
unique diamond and gemstone rings,
our 5-star reviews for customer service and world-class design say it all.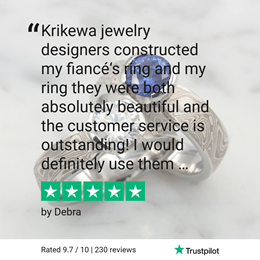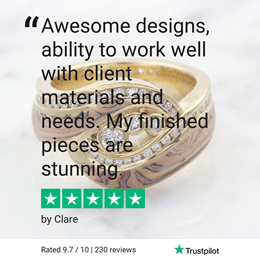 ---
What Will Your Dream Ring Look Like?

Get help designing.
Take this Quiz or Meet Your Jewelry Design Consultants
and prepare yourself for the experience of a lifetime.

Or, explore on your own.
Unique Engagement Ring Galleries:
Nature | Vintage | Modern
Unusual | Sculptural
Luxury | Classic
Choose with care, choose with love, choose Krikawa.

---
FREQUENTLY ASKED QUESTIONS
FAQ: Engagement Rings
What are the most popular engagement ring styles?
Popular ring styles definitely change over time, but not year by year. Engagement rings have been trending from vintage a few years ago, to more delicate and more simple in recent years. We get many bride-to-bes wanting super delicate, narrow rings, and the biggest challenge with that type of ring is longevity. It's quite easy to damage a narrow, delicate ring, and a ring sustains a high amount of wear and tear when worn every day.
How much should you spend on an engagement ring?
This is an entirely personal decision. It is no longer a suggestion to spend a certain amount of your wages on a ring. What Krikawa recommends is to decide on an amount that is comfortable for you, or perhaps just pushes the limit of comfort. The thing you want to think about is that this is the most important piece of jewelry you will ever own. The sentimentality in this piece is astronomical, and it holds the stories of your relationship for decades. It is the only investment of the wedding that you will see, literally every day for the rest of your life.
How do I choose an engagement ring?
The broad categories that you'll be making decisions about will be STYLE and MATERIALS. And then some will be choosing a surprise engagement ring, and some will be choosing for themselves.
If you are choosing a ring for yourself,
first let's discuss style. Look at a bunch of images and start to make snap decisions about what your eye is drawn to. Over time, as you review those images, certain designs will capture your imagination, or inspire you. Don't over think style, it really is as simple as what your eye is drawn to.
Second, there are the different metals and stones to pick from. There are STONES and METALS. Start with the center stone. Go with a white stone if you like something more traditional, or if you want it to always match. Go with a colored stone if you want something more unusual, or if there's a particular color or gemstone that you just love. Then, choose the precious metal that compliments the stone, or choose a metal color that you love to wear most.
There's no reason to go with a white stone and a white metal (the most popular choice) unless that's what you really love.
If you are choosing a ring for someone else, you might know what they want, or you might not (we'll address that challenge in the next question). If you have a good idea of what they want, it's a good idea to stick with the script and get something that captures the essence of what they love. Be sure to work with someone you trust, like Krikawa.
How do you propose as a surprise if you don't know what they want?
To choose the right style, take into consideration the type of person you are buying for. If they love simplicity, you might want to consider something understated; simple and elegant. If they are flamboyant, going with a ring that has some pizazz would be a good idea.
If your partner is particular, and you're afraid you might choose the wrong ring, yet you still want to create a special moment by proposing, consider our
Ultimate Proposal Ring
. You choose the center stone, and we'll set it in a temporary setting, and you'll get a special invite for them to join you in a virtual design session. That way, you get the cake and you get to eat it too. Your beloved will be overjoyed that they get to design their own ring.
What's the jewelry care for an engagement ring?
The care for an engagement ring depends upon what it is made from. Diamonds and sapphires can be cleaned with ordinary jewelry cleaning supplies, and even just a toothbrush and dishsoap or toothpaste works great!
The stones that cannot take chemicals or ultra sonic cleaners include emeralds and softer stones like pearls and opals.
White gold that is rhodium plated
(common for white gold jewelry) will start to look darker, or yellower over time as the plating wears down. White gold is not truly white, so it is rhodium plated to make it appear whiter. As rings take on a high wear over time, and the plating wears down, the true color is revealed. The time it takes to do this will vary, depending upon the individual wearer. Don't over polish a plated white gold ring as that will wear the plating away.
FAQ: Diamond Center Stones
What is a rose cut diamond?
Rose cut diamonds
do not follow a strict cutting diagram like the round brilliant, so each one can be unique. While a brilliant cut diamond has one flat table facet on the top, with angled crown facets around the table, a rose cut diamond often has facets that give the stone more of a domed top. Also, rose cut diamonds are much shallower, as they do not usually have the pointy culet on the bottom.
The benefit
to a rose cut diamond is, because it is so much shallower than a round, you can get the diameter of say a one carat diamond (6.5mm) in a diamond that weighs much less, thus it costs much less.
The drawback
to a rose cut diamond is that, because it is more shallow, it doesn't have the light return (sparkle-factor) of a round brilliant. And thus, it will also show dirt and grime much more easily. Keep a mini ultrasonic cleaner handy, or clean it often with a toothbrush and tooth paste. Dry with a hair dryer so the captured water doesn't collect dust or leave water spots!
What is a salt and pepper diamond?
A
salt and pepper diamond
is a natural diamond with internal characteristics (i.e., inclusions) that are black, and sometimes black and white. As each natural diamond is totally unique, each salt and pepper diamond will have 100% unique qualities. The best (and more expensive) specimen will have an equal spread of the "pepper" making the diamond uniform. If the "pepper" is not too thick, light will still bounce back to the eyes, providing some sparkle factor.
What is a Storm Cloud Diamond?
A
Storm Cloud Diamond
is a Krikawa exclusive: it is a faceted, natural, cloudy diamond, with opaque to slightly translucent swirling clouds of color. This is a wonderful and less expensive option for a unique engagement ring, while having the hardness and longevity that you can only get from a diamond.
What is a raw diamond?
A
raw diamond
is popularly used to refer to any diamond that has inclusions or might be heavily included, however, the term raw diamond properly refers to a diamond that is uncut.
What is a black diamond?
A
black diamond
can either be naturally black, or it can be a natural diamond that has been "color-enhanced," or treated. A black diamond is as hard as a white diamond, although it might have internal features that make it more brittle. Treated black diamonds make up the vast majority of black diamonds on the market, probably around 95% or so, and are typically solid opaque black. Natural black diamonds are more rare, and often have pockets of black, pockets of transparency, and sometimes even some areas of grey or brown.
What is a champagne diamond?
The term
champagne diamond
refers to a diamond that is in the brown family, from pale brown to dark brown. The dark brown diamonds are typically called cognac diamonds.
What's the difference between a lab grown diamond and a natural diamond?
There is no difference on a molecular level between a
lab grown diamond
and a natural diamond. Lab grown diamonds are becoming so prevalent that, if you prefer natural, it is highly recommended that you only purchase GIA certified diamonds to assure authenticity.
Why is there so much mystery around a fancy color diamond?
Natural fancy colored diamonds
are very rare, especially those in the pink and blue tones. Yellow diamonds are more rare than champagne diamonds.
Diamonds are also color enhanced to give them color, these are called natural color enhanced diamonds, since they are natural (mined from the earth) yet enhanced by man. The color is permanent.
Color enhanced diamonds
are typically more vibrant in hue and less expensive than natural, untreated colored diamonds.
FAQ: Alternate Center Stones
Is morganite a good stone for an engagement ring?
Morganite is a wonderful, pale peach color that has been all the rage in recent years. It is an inexpensive stone, compared to a
lab created peach sapphire
(our preferred alternate). In small sizes, such as those used for an engagement ring, morganite can be so pale as to almost appear clear. Morganite does not have the refractive index of a diamond (sparkle factor) so it will not appear sparkly, especially when dirty. Just like other gemstones that are pale, over time, if the ring is not kept in pristine condition, the morganite will start to look dull and lifeless, or soapy.
Are blue sapphire engagement rings a good choice?
Because of the hardness of sapphire (a 9 on the Moh's scale)
sapphire
is rated excellent for everyday wear by the GIA. Many of the vintage and antique rings you can find on the market have sapphires; for that very reason. Although the Moh's scale is exponential, making diamond at a 10 about 4 times harder than sapphire, a sapphire is still an excellent choice for a ring that is going to be worn every day. While a sapphire might get a few nicks, especially on facet junctions, and have a higher risk of chipping than a diamond, it is far superior in hardness to other colored stones.
Blue sapphire is such a gorgeous, neutral color that it goes with just about anything, and really looks timeless. Keep in mind, though, that sapphire comes in a full rainbow of colors!
Are there any drawbacks to an emerald ring?
While the emerald color for an engagement ring is so beautifully reminiscent of the art deco days, buyer beware of a natural emerald. Not only are natural emeralds highly valued and rare, thus expensive, they are also prone to fracturing when hit. Our best advice is to put the special emerald in a pendant, and save the engagement ring for a stone that is more durable.
If you're really set on an
emerald engagement ring
, consider a
lab created emerald
. It will be more durable; even though it is emerald on a molecular level, there are far fewer inclusions, making it less prone to cracking. It is also much more affordable, meaning if you crack it, you might not cry.
Is it safe to go with a birthstone for your engagement ring?
Not all the
birthstones
that are assigned to the 12 months of the year make for the best choice for an everyday ring. An engagement ring takes the most beating of any piece of jewelry there is. It's worn on the hand, every day of a person's life.
Some birthstones are better saved for pendants, or even right hand rings. If the birthstone has a hardness of less than 8, our strong recommendation is to choose another stone for your engagement ring. Of course, if it is a gemstone engagement ring you must have with your birthstone, then we will gladly accommodate your wishes, and provide you with care instructions.
Because
sapphires come in so many beautiful colors
, we often recommend a sapphire instead; such as a purple sapphire instead of an amethyst.
FAQ: Stone Shapes
What's the most popular center stone shape?
The most traditional and the most popular stone shape is a round cut.
Is a round cut boring?
That depends on whether or not you think traditional is boring. When it comes to diamonds, the cut is the only thing man does. A round brilliant cut has been modified over time to cause the most light possible to bounce back at the eye, making the round diamond sparkle like it does. A round diamond is the most sparkly of all the cuts, from a mathematical perspective.
Is a marquise cut dated?
A marquise shape was very popular in the '80's, but what really dates an engagement ring is the ring style. Sure, if you put a marquise cut into a traditional ring design, it's going to make a nod to that time gone by (think... leg warmers?). However, put a marquise into something like our
River Twist
, and nothing makes you think of that bygone era.
Is a pear shaped stone too unusual?
A pear cut can help create an unusual engagement ring, however, it is a beautiful and feminine shape. It is so reminiscent of a leaf that it can be a very pretty shape for a
nature engagement ring
.
What is a European cut diamond?
An Old European cut diamond refers to a diamond that was cut roughly between the 1890's to the 1930's. It was the type of cut that evolved after the more rough "old-mine cuts." It definitely has a little more of a rustic look, although it can still be quite sparkly. Interested in something more unique and rustic like a European cut? Contact us.
Is an oval diamond as sparkly as a round?
Nope. An oval diamond definitely has a vintage appeal, however it does not have the round brilliant sparkle. If you're looking for unique or vintage, go oval. If you're looking for sparkle, go round.
Is an emerald cut the best for an Art Deco style?
While an emerald cut has the beautiful geometric lines made popular by Art Deco design, if the design is strongly Art Deco, the stone shape doesn't also have to be geometric. Asscher cut diamonds also scream Art Deco, by the way.
FAQ: Ring Settings
What are claw prongs?
Claw prongs are narrow pointy prongs that look like claws. Prongs take on all kinds of shapes, since they are always done by an individual sitting at a bench. The bench jeweler makes the decision about how to finish the prongs. At Krikawa, certain styles have standard prong shapes; however, since every ring is made to order you can specify the prong shape that you prefer.
What is a solitaire engagement ring, really?
Generally speaking, a solitaire "look" is a ring with a narrow band and a proud center stone. It's your classic, single stone set on a band. You could also consider a solitaire a ring that has only one stone on it. For instance, our
modern solitaires
do not follow the "solitaire look" guidlines, yet they have only one stone.
What's a diamond halo?
A halo is a narrow ring that encircles a center stone. Typically, the halo has tiny diamonds set into it. The purpose of a halo is to enhance the size of the center stone in a halo engagement ring. It is also decorative, adding sparkle. In addition, a white diamond halo can set off the center stone if it is colored. A pale fancy colored diamond in the center can be enhanced by a very white diamond halo, making the color really stand out. While you could put a halo on nearly any ring design, we have two broad categories of halo rings:
Artistic Halo Engagement Rings
and
Classic Halo Engagement Rings.
I just want a classic ring, is that boring?
A
classic engagement ring
can be a beatiful thing, especially when made right. The materials used for an engagement ring can be quite enchanting. While classic might be simple, the tiniest of details can made all the difference; from the thickness ratio of prong to band to the final finishing. Krikawa takes as much care in artistic proportions and thoughtful finishing in a classic ring as we do in an artistic ring.
Is hand engraving the best way to get a vintage or antique look?
Hand engraving
was very common for antique rings. It was a great way to get a decorative look, and it also made rings sparkly. Since hand engraving creates bright cuts and creates deep texture, the bright cut does not get rubbed or dulled, thus helping the ring maintain a highly polished look. A vintage look can be created by millegraining (milgraining), filigree, style and stone choice.
What's the biggest drawback to current popular styles?
The trendiest engagement rings right now are narrow and delicate rings. While they can look stunning, they are frought with challenges. Precious metal is soft, and if it is super narrow and studded with holes for diamonds, you can bet that it will bend, stones will fall out, and the metal might even break. Krikawa will make a delicate ring just as narrow as possible, balancing the fact that the ring will be worn every day with a desire to make something feminine and delicate.
FAQ: Metal Choices
What is the best white metal for an engagement ring?
The best white metal for engagement rings is
platinum
. Krikawa uses a 950 ruthenium alloyed platinum that has zero allergic reactivity and has a superior hardness, unlike platinum used in decades past.
Why is platinum really the best metal?
Platinum is the best because of its wear resistance. Unlike gold, the molecules in platinum do not disperse, or slough off of the ring. While they might move around, there is a plasticity that platinum has that gold does not have. In other words, a platinum ring will weigh nearly the same after years of wear, whereas a gold ring will have lost measurable weight. This is great news for prongs, as platinum prongs wear down much more slowly than gold prongs.
What is white gold pavé?
White gold pavé is when diamonds are "paved" into white gold. See Pavé, below.
Why did my mother's platinum ring look dingy?
In our experience, platinum rings that took on a patina of darker gray were actually iridium platinum, usually a 900 platinum (90% platinum). This material was much softer than the 950 ruthenium platinum that we use (95% platinum). Because of the softness, the surface would get so damaged, that the polish and brightness would be diminished, thus resulting in a more pewter colored metal.
Can you be allergic to white gold?
Commercially made white gold is alloyed with
nickel
. Nickel is a common skin allergy. The thing about a nickel allergy in our experience is that it can occur over time. You might not know you are allergic to nickel until you actually wear a nickel based ring for some time. We've seen people who have become drastically allergic to a ring that they've worn for years. For this reason, all of Krikawa's metals are nickel free.
Is 18 karat yellow gold softer than 14k yellow?
18k gold is a tiny bit softer than 14k gold, it is true. However, the difference in softness between 18k and 14k compared to say, sterling and 14k, is nothing. 18k is not a "soft" metal. There are
precious metals
that perform better than others for particular designs, techniques, and engineering. 18k yellow gold is such a beautiful color, that it is our preferred metal for two tone designs. When paired with platinum, you'll get the richest color contrast available. Perhaps a more delicate, single metal ring such as delicate diamond bands would be better in 14k yellow. Consult our friendly designers to find out what the best metals are for your ring.
Will a rose gold diamond ring go out of style?
Rose gold
gained popularity in the early 2000's as a contemporary metal, and it has only gained steam since. Rose gold actually complements many skin tones, just like yellow gold does. We've seen people with skin tones that look amazing with rose gold! So, because it is such a neutral earth tone, and because it looks absolutely gorgeous on some colors, it is our strong belief that rose gold is here to stay.
FAQ: Accent Stone Setting
Is a diamond cluster old fashioned?
A diamond cluster is a style of ring in which diamonds are prong set in clusters. This was a very popular style in the '70's and '80's, and you can continue to see it to this day in pawn shops and traditional jewelry stores. The most famous cluster style ring is the
Princess Diana ring
. It is a dated style, however, as with all styles, if enough time has gone by, you'll start to see an echo of that design reflected in current trends. Like, high waisted pants?
What are pavé diamonds?
Pavé is a term that refers to a technique, wherein diamonds are "paved" into a sheet of metal. Traditionally, diamond pavé is done using an old-world technique of using gravers, or tiny chisels, to cut metal away, and cut tiny beads into the metal, setting the stones into a field and pushing the beads over the stones. At Krikawa, we call this "hand-cut pavé" and it is a dying art. Our signature ring,
the Juicy
, employes this style of stone setting for the tiny diamonds running down the prongs. It can be done in both white gold, and platinum.
What are channel set diamonds?
Channel set diamonds refers to when diamonds, typically round cut or square cut (princess cut), are set side by side into a channel with walls, or rails. It makes for a line of white sparkle, where you can hardly even make out the individual stones, such as in our extremely popular petite
diamond channel band
.
FAQ: Custom Rings
Do I have to get a custom ring if I want something particular?
If there are certain aspects of different rings that you like, it is unlikely you'll find it "on the shelf." Also, rings that are mass produced often don't have the quality that a ring made in the U.S. by a master goldsmith would have, if quality and longevity are considerations. It makes sense then, when investing in a ring that not only represents your unique relationship, and your commitment, but that also is meant to be worn everyday for a lifetime, to get something especially made for you, by a craftsman that makes things made to last a lifetime (think... Krikawa!).
What if I don't like my custom engagement ring?
It is extremely rare for custom jewelry to be returnable, but at Krikawa, we are so committed to our excellent service, communication and quality, that we do offer a
100% satisfaction guarantee
. When every single ring we make is considered custom, we have figured it out, and we stand behind it.
How will I know that you will get the custom ring right?
We've made over 10,000 rings, custom one at a time. We've never mass produced, because we've always made rings for individuals, just like you. From our
sketches, to illustrations, to renderings
and
samples
and
sizing rings
, we'll do everything humanly possible to communicate your design before we actually go to work and make it with our finely skilled engineers and craftspeople.
Does that mean we've never made mistakes? Absolutely not! But we've learned from every mistake and we've improved every process over time, from external communications to internal communications, to materials, engineering, aesthetics, and craftsmanship.
Does that mean we won't make any mistakes? No, because we're human. But we take responsibility and we make things right, in the rare case something happens. We've got your back. We're honored for your business, and we take your important purchase seriously. And we operate day to day, with light hearted humor , so it's fun, too :-D.
Isn't it a risk to go custom with jewelry?
Not with Krikawa. With most other jewelers, custom is non-refundable. Considering that Krikawa is one of your options, frankly it might be a risk to use a different jeweler. Check out our reviews on Google!
---
Why Create an Original, Unique Engagement Ring?
When you choose your forever partner, you are blessed with making the biggest, but also the easiest, decision that you will ever make. For some of us, that decision is clear within seconds of meeting a person, locking into place like the mechanism of some celestial clockwork. For others, it follows the joyous process of getting to know someone better than you know yourself. Either way, when the time comes to decide, it's as if a veil falls from an answer that has been waiting from the start of one's life.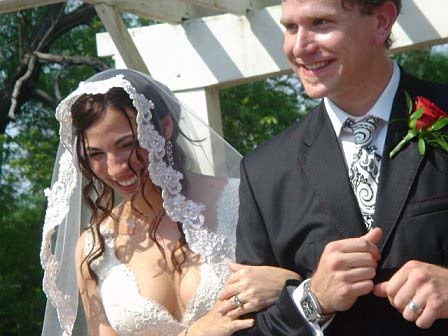 While society has evolved at a breakneck pace over the past century, the overall lessening of tradition has only enhanced the power of those rituals that survive. As such, marriage remains one of the great pillars of tradition that holds up a contemporary life. And even when a couple's matrimony was written into their story from the very beginning, an engagement ring is the key that unlocks the door to the marriage tradition.
The mythic archetype of a contemporary engagement goes something like this: After a healthy courtship, a man descends to one knee and presents his surprised—but not blindsided—girlfriend with a solitaire diamond ring. The opportunity to engage with tradition is one of great pleasures of the marriage ritual, and the above engagement story constitutes a beautiful foundation for countless love stories.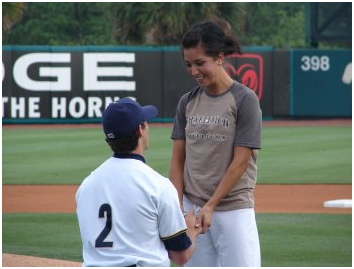 It's important to note, however, that this is not every couple's engagement story. For one, a man may propose to another man, a woman to a man, a woman to a woman—or any beautiful permutation of identities that should find themselves in love. As such, the demand has risen for rings that combine an engagement ring's traditional elements with a less feminine aesthetic.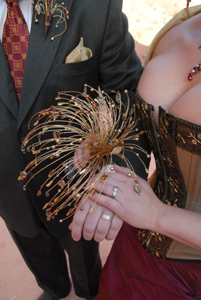 Another exciting shift in the engagement tradition has been the increasing enthusiasm for designs beyond a simple prong-set solitaire diamond ring. For anyone who plans to wear an engagement ring, there exists a Platonic ideal of that ring—a piece that perfectly expresses who they are as an individual and who they are as their beloved's beloved. Rings with more than one center stone, and rings inspired by nature or contemporary art trends are just the tip of the iceberg.
One final departure from tradition is the popular adjustment of the "surprise" element. As couples the world over open up to new and exciting design possibilities, the ring's recipient has increasingly sought greater control over the design process. Most engagement rings constitute a substantial investment—typically financial, and always emotional. Selecting an engagement ring is not a decision that either the giver or a recipient will want to revisit. There's a whole spectrum of possible recipient involvement, from providing a few loose preferences, all the way to taking complete charge of the decision-making process.
An engagement ring is presented as a question, but it becomes a promise once it is given. A promise of companionship, commitment, and—most of all—the great love story to come. At Krikawa Master Jewelers, we are so excited to help tell your love story through the perfect engagement ring. Whatever design speaks to you—tradition, innovation, or anywhere along that spectrum—we are passionate about getting it right. And whether you know exactly what you want or have no idea where to start, you've come to the right place; our expert design consultants are available to assist you at every step along the way.
---
How Will Your Unique Ring Be Made?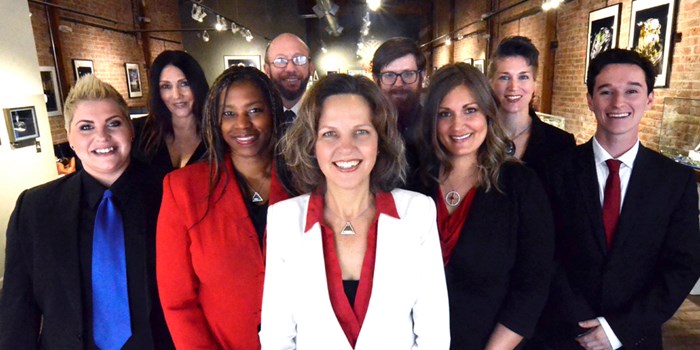 You have options! Order online, or start a conversation with a design consultant via phone, text or email. Even when you order online, you'll be assigned a designer who will take care of reviewing all of your requests, communicating with you, and designing a ring you'll cherish for a lifetime.
You can ask questions about the different metals, like rose gold, palladium and platinum!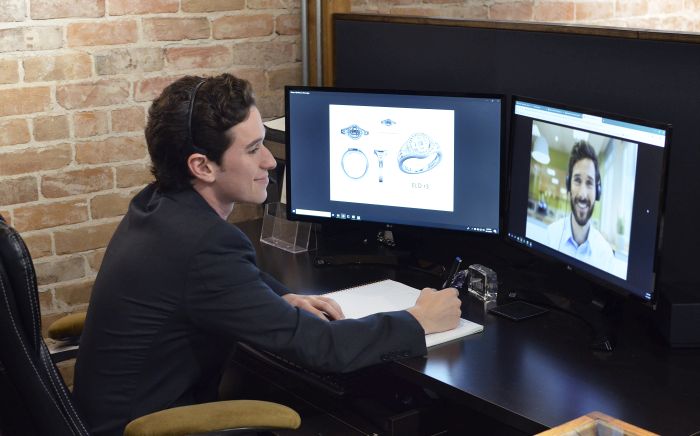 Every ring is made to order, one at a time, around the diamond or gemstone of your choice, and we'll communicate with you via sketches, mockups, and renderings to make 100% sure that we're making the unique ring of your dreams. After the design has been selected using photos and sketches, we'll create the ring in CAD to make sure it looks amazing from all angles.
Then a rendering is provided for you to review, particularly if the design is a new design, a hybrid, or a modification of an existing design. This also helps you visualize the size of your diamond!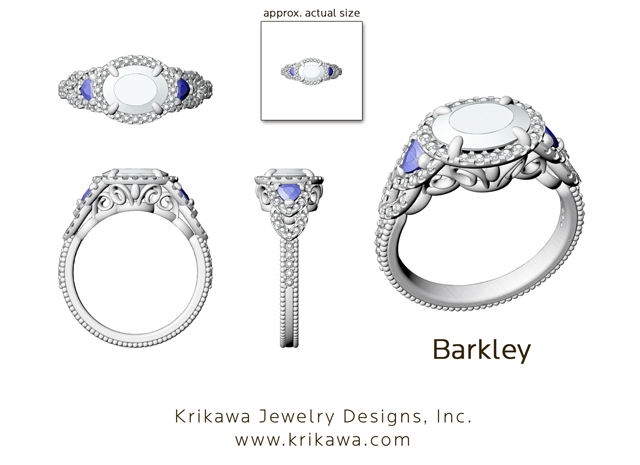 With your approval of the imagery and confirmed ring size through our one-of-a-kind perfect ring sizing service, we'll start the jewelry making magic in the workshop with our amazing team of goldsmiths.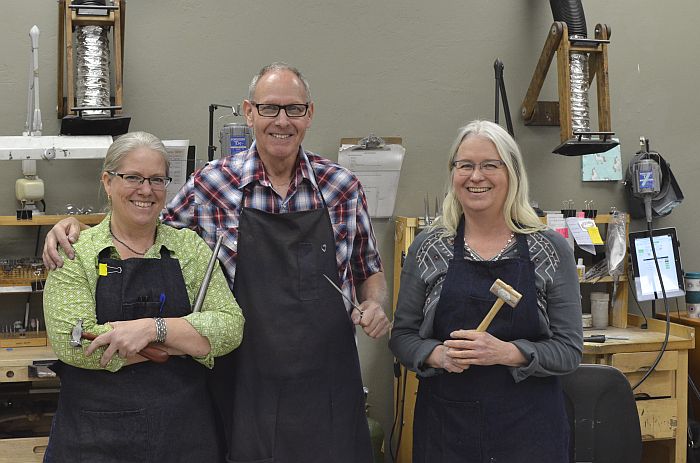 They're quite frankly, the best in the country. With cutting edge equipment, microscopes, lasers, and old world craftsmanship, your jewelry is brought to life. Made one at a time, with you in mind, with love.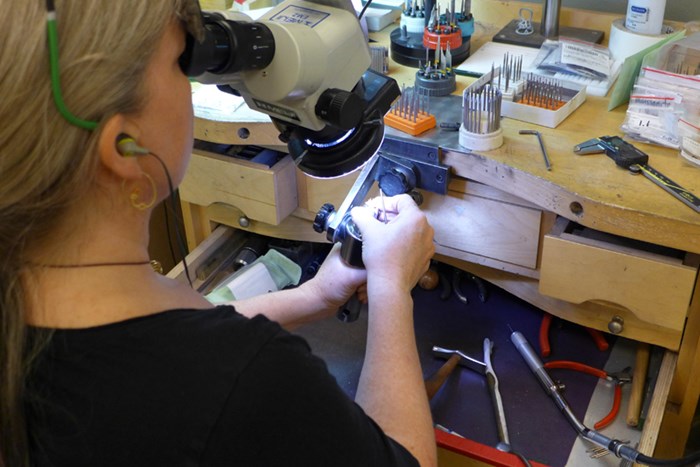 Celebrating your passion in gemstones and precious metal, and creating a piece of jewelry that you or your beloved will cherish for a lifetime is our mission. We've got your back!
If you love the story of the making of your ring so much, we'll even make you a book! The shipping of a book happens after a ring is shipped. Our clients from the US, Canada and Australia are fans of this conversation starter!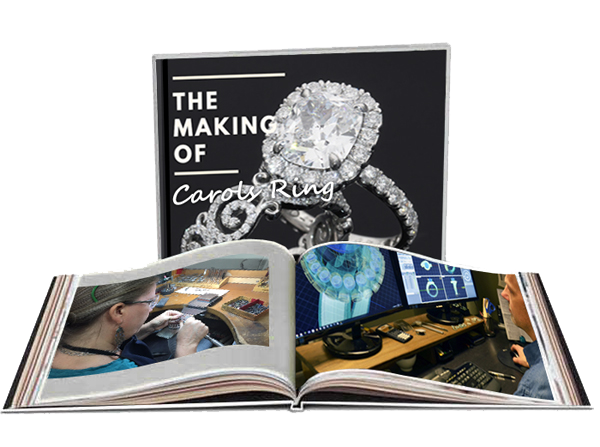 No matter what, in the end, you're the one that gets to tell the story of your love and commitment to each other with your ring. It will always remind you of when you first met, and when you fell in love. Your ring is about you, and you a deserve ring that you adore. We'll make sure of it.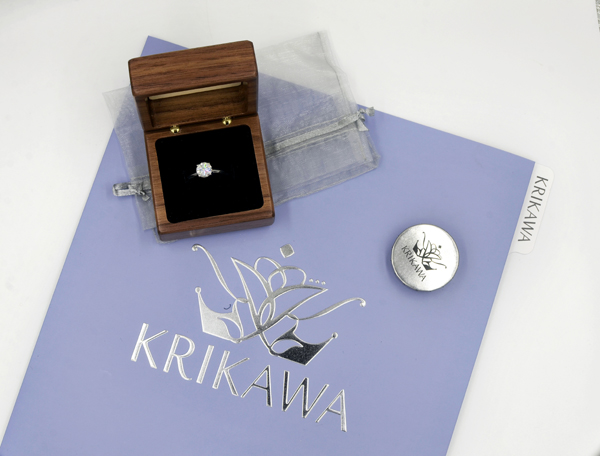 ---
What Will Your Dream Ring Look Like?

Get help designing.
Take this Quiz or Meet Your Jewelry Design Consultants
and prepare yourself for the experience of a lifetime.

Or, explore on your own.
Unique Engagement Ring Galleries:
Nature | Vintage | Modern
Unusual | Sculptural
Luxury | Classic
Choose with care, choose with love, choose Krikawa.