Unique Engagement Rings
Breathtakingly Gorgeous
and handmade just for you.

Avoid being overwhelmed with the ring buying process.
We PROMISE we won't let you make a bad decision.
Our 100% satisfaction guarantee rests on it.

Create the most beautiful and meaningful diamond or gemstone ring
you or your sweetheart will ever wear.
Superb customer service is the cherry on top!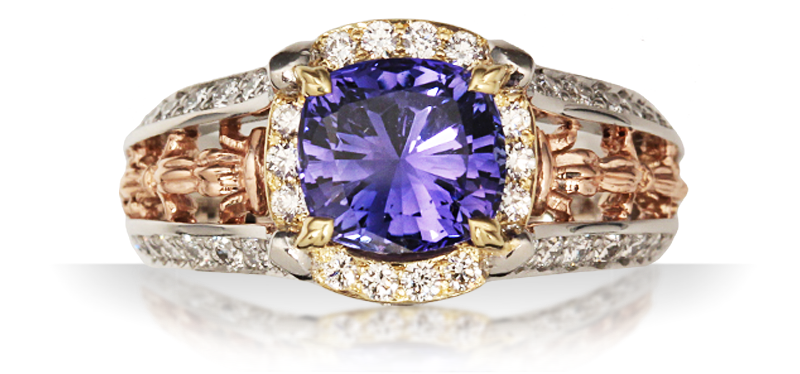 Explore our Engagement Ring Galleries
---
These nature inspired designs include branches and diamond leaves, roses, flowers and creatures of the air and sea.
Explore the Nature Designs >
"One touch of nature makes the whole world kin."
---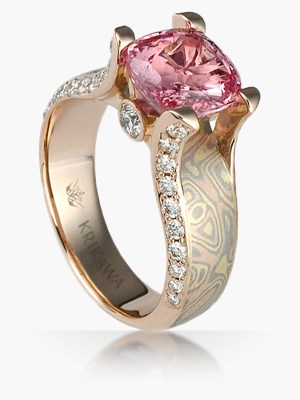 Mokume-Gane, a wood grain metal, blends colors of precious metals like rose and yellow gold together like the beautiful burl of a fine wood. Our favorite collection!
Explore the Mokume Designs >
"Mokume is the perfect marriage of metals."
---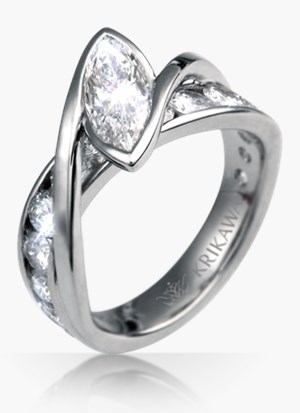 Modern jewelry design relies on the perfect line, curve and negative space to create simple elegance. From Bauhaus to the modern era, the Krikawa diamond collection truly shines.
Explore the Modern Designs
Simplicity is the ultimate form of sophistication.
-Leonardo da Vinci
---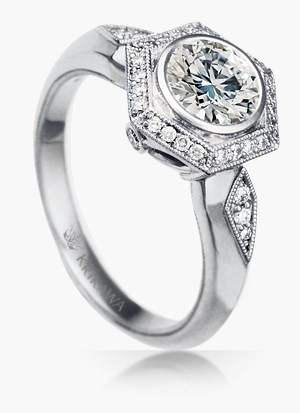 This is truly vintage reimagined. Inspired by the most stunning elements of antique rings, this vintage jewelry collection is destined to be a favorite heirloom. Emerald is a favorite stone choice in this collection!
Explore the
Vintage Designs
"Hopelessly devoted to you."
-Olivia Newton John
---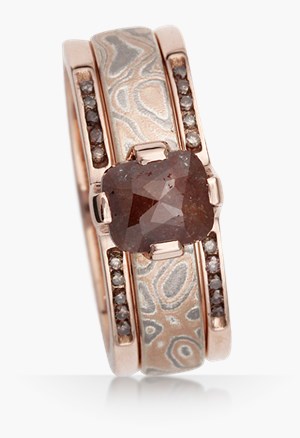 To really stand out as the One of a Kind that you are, express yourself with a ring that is both unique and unusual, a true expression of your inner being. Unusual diamonds are perfect for these rings!
Explore the Unusual Designs
"Be yourself no matter what they say."
---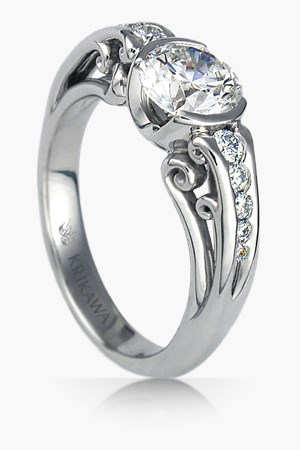 This sculptural collection is at the true heart of Krikawa. Sprouting from a degree in Fine Jewelry Arts, the founder's first vision for unique rings inspired these designs. Blue sapphires are a popular go-to for this beautiful collection.
Explore the
Sculptural Designs
"I saw the Angel in the Marble and
carved until I set him free."
-Michelangelo
---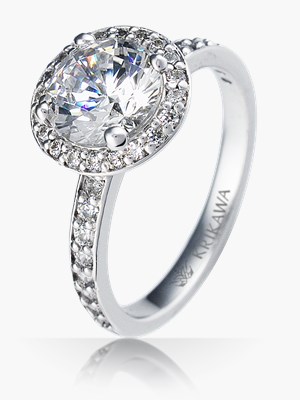 Not to be forgotten, traditional diamond rings will forever have a place in the heart of jewelry lovers young and old, for generations to come. White gold is a classic, or select rose gold or platinum for something a little more unique.
Explore the Classic Designs
"A Classic never goes out of Style."
---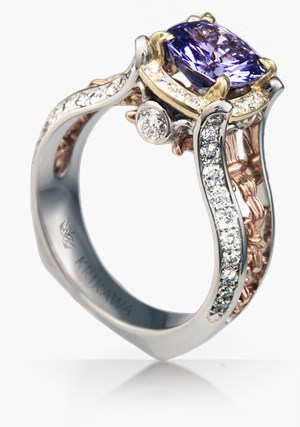 Exquisite, jaw-dropping designs make the mouth water with curves and secret symbols masterfully designed and crafted into works of art that even DaVinci would favorite.
Explore the
Luxury Designs?
"There's no such thing as too much Sparkle.
"
-Lisa Krikawa
---
Choose from a Gorgeous Collection of Center Stones
From GIA certified white diamonds to fancy colors,
gem quality sapphires, rubies, emeralds and other birthstones,
we'll have the stone you're looking for or we'll find it.
Have your own heirloom diamond?
No problem, we'll make the ring just for it.

You Can Enjoy the Journey!

Our caring and knowledgable design and diamond consultants are dedicated
to helping you create unique rings that tell your story,
for this lifetime and beyond.

You'll be surprised by the joy of creating
the most meaningful rings you'll ever wear.

Your love is unique, and your ring should be too.
Each and every ring we make is carefully handcrafted, to order.
Start with one of our portfolio designs or a concept from scratch,
select the diamond or gemstone that's perfect to you,
and personalize to your heart's content.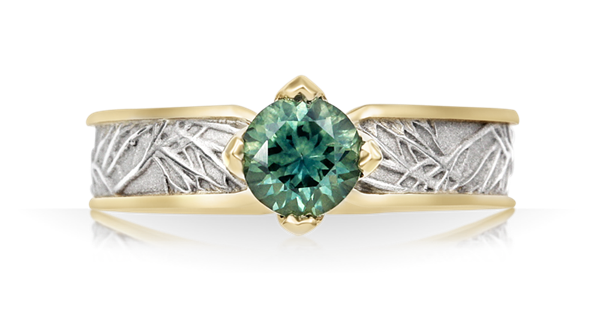 100% Satisfaction Guaranteed
After helping 10,000 couples from all over the world create
unique diamond and gemstone rings,
our 5-star reviews for customer service and world-class design say it all.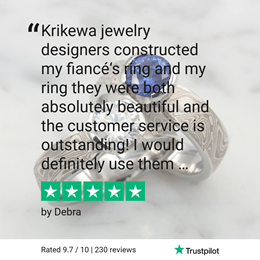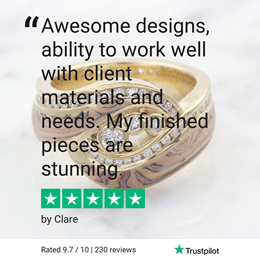 ---
Why Create an Original, Unique Engagement Ring?
When you choose your forever partner, you are blessed with making the biggest, but also the easiest, decision that you will ever make. For some of us, that decision is clear within seconds of meeting a person, locking into place like the mechanism of some celestial clockwork. For others, it follows the joyous process of getting to know someone better than you know yourself. Either way, when the time comes to decide, it's as if a veil falls from an answer that has been waiting from the start of one's life.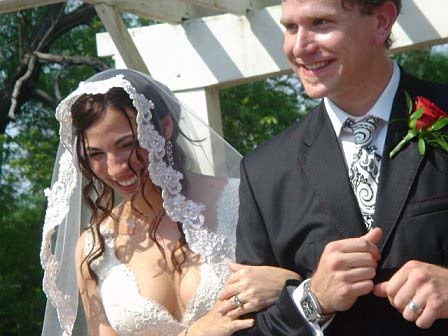 While society has evolved at a breakneck pace over the past century, the overall lessening of tradition has only enhanced the power of those rituals that survive. As such, marriage remains one of the great pillars of tradition that holds up a contemporary life. And even when a couple's matrimony was written into their story from the very beginning, an engagement ring is the key that unlocks the door to the marriage tradition.
The mythic archetype of a contemporary engagement goes something like this: After a healthy courtship, a man descends to one knee and presents his surprised—but not blindsided—girlfriend with a solitaire diamond ring. The opportunity to engage with tradition is one of great pleasures of the marriage ritual, and the above engagement story constitutes a beautiful foundation for countless love stories.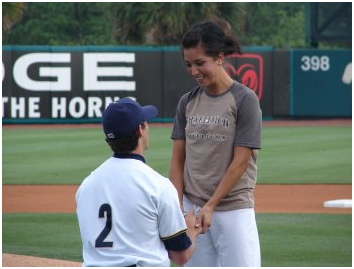 It's important to note, however, that this is not every couple's engagement story. For one, a man may propose to another man, a woman to a man, a woman to a woman—or any beautiful permutation of identities that should find themselves in love. As such, the demand has risen for rings that combine an engagement ring's traditional elements with a less feminine aesthetic.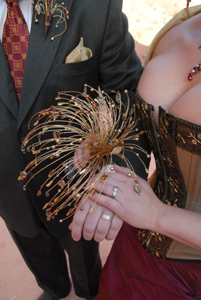 Another exciting shift in the engagement tradition has been the increasing enthusiasm for designs beyond a simple prong-set solitaire diamond ring. For anyone who plans to wear an engagement ring, there exists a Platonic ideal of that ring—a piece that perfectly expresses who they are as an individual and who they are as their beloved's beloved. Rings with more than one center stone, and rings inspired by nature or contemporary art trends are just the tip of the iceberg.
One final departure from tradition is the popular adjustment of the "surprise" element. As couples the world over open up to new and exciting design possibilities, the ring's recipient has increasingly sought greater control over the design process. Most engagement rings constitute a substantial investment—typically financial, and always emotional. Selecting an engagement ring is not a decision that either the giver or a recipient will want to revisit. There's a whole spectrum of possible recipient involvement, from providing a few loose preferences, all the way to taking complete charge of the decision-making process.
An engagement ring is presented as a question, but it becomes a promise once it is given. A promise of companionship, commitment, and—most of all—the great love story to come. At Krikawa Master Jewelers, we are so excited to help tell your love story through the perfect engagement ring. Whatever design speaks to you—tradition, innovation, or anywhere along that spectrum—we are passionate about getting it right. And whether you know exactly what you want or have no idea where to start, you've come to the right place; our expert design consultants are available to assist you at every step along the way.
---
How Will Your Unique Ring Be Made?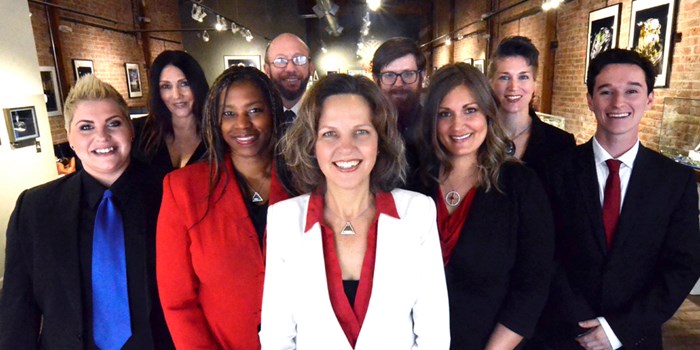 You have options! Order online, or start a conversation with a design consultant via phone, text or email. Even when you order online, you'll be assigned a designer who will take care of reviewing all of your requests, communicating with you, and designing a ring you'll cherish for a lifetime.
You can ask questions about the different metals, like rose gold, palladium and platinum!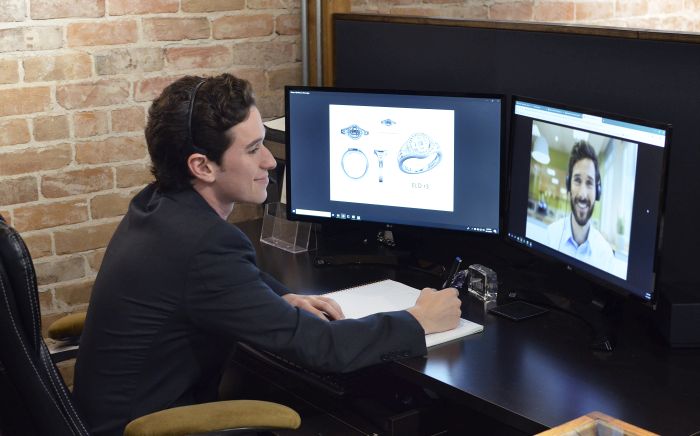 Every ring is made to order, one at a time, around the diamond or gemstone of your choice, and we'll communicate with you via sketches, mockups, and renderings to make 100% sure that we're making the unique ring of your dreams. After the design has been selected using photos and sketches, we'll create the ring in CAD to make sure it looks amazing from all angles.
Then a rendering is provided for you to review, particularly if the design is a new design, a hybrid, or a modification of an existing design. This also helps you visualize the size of your diamond!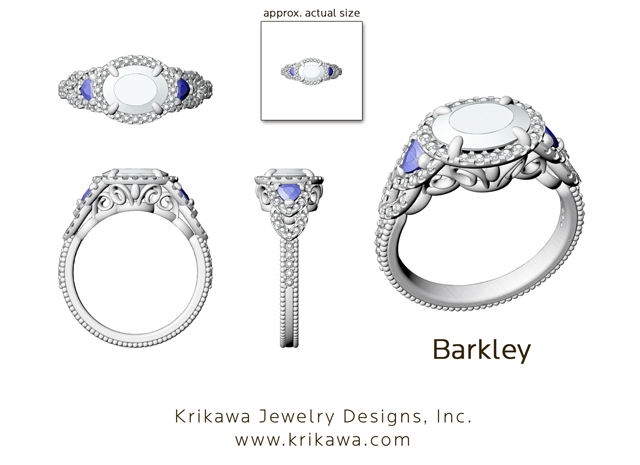 With your approval of the imagery and confirmed ring size through our one-of-a-kind perfect ring sizing service, we'll start the jewelry making magic in the workshop with our amazing team of goldsmiths.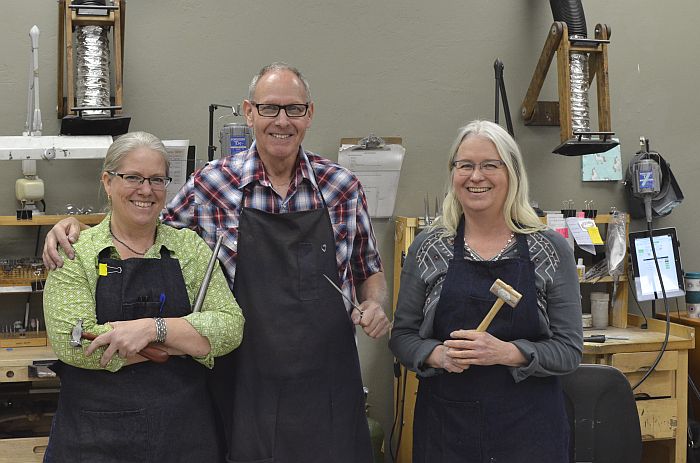 They're quite frankly, the best in the country. With cutting edge equipment, microscopes, lasers, and old world craftsmanship, your jewelry is brought to life. Made one at a time, with you in mind, with love.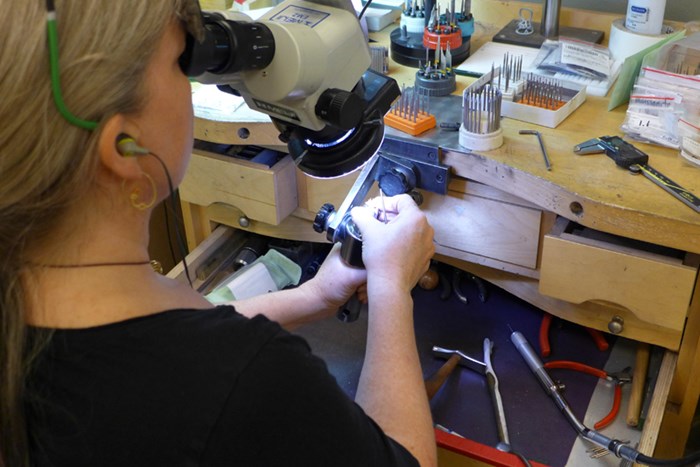 Celebrating your passion in gemstones and precious metal, and creating a piece of jewelry that you or your beloved will cherish for a lifetime is our mission. We've got your back!
If you love the story of the making of your ring so much, we'll even make you a book! The shipping of a book happens after a ring is shipped. Our clients from the US, Canada and Australia are fans of this conversation starter!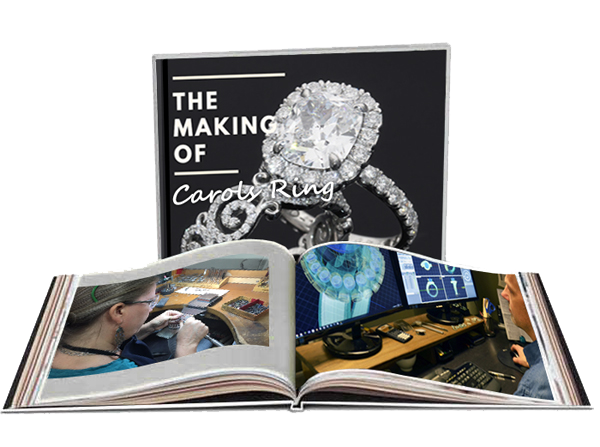 No matter what, in the end, you're the one that gets to tell the story of your love and commitment to each other with your ring. It will always remind you of when you first met, and when you fell in love. Your ring is about you, and you a deserve ring that you adore. We'll make sure of it.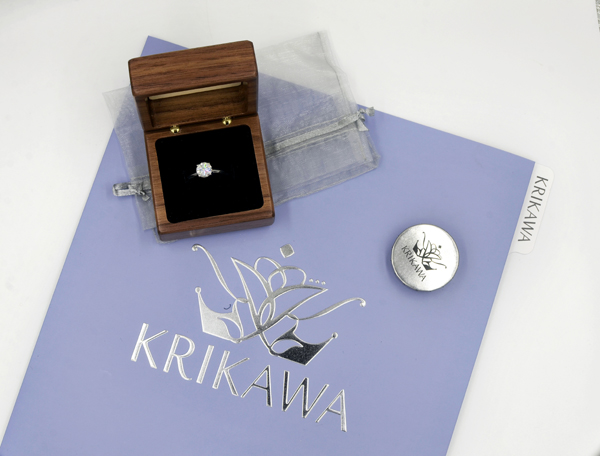 ---
What Will Your Dream Ring Look Like?

Get help designing.
Take this Quiz or Meet Your Jewelry Design Consultants
and prepare yourself for the experience of a lifetime.

Or, explore on your own.
Unique Engagement Ring Galleries:
Nature | Vintage | Modern
Unusual | Sculptural
Luxury | Classic
Choose with care, choose with love, choose Krikawa.