Unique Engagement Rings
Breathtakingly Gorgeous
and handmade just for you.

Remember when you fell in love?
Your love story is unique.

Create the most meaningful ring
you or your sweetheart will ever wear.


Enjoy the Journey

We understand that the ring buying process can be overwhelming.
That's why our caring and knowledgable design consultants are dedicated
to helping you create the rings that tell your story,
for this lifetime and beyond.

Your love is unique, and your ring should be too.
Each and every engagement ring we make is carefully handcrafted, to order.
Start with one of our portfolio designs or a concept from scratch,
and personalize to your heart's content,
around the center stone of your choice.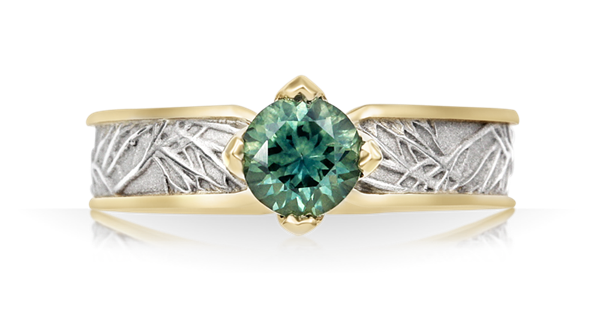 100% Satisfaction Guaranteed
After helping 10,000 couples from all over the world create unique engagement rings,
our 5-star reviews for customer service and world-class design say it all.
---
Explore our
Engagement Ring Gallery:
"One touch of nature makes the whole world kin."
These nature inspired engagement rings include branches and leaves, flowers and creatures of the air and sea.
Explore the Nature Gallery >
---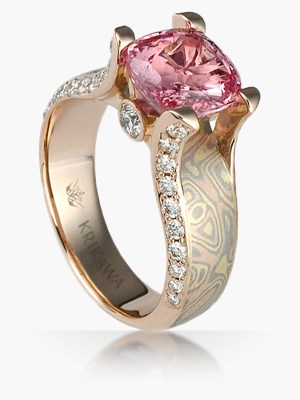 "The perfect marriage of metals."
Mokume-Gane, literally a wood grain metal blends colors of precious metals together like the beautiful burl of a fine wood.
Explore the
Mokume Gallery
---
"Simplicity is the Ultimate form of Sophistication."
-Leonardo da Vinci
Modern design relies on the perfect line, curve and negative space to create simple elegance. From Bauhaus to the modern era, the Krikawa collection truly shines.
Explore the
Modern Gallery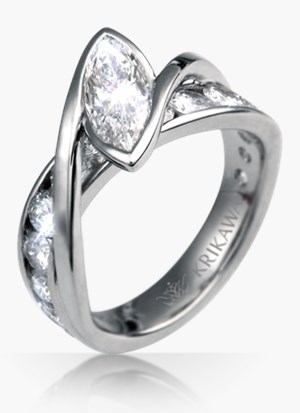 ---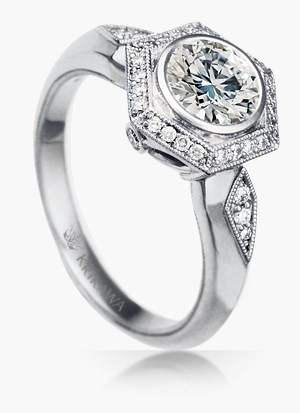 "Hopelessly devoted to you."
-Olivia Newton John
This is truly vintage reimagined. Inspired by the most stunning elements of antique engagement rings, this vintage collection is destined to be a favorite heirloom
Explore the
Vintage Gallery
---
"Be yourself no matter what they say."
To really stand out as the One of a Kind that you are, express yourself with a ring that is both unique and unusual, a true expression of your inner being.
Explore the
Unusual Gallery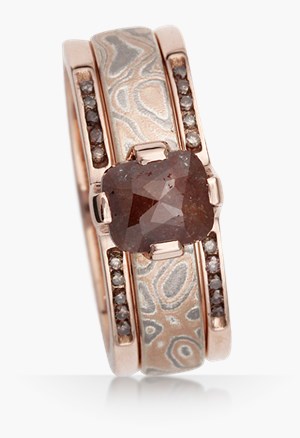 ---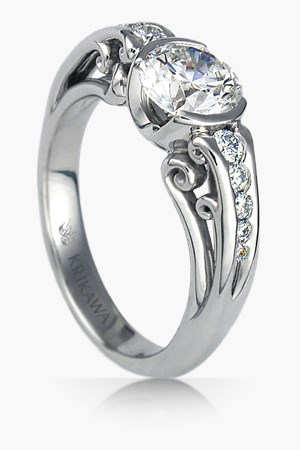 "I saw the Angel in the Marble and
carved until I set him free."
-Michelangelo
This sculptural collection is at the true heart of Krikawa. Sprouting from a degree in Fine Arts, the founder's first vision for unique engagement rings inspired these designs.
Explore the
Sculptural Gallery
---
"A Classic never goes out of Style."
Not to be forgotten, traditional engagement rings will forever have a place in the heart of women young and old, for generations to come.
Explore the
Classic Gallery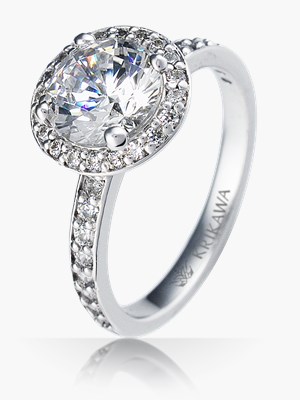 ---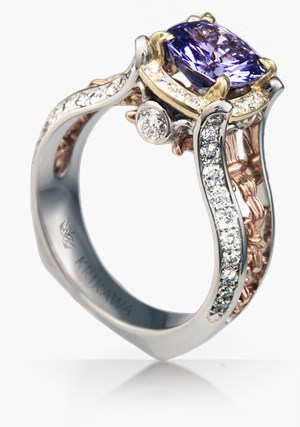 "There's no such thing as too much Sparkle."
-Lisa Krikawa
Exquisite, jaw-dropping designs make the mouth water with curves and secret symbols masterfully designed and crafted into works of art that even DaVinci would be glad to sport.
Explore the
Luxury Gallery​
---
What Will Your Dream Ring Look Like?

Get help designing.
Take this Quiz or Meet Your Ring Design Consultants
and prepare yourself for the experience of a lifetime.

Or, explore on your own.
Unique Engagement Ring Galleries:
Nature | Vintage | Modern
Unusual | Sculptural
Luxury | Classic

---
What to Look For in a Unique Engagement Ring
Style
When deciding upon the most meaningful ring you will ever own, there are a few things to consider regarding style.
1) Is this a style you will love wearing for your entire life, or at least until you upgrade the mounting at a major anniversary?
2) Is this style appealing because it is trending or because it matches your personal creative expression?
3) Is it something you love to look at?
4) Does it represent some facet of your relationship?
Function
Your engagement ring will be worn every day, and thus has some functions to fill.
1) Does this ring have the ability to be stacked with other bands?
2) Will the wedding band have to be soldered to it, or can it be free floating and worn separately, for travel or "work" mode?
3) Does this ring satisfy all of your social events? Will you love to wear it and be proud of it's uniqueness at all sorts of gatherings?
Durability
Because your ring will be worn every day for a lifetime, durability is a huge concern. Rings receive the most wear and beating of any piece of jewelry. They are banged up by regular daily wear with doors, baggage, dishes, and even bed sheets!
1) Are the materials in your ring sufficient for a lifetime of rubbing, scuffing, and banging around?
2) What kind of repair costs will you be looking at for the materials and style you've chosen?
3) Will you be happy with how it looks 5 years down the road?
At Krikawa, your design consultant can help you address these criteria and more, when selecting your dream ring.
Choose with care, choose with love, choose Krikawa.
---