PROVIDING YOUR OWN STONE
Set your sentimental or heirloom diamond or gemstone
You are welcome to provide your own center stone for your custom Krikawa ring.

Your stone will be fully insured for the duration it is in-house. It will receive a gemological intake and assessment for quality, ring fitting, and insurance purposes.
Setting Fee
There is a setting fee added onto the cost of the mounting for this service. This fee is determined by the value and carat weight of your stone, and also depends upon the hardness and shape of the stone.
Precision Crafting of your Setting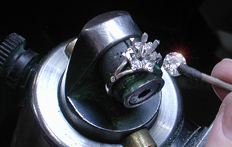 Every time we make an engagement ring, the setting is adjusted for the precise measurements of the center stone. If you have a round briliiant cut diamond, we can start modeling your ring with just the dimensions. If you have a fancy shape, we usually need the stone before we can start crafting your ring. We will scan the shape, and measure the crown, girdle thickness, and depth of the pavillion before crafting your unique setting to perfectly house your special stone
Sending In Your Stone
After you place your order, you can download the
Outside Stone Form
and instructions on
How to pack and ship your loose stone
.
Having Your Stone Set by Your Own Jeweler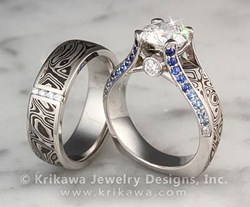 We are happy to make the mounting and send it to your local jeweler to set the stone, however, many of our designs are artistically crafted by our master jewelers who are extensively trained how to set and handcraft each of our unique designs for the finest aesthetic result. Some of our settings are so tricky and unusual that we highly recommend allowing our precision artisans to set the stone.
As each ring we make is custom built around your stone and preferences, we will need some information about the stone. In order for the stone to fit the mounting, please provide the dimensions of the stone including length, width and depth for round and princess cut diamonds. For any other shape, we will need a direct top view photo or scan, so we can match the setting to the outline of the stone, especially for bezel set designs. For any colored stones, we prefer to also have a side view of the stone or measurements of table to girdle, girdle thickness, and girdle to culet, if possible. We want to make sure that in the final product, the culet (point of the stone) does not pass the finger hole line.

Also, after another jeweler has worked on the ring, our 15 day return policy is void. Any work we do on a ring after it has been in the hands of another jeweler is billed at $150/hr.
Providing your own Accent Stones

For unique,
custom designs starting from scratch
, we can design a mounting for your sentimental stones. There will be a fee per stone for grading, inspecting, measuring, and laying out your stones for your design. This is applied to any stone, up to three stones.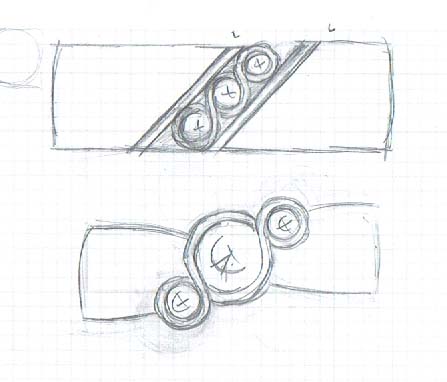 We do not accept client provided accent stones for any of our existing styles. Many of our existing designs require very specifically calibrated sizes.. Our accent stones are ideal cut, free of imperfections or fracture areas, and calibrated for the mountings.
What Ring Is Perfect for Your Stones?
Let the Ring Wizard help you find the perfect mounting!

Learn:
Three Ways to Build a Ring >
Our Easy Fool-Proof Process >
Why Krikawa >
Get help buying with our complimentary concierge design service.
Email
now or call 1-888-krikawa