Flower Engagement Rings
A Love That Blooms

Choose a diamond engagement ring with different diamond shapes or a diamond halo. The wedding band you choose to go with your flower ring can also show the detailed beauty of the flower. Realistically handcrafted with the precious metals and stones of your choice by Krikawa master goldsmiths. Look through our collection or contact us for your own made-to-order design.
Flowers have been used for thousands of years to show love and romance. The giving of flowers is common to express feelings of love and care, making the flower the perfect symbol for love, and a perfect way to give your special someone a flower is on a diamond ring!
Roses show many things, depending upon the color of the rose. A red rose is the perfect gift from one lover to another, as it represents lasting passion. A daisy is the symbol of innocence and purity, and is also the holy and untouchable flower of Freya in Norse mythology.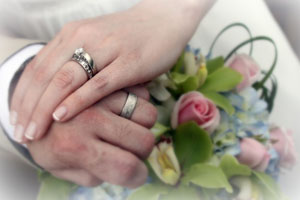 Whatever flower you put on your engagement ring, whether it is a rose, a poppy, a daisy, an orchid, a tulip, or other flower, you can choose one that is special to you.
Each of our floral engagement rings are created by hand, to order. So your wedding ring can be white gold, rose gold, platinum, green gold, or even some other beautiful combination. For gemstones, you can select the classic white diamond, or dream up a whole arrangement of flowers, represented by pink sapphire, red ruby, or yellow sapphire! With green emerald leaves, you'll be sure to make heads turn!
Design your own custom flower engagement ring
Do you have a special idea for creating your own flower engagement ring? Contact our design staff. We're excited to help you design something special, from scratch.
Your design consultant will enlist the help of our very talented sketch artist to create the design you are dreaming of! Once the sketch is to your liking, you'll receive a rendering showing the ring in perfect proportions from all angles before we start handmaking it.
Express your love with a one of a kind flower engagement ring.