Lab - Created gemstones
Eco-Friendly Gemstones
for the Environmentally Conscious

A lab-created gemstone holds the same physical, optical and chemical properties as their earth mined counterparts, however, they are grown in a lab and not in the earth. In addition to their environmentally friendly attributes, lab-grown gemstones are more affordable than earth mined gemstones!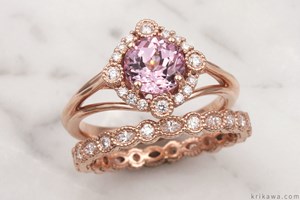 Here at Krikawa, we offer lab-grown sapphires by renowned leader in lab-grown gemstones,
Chatham
. A Chatham sapphire is not an imitation, but a sapphire grown in a human-controlled environment. Lab-grown sapphires are available in shades of blue, pink, yellow and champagne. Red (ruby) is also available.
Learn More About Lab-Created Sapphires >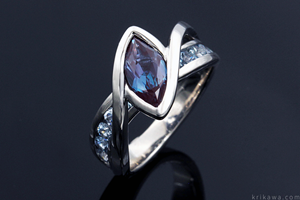 Like our lab-grown sapphires, our lab-grown alexandrite also come from the experts at
Chatham
. They retain the same properties as their earth mined counterparts, such as the unique color-changing abilities that can occur in nature. They are eco-friendly as they are not mined from the earth and best of all, they are significantly more affordable!
Learn More About Lab-Created Alexandrite >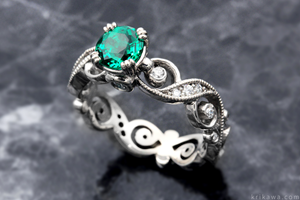 Last, but certainly not least, are lab-grown emeralds also grown by
Chatham
. Earth mined emeralds can get very pricey, which makes the lab-grown alternative a great option for those who do not want to sacrifice quality for budget. In many cases lab grown emeralds can be better looking as they have less fissures and inclusions that naturally occur in emeralds.
Learn More About Lab-Created Emeralds >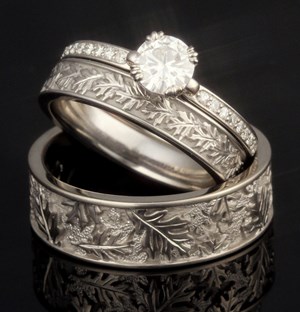 Moissanite is a white stone that is also grown in a lab. Created by Charles and Colvard, this unique white stone is a perfect alternative to diamonds.
With a high refractive index and a hardness over 9, they are the only diamond alternative that has rainbow scintillation and can last a lifetime without abraiding.
Learn More About Moissanite >
What Color Will Light Up Her Eyes?
Search our database:
Gemstone Search Tool >

Get help finding your stone:
Take this Quiz >

Explore ring designs on your own:
Unique Engagement Ring Collections >