NATURAL gemstones
Beautiful Stones Created by Nature
You love the unique and unexpected and are looking to continue that creativity in your custom ring. A natural gemstone is a great alternative to the classic diamond. Here are some of Krikawa's favorite natural gemstone options.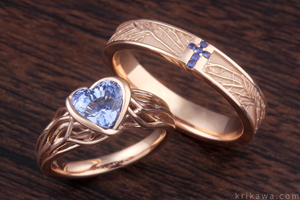 Sapphires are a great stone choice because they can withstand the general wear that occurs over the years on rings worn every day. They sit at a 9 on the Moh's Scale of Hardness. Another amazing characteristic of sapphires is that they come in a wide variety of colors to choose from!
Learn More About Sapphires >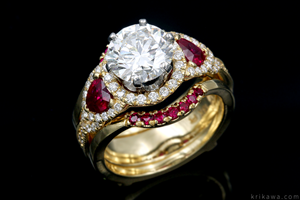 Rubies are another great natural gemstone option. Like sapphires, they are extremely strong and sit at a 9 on the Moh's Scale of Hardness. Rubies are found in shades of red with 'pigeon's blood' being the most desirable shade. Rubies are considered to be the most valuable colored gemstone.
Learn More About Rubies >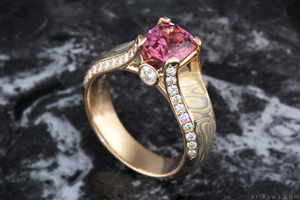 Spinel may not be as widely-known as the other natural gemstones, but it is beginning to grow in popularity and we know why! The amazing shades of spinel from beautiful blues and purples to vibrant tones in reds and pinks are making spinel highly desirable. Aside from spinel's attractive color-range, it's durability makes it suitable for daily wear.
Learn More About Spinel >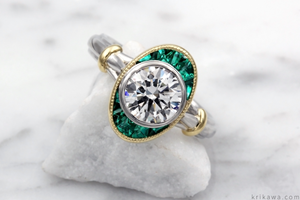 Emeralds are a relatively strong gemstone and are sought after for their unique green shade. A traditional gift for 20th and 35th wedding anniversaries, nothing compares to the vibrant green of an emerald!
Learn More About Emeralds >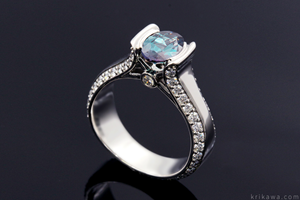 Alexandrite is a very special gemstone. It is coveted for its phenomenal color-changing abilities. It changes color, depending on the lighting, from a teal green to a dark purple. It also has a good durability and hardness.
Learn More About Alexandrites >
What Color Will Light Up Her Eyes?
Search our database:
Gemstone Search Tool >

Get help finding your stone:
Take this Quiz >

Explore ring designs on your own:
Unique Engagement Ring Collections >