Design Your Own Wedding Band
Your Words, Symbols, and Language

Word and symbol wedding bands are a unique way to bring special meaning to your lifetime commitment. Each ring is handmade to your specifications to reflect your individuality. Whether it's a special phrase, musical score, or a particular symbol that has meaning to you as a couple.
Have a particular phrase or saying that has special meaning to you? Get it engraved in a Krikawa Word Ring! Includes 15 letters. See your font choices!

Send us your own special symbol and we will put it in your own, custom wedding band with special meaning just for you!

If you enjoy roman numerals over modern day numbers, this is the ring for you. Please inquire for pricing of other metals.

Put your own special message on this dainty promise ring.

This ring allows you to have coordinates that are important to you engraved around the outside of the band.

This word wedding band has raised lettering with raised edges. The recesses can be darkened for contrast. Contact us with your personal text to get the order process started!

This is the 'Power of Love' symbol from West Africa. A beautiful symbol with a beautiful meaning. Choose from a range of metals to build a special ring.

Wear a personalized wedding band with a Chinese character that is meaningful to the two of you. Handcrafted in your preferred metal, width and finger size.

Do you have a special knot design in mind? Submit it to our designers and have your knot transformed into a custom, one of a kind wedding ring.

Etched with a custom fingerprint pattern, this one-of a kind ring is handmade and made to order for you. The lines of a fingerprint symbolize your unique love.

This truly unique ring will have the sound wave of your voice or someone important to you etched around the entire band.

Wear your heart on your ring, with this band! Have something meaningful or important to you engraved around the band with a Claddagh symbol.

Take one of our repeating-symbol, eternity wedding band designs, and incorporate you and your beloved's initials! Our designers will create a monogram that seamlessly fits with the pattern.

This band was designed to complement the Mokume Embrace Engagement Ring. With curves and etching, this is not your usual wedding band. 6mm wide.
A customized wedding band should be perfect for you! It's exciting to take a classic design and elevate it to make it personal. That could be showcasing family history by creating a special knot design or symbol. Share your culture with engravings of symbols, text, or other designs.
Making a wedding band to tell your love story is easy with our creative team. We are eager to hear your story as we sketch out fantastic milestones and memories. We ask you to tell us your story. Then we ask questions so we can paint a picture of your life. These details are then illustrated into a panoramic view to be cast onto a ring.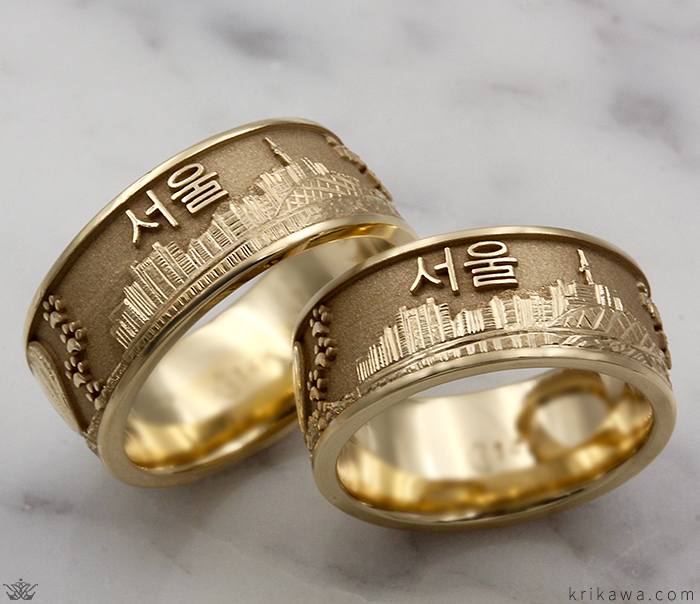 Celebrate your personal love story with a Journey Wedding Band. The creative team sketches layouts to be exactly what you prefer. Snapshots of your memories are then handcrafted with layers of precious metals.
Does your love story take place in a single location? The Mountain Wedding Bands are a popular personalized wedding band. Settings could be where you had your first date, or where you knew you wanted to spend the rest of your life with your partner.

Shop Mountain Wedding Bands
Previous designs have included an ocean scape with rocky cliffs. Others could be an exact photograph of Mount Rainier with tall evergreen trees. Get inspired by our hand-crafted designs. Our designers will create a layout of that magical place so you can carry it on your next adventure.

Book an appointment today for your custom wedding band.