Lesbian Engagement Rings & Gay Bands
From Your Awesome LGBTQ+ Friendly Jeweler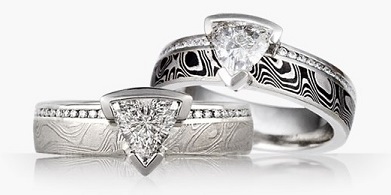 At Krikawa, we believe in love, for EVERYONE. Krikawa makes custom rings for LGBTQ+ marriage, civil union and commitment ceremonies. We joyfully serve LGBTQ+ couples worldwide and are dedicated to each of our customers having an enjoyable ring design experience with us. Krikawa practices being more than just a "gay-friendly" business and practices inclusion for all kinds of unique couples, each and every day, even in our own team.
Krikawa has been recognized by multiple pride organizations for supporting the community. Our wonderful clients Carol and Jillion were featured in the
Gay Weddings from The Knot
—you can read the whole issue
here
—and check out
this blog post
for a look at three more beautiful couples for whom we were honored to make wedding rings.
Krikawa was also featured by
After Ellen
as one of their "
Ten Lesbian Friendly Jewelry Stores for Engagement Rings
!" And in 2019, we were honored to not only sponsor Tucson Pride, but to make the fabulous crowns honoring the
2019 winners
of the Tucson Pride Royalty Competition.
Your options are endless - but take a look at some of our favorites below!
---
The Meaning of LGBTQ+
What is LGBTQ?
LGBTQ is an acronym that represents the world's gay community. Interpreted a number of different ways, the title stands for lesbian, gay, bisexual, transgender, and the "Q" for those still questioning their sexualty. LGBTQ is intended to emphasize a diversity of sexuality and gender identity-based cultures. It may be used to refer to anyone who is non-heterosexual or non-cisgender, instead of exclusively to people who are lesbian, gay, bisexual, or transgender.


LGBTQ symbols
A number of symbols have been adopted to represented the LGBTQ community. Beginning with the powerful labrys, a weapon used by the mighty matriarchs of the Ancient Minoan civilization. Today it is used to represent lesbian and feminist strength and self-sufficiency. While gay men have often associated the lambda with their sexuality, perhaps the most recognizable symbol could be the rainbow flag. Each color is symbolic in representing the community:
• Red stands for life
• Orange stands for healing
• Yellow stands for the sun
• Green stands for nature
• Blue stands for harmony
• Purple stands for the soul
• Black stands for the inclusion of all races



LGBTQ history
The LGBTQ term was adopted following hard fought social activism throughout the late 20th century. During an era where self-advocacy defined our nation, the LGBTQ community stood up for centuries of persecution and second-class citizenship to earn equal rights among their peers. Protest and parades flooded the streets of major US cities during the 1970s and 80s and finally, during the early 90s, the LGBTQ term was embraced.


What's next for LGBTQ?
As of 2015, a landmark Supreme Court ruling declared same-sex marriage constitutional, however members of the LGBTQ community still experience daily prejudices. Political agendas target and divide the community, forcing members to abandon their autonomy and select sides. A number of states still lack anti-discrimination laws that protect sexual identity and even, in extreme cases, outlaw the use of public restrooms for members of the community. The LGBTQ community is working hard to attain "true" equal rights with a strong presence in entertainment as well as Congress.
---
What Are Your Ring Options?
Feel confident in not following etiquette by wearing a non-traditional ring. We have handcrafted alternative rings for many individuals from the gay community. Some grooms have custom-ordered matching wedding bands. Some brides might have a pair of
engagement rings
. Other times, couples get completely different kinds of rings! Enjoy the freedom of making your own marriage custom. As a jeweler that makes each ring one-at-a-time, you can
personalize
your and your beloved's rings to your liking. Incorporate gender or meaningful symbols, messages and your favorite gemstones, while staying within budget!
Mokume Engagement Rings
Delight in the understated elegance and artistry of this handcrafted collection.
Commitment is an act, not a word.
Shop Mokume Engagement Rings
Mokume Wedding Rings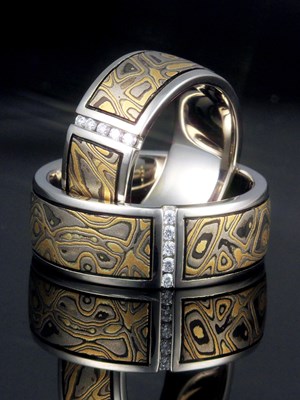 I think everyone dreams of that nice, romantic wedding.
Krikawa offers eight different color combinations for you to select for your custom mokume ring.
Shop Mokume Wedding Bands Now
Masculine Engagement Rings
Rare as is true love, true friendship is rarer.
This rare collection features designs with bold and distinctive details.
Shop Men's Engagement Collection Now
Unique Engagement Rings
Let us always meet each other with a smile, for the smile is the beginning of love.
Unique Wedding Bands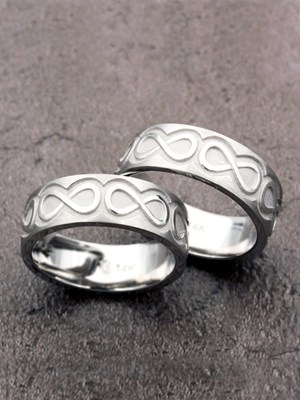 Genuine and true love is so rare that when you encounter it in any form, it's a wonderful thing, to be utterly cherished in whatever form it takes.
The one object that you will wear every day that represents your love,
and your commitment to each other.
Shop Unique Wedding Rings Now
What Will Your Dream Rings Look Like?
Meet our friendly design consultants
and prepare yourself for the experience of a lifetime.