Decorative Hand ENGRAVING
True Old World Hand Engraving for Your Custom Ring
From patterns to images, we offer you different ways to add an engraving to your unique ring. Symbols may be engraved on the outside or inside of a ring. You may also
add hand-engraved text on the inside
.
Patterns & Scrollwork
The most popular decorative hand engraving is a repeating pattern on the top or sides of rings. Whether you love simple lines, complex spirals, vintage scrollwork, or wheat patterns, nearly any pattern can be created on a ring using traditional hand engraving techniques. See examples of our pattern and scrollwork below.

A wide variety of patterns and customizations are available! These are very popular with vintage-inspired styles. A simple band can be elevated with ornate patterns and designs.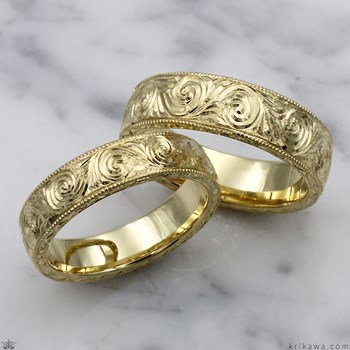 Engraved patterns and symbols are a great way to customize a simple wedding band.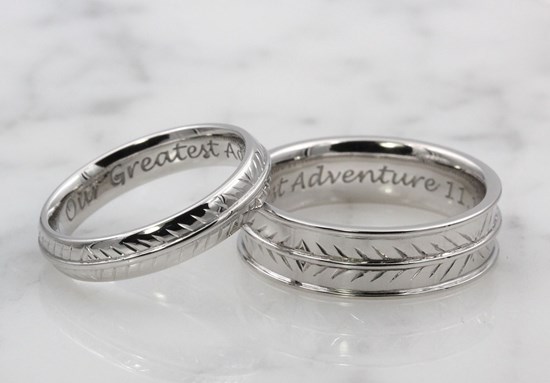 Rail patterns, such as wheat symbols, give any ring a vintage feel.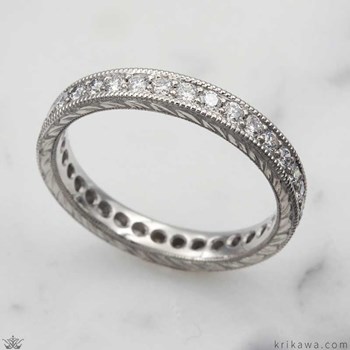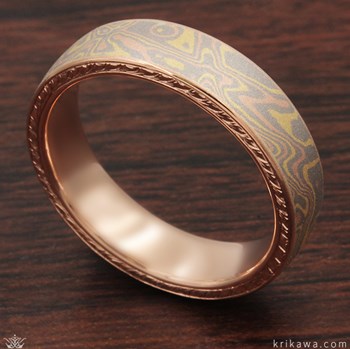 Our Western Floral is cast in place, with additional hand-carved embellishments applied by the jeweler adds texture and shimmer to this traditional pattern resembling tooled leather bags.
Symbols & Images
When it comes to images and symbols, hand-engraved ornamentation can honor your ancestry, bring your favorite landscape to life, or even capture your spirit animal on a ring. We cast certain elements in place to form a canvas, then our master jeweler uses hand tools for sculpting. Our mastery, detail, and dimensionality are exquisite.
Popular inspirations for hand-engraved ornamentation are family crests, animals, mountain ranges, and memorable life experiences. Examples are shown below, so ask our friendly design team how best to showcase your important symbols on your dream ring.

Mountain wedding band with a panoramic landscape. Mountain features are hand-carved by a master goldsmith to create dimension and texture.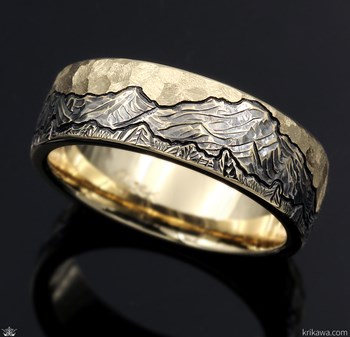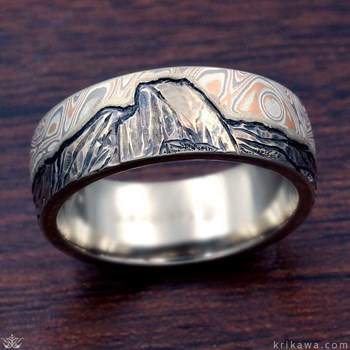 Signet rings are a masterfully elaborate technique of engraving. Mokume signet ring with a sculpted rhino centerpiece. Using a variety of sharpened gravers, our master jeweler adds bright cuts to bring life to your symbols!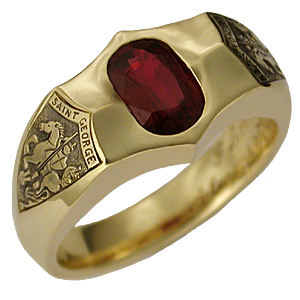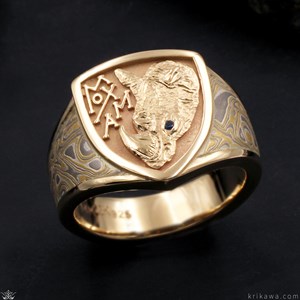 Journey Bands
Let your wedding ring, tell your unique love story. Create a diorama of how you met, where you proposed, and other magical memories. Our design team invests in your story as we create your own Journey Wedding Band.