HISTORY OF MOKUME GANE
From Japan to the United States

Mokume Gane is a technique of Japanese origin in which layers of alternating colors of precious metals are fused, forged and patterned to create swirling images of color in a sheet of metal. Mokume (wood eye) Gane (metal) is derived from the ancient Japanese sword making technique wherein layers of mild steel and carbon steel were forged together to create blades of great strength and durability. A fine woodgrain pattern on a blade is the tell-tale sign of Damascus steel.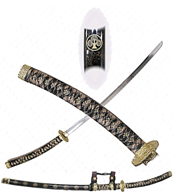 The first recorded use of mokume gane was by Denbei Shoami (1651-1728) who lived and worked in Japan. Shoami adapted the principles of forge-welded Damascus steel to create mokume gane. Advanced sword-making techniques used in Japan at the time were pivotal in the development of mokume gane, because the art of sword making was so accomplished that it directly influenced all forms of metalwork. The importance placed on swords in feudal Japan and the influence of sword-makers on Japanese art and technology is not unlike the leading role the aerospace industry has in driving the technological advances today. Swords were considered highly utilitarian and highly decorative, and the finest artists and metalworkers of the day worked side by side to create swords of great beauty and remarkable functionality. Master-apprentice relationships allowed for extensive knowledge of metallurgy to be passed down and expanded. Materials were readily available, and colored metal alloys were already in use at the time.
To achieve a successful lamination of a mokume billet using the original process required a highly skilled smith with a great deal of experience. The traditional materials used were relatively soft precious metals and alloys - gold, copper, silver, shakudo, shibuichi, and kuromido - which would form liquid phase diffusion bonds with one another without completely melting. After the metal sheets were stacked and carefully heated, the solid billet of simple stripes could be forged and carved to increase the pattern's complexity.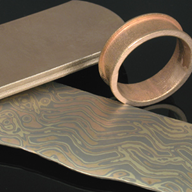 The modernized process typically uses a controlled atmosphere in a controlled, high-temperature furnace. Mechanical aids such as a hydraulic press or torque plates (bolted clamps) are also commonly used to apply compressive force on the billet during lamination and provide for the implementation of lower temperature solid-state diffusion between the layers.
Contemporary metalsmiths have rediscovered mokume gane as an expressive material with a subtle palette of precious metal colors. Due to the labor-intensive nature of fine mokume jewelry, it will remain an uncommon jewelry technique, avoiding association with mass-produced commercial jewelry.
Lisa Krikawa is an award-winning mokume gane artist, and is recognized world wide as one of the leading mokume ring makers. With clients from Australia through the U.K. to Canada and all across the 50 United States, Krikawa has quite singularly nailed the mokume-gane bridal market with her client-inspired, co-created, one-of-a-kind masterpieces.
References:
Pijanowski, H.S. and Pijanowski, G.M. (2001)
Wood Grained Metal: Mokume-Gane
,
http://www.silversmithing.com/1mokume.htm
Binnion, J.E. and Chaix, B. (2002)
Old Process, New Technology: Modern Mokume Gane
,
http://www.mokume-gane.com/Papers/SantaFePaper.pdf
Midget, Steve (2000)
Mokume Gane: A Comprehensive Study
. North Carolina: Earthshine Press