ROSE GOLD metal
Fine Gold Mixed With Copper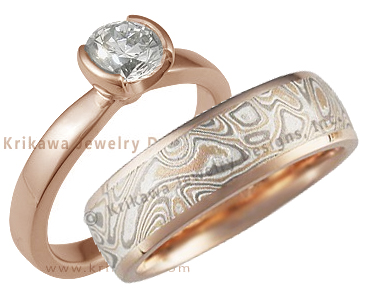 Rose gold, also known as red or pink gold, is an alloy that consists of pure gold and copper.
14k rose gold contains 14 parts fine gold and 10 parts copper and silver. It is the rich red copper combined with fine gold that creates a warm rosy tone.
Historical Trivia
Throughout ancient history, rose gold was used decoratively. Rose gold was popular in 19th century Russia, and was known at the time as Russian gold. It became popular in the United States during the 1920s when Cartier introduced the Trinity, a ring made of three interlocking yellow, rose and white gold bands. It has become more trendy in the 2000s.

Rose Gold from Krikawa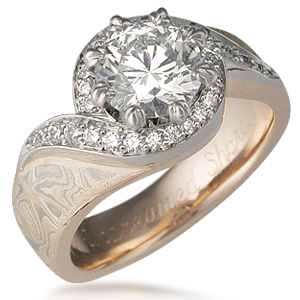 Our preferred rose gold is 14K rose gold, which is suitable for our ring mountings. 14k rose gold is a deeper pink color, and is most prevalent in jewelry.
Upon request, we do offer a high karat 19.5k rose gold for rings without stones, earrings, or pendants. 19.5k rose gold has a very pale pink hue due to the high gold content, but it is quite yellow. 19.5k rose gold is less durable, and will bend or scratch more easily than its more durable rosy cousin 14k rose gold.
Our Champagne and Trigold mokume gane include 18K rose gold within the pattern. However, 18K rose gold is no longer offered for ring mountings.
Rose gold is beautiful on all skin tones and pairs well with other metals.