Unique Wedding Rings and Bands
Carefully Handcrafted JUST FOR YOU
Your love story is unique.
Create the most meaningful rings
you and your sweetheart will ever wear.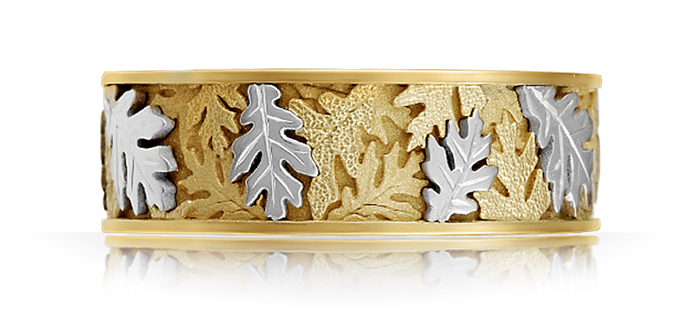 Your unique wedding rings will be made to order, just for you.
With excellent design inspiration and expert design consultants,
you'll create rings that you'll love to look at
for a lifetime.
We guarantee your satisfaction.
Our excellent custom jewelry service is just the cherry on top.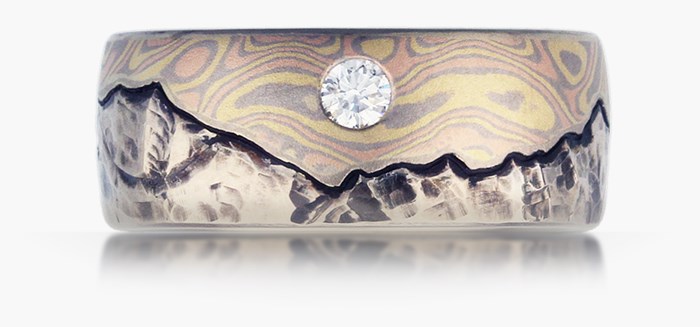 Explore our
Unique Wedding Band Galleries
---
The unique sounds of nature come through in this exquisite jewelry gallery inspired by the mother herself. A tree of life with leaves and roots, and creatures of the land and sea lend inspiration.
Explore the Nature Gallery
The earth laughs in flowers.
---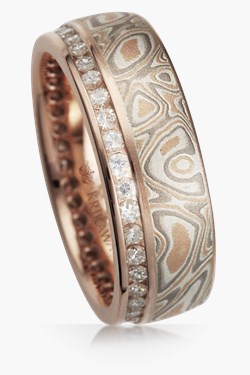 In a world-class creation of Mokume-Gane designs, Krikawa is unparalleled in creativity and craftsmanship. Unique wedding bands, masterfully crafted, one at a time.
Explore Mokume Gallery
Mokume-gane is the perfect marriage of metals to represent a marriage.
---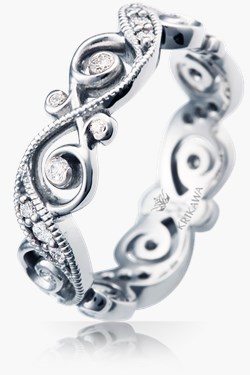 You know you are soul mates, for now and forevermore. The fairy tail never ends with intricate and elegant infinity rings. Express your oneness with jewelry hand made for you. The perfect wedding set.
Explore the Infinity Gallery
A true love story never ends.
---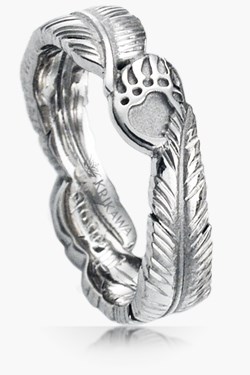 Masterfully sculpted one facet at a time, this sculptural expression reveals the true artistry and ability of the Krikawa Team to manifest that which makes your heart soar. Truly a brilliant gallery of unique wedding rings.
Explore the Creative Gallery
Creativity is the way I share my soul with the world.
---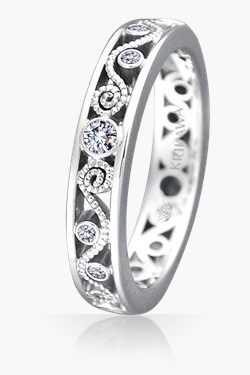 A reflection of the gorgeous lines and details of antique wedding rings, this collection will inspire your dream vintage wedding band, and we'll manifest it for you.
Explore the Vintage Gallery
Romance is the glamour which turns the dust of everyday life into a golden haze.
---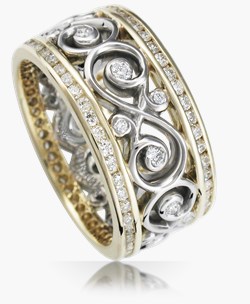 Even the most understated woman will not begrudge herself a diamond band. From simple to luxurious, these jewelry designs are sure to add sparkle to any ladies' finger.
Explore Women's Diamond Gallery
A diamond's true value is in the light that shines through it.
---
Whether you started with a Krikawa engagement ring or not, these bands are made to order to perfectly hug your unique engagement ring for a beautiful bridal set.
Explore the Curved Gallery
I love it when you wrap your arms around me.
---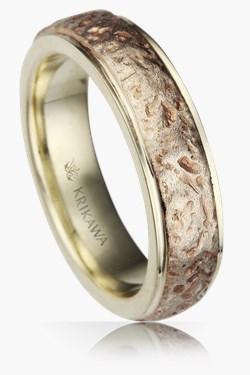 From truly ancient Roman looking to simply stone-washed, our unique wedding rings with texture collection is rustic and ready for every day wear.
Explore
Textured Gallery
The texture of experience is prior to everything else.
---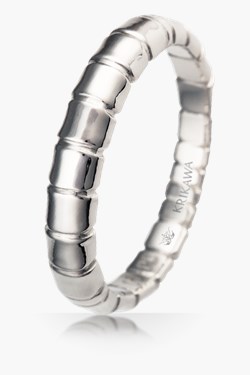 Even a plain wedding band doesn't have to be mass produced. Pick your profile, width, size and metal for jewelry perfectly customized for you.
Explore
Simple Band Gallery
Make everything as simple as possible, but not simpler.
---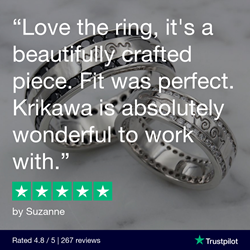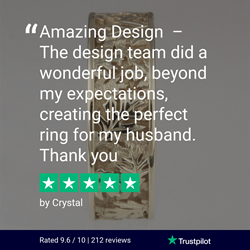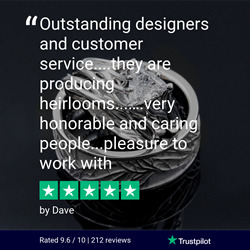 Enjoy the Journey
We understand that the unique wedding ring buying process can be overwhelming.
That's why our caring and knowledgable design consultants are dedicated
to helping you create the unique wedding rings that tell your story,
for this lifetime and beyond.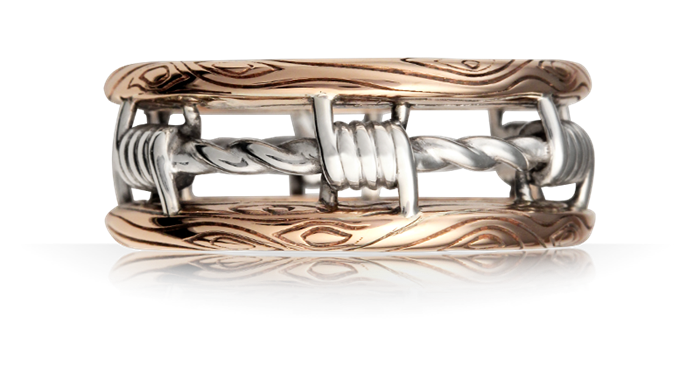 Your love is unique, and your rings should be too.
Each and every ring we make is carefully handcrafted, to order.
Start with one of our portfolio designs or a concept from scratch,
and personalize your bridal set to your heart's content.
100% Satisfaction Guaranteed
After helping 10,000 couples from all over the world create original wedding bands,
our 5-star reviews for customer service and world-class design say it all.
---
Why Create an Original, Unique Wedding Set?
The origins of marriage lie beyond the horizon of history itself, as a defining cornerstone of the human experience. For most, finding that one other person with whom we want to spend our lives is the epilogue to a personal epic of singlehood. It is a story from which we emerge, undeniable highlights aside, more than ready to turn the page on the peaks and many, many troughs of searching for our mates. And more than the ending to that old story, marriage represents the happy prologue to a longer and more resolutely joyous story.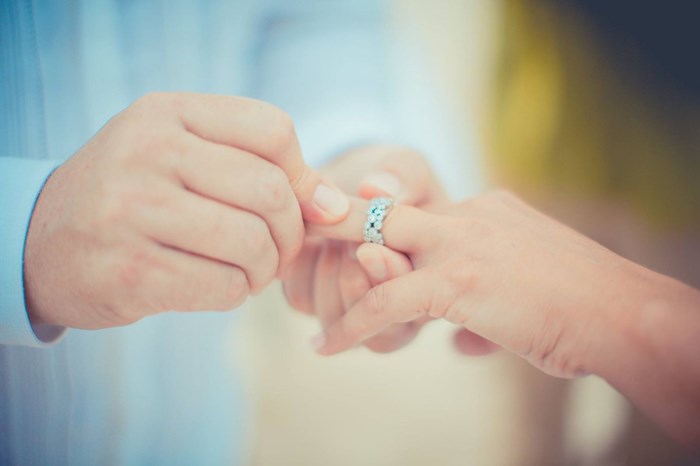 As a watershed moment in any person's unique journey, the bands exchanged during a marriage ceremony are an essential concretizing element of a couple's commitment. No mere signal to others who might take an interest in our marital statuses, the wedding band is most importantly a constant and tangible reminder to ourselves of the story that brought those rings to our fingers. Traditionally exchanged between partners during the course of their marriage ceremony, wedding bands also serve as a remembrance of the ceremony. The phrase "happiest day of your life" is used so often that it can lose its meaning—until that day comes, and you give your heart and soul over to your beloved. Like many traditions, the power of the marriage ceremony is difficult to express in words—it taps into something much deeper in the collective human psyche.
While the engagement ring's significance and form have evolved considerably over time, the wedding band has persevered as a symbol of matrimony from antiquity. Historians trace the emergence of wedding bands to Ancient Egypt; as a symbol of eternity represented by this sacred jewelry, the circle was venerated as a perfect geometric representation of the abiding commitment between husband and wife—a commitment which carried on beyond one's earthly sojourn. Also dating to the Ancient Egyptians is the traditional placement of one's wedding band—on the third finger of one's left hand. It was believed that a singular vein connected this finger directly to the heart.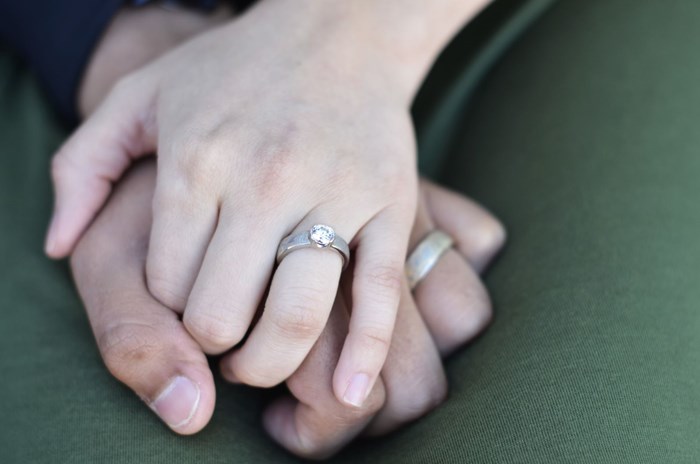 While the very presence of a unique wedding band on one's finger taps into that ancient tradition, the specific and defining qualities of your ring are just as important. Most wedding bands are made from precious metals, which speaks to the precious nature of marital commitment. Moreover, precious metals develop a beautiful patina of wear over time—while retaining their shape and resisting cracking. Unlike alternative metals, rings of precious metal can be resized. The gentle wear and ability to grow with us as our marriages age make a band of precious metal a beautiful metaphor for marriage itself.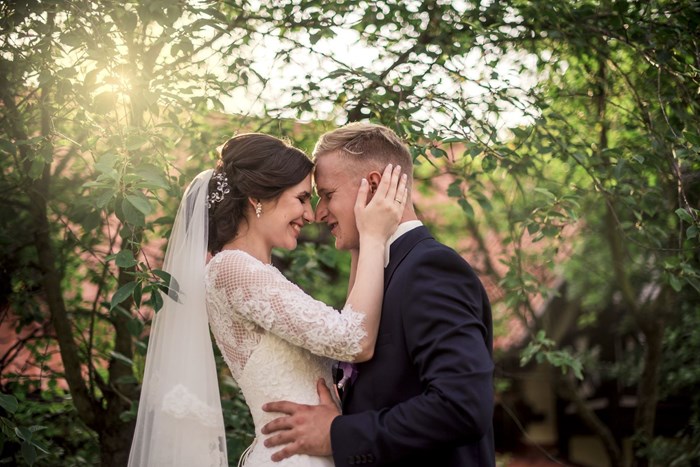 Every person is unique—and, as a marriage consists of two people, the alchemic combination of two people into a marriage effectively elevates that particularity by a full order of magnitude. As special as you and your beloved may be as individuals, you can say even more certainly that there is no couple in the world like yourselves. And for that reason, it's important to exchange unique wedding rings that speak to the unparalleled uniqueness of your union. Whether nature-inspired or something more modern or abstract, the possibilities with Krikawa's unique custom jewelry design process are quite literally infinite.
---
How Will Your Rings Get Made?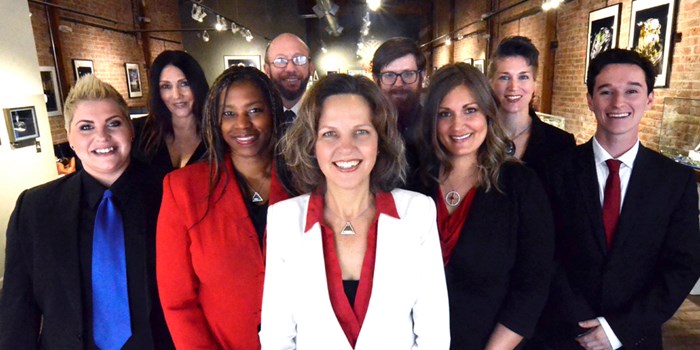 You can either order online, or start a conversation with a jewelry design consultant via phone, text or email. Even when you order your unique wedding bands online, you'll be assigned a design consultant who will take care of reviewing all of your details, communicating with you, and putting your order through our on-site, US workshop for production by our talented goldsmiths.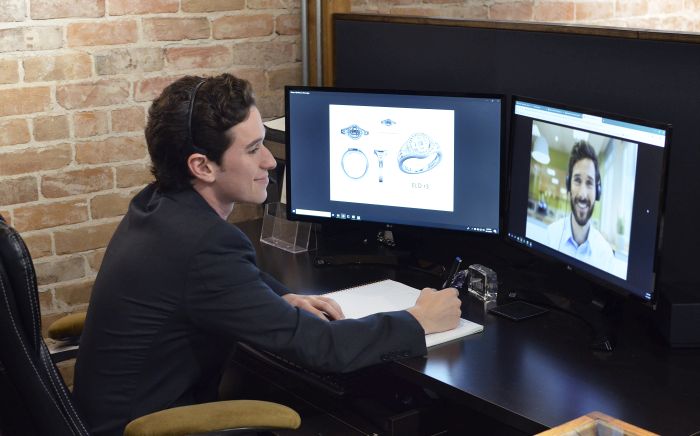 Every ring is made to order, one at a time, and we'll communicate with you via sketches, mockups, and renderings to make 100% sure that we're making the jewelry of your dreams. After the design has been selected using photos and sketches, we'll create the ring in CAD to make sure it looks amazing from all angles.
Then a rendering is provided for you to review, particularly if the design is a new design, a hybrid, or a modification of an existing design.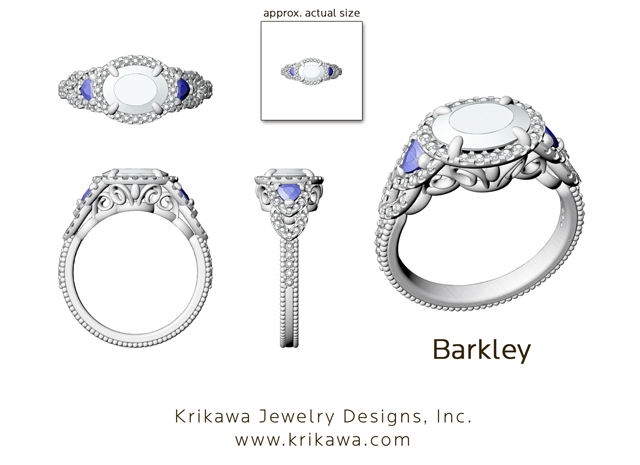 With your approval of the imagery, we'll start the magic in the jewelry workshop with our amazing team of goldsmiths and diamond setters.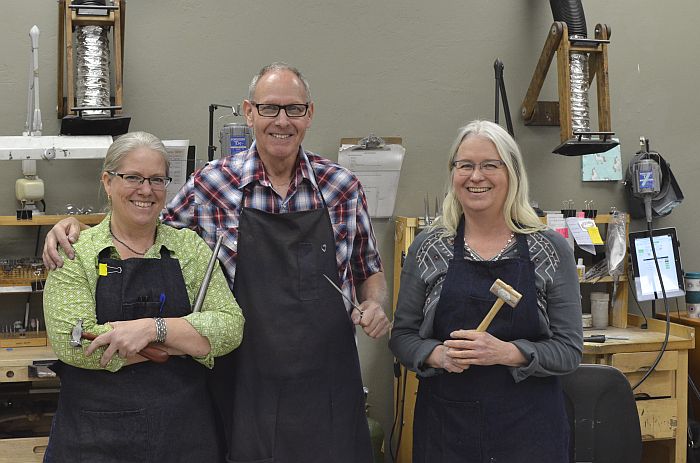 They don't mess around. With cutting edge equipment, microscopes, lasers, and old world craftsmanship, your ring is brought to life. Made one at a time, with you in mind, with love.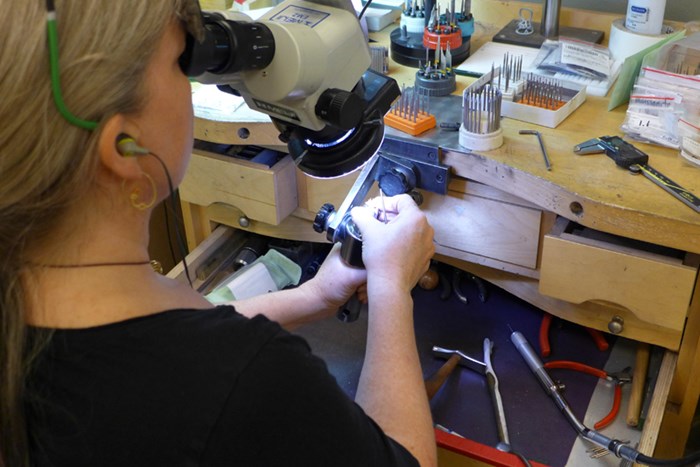 Celebrating your relationship in diamonds, gemstones and precious metal, and creating a ring that you will cherish for a lifetime is our mission. We've got your back! And if you are inspired by the story of the making of your ring so much, we'll even make you a book!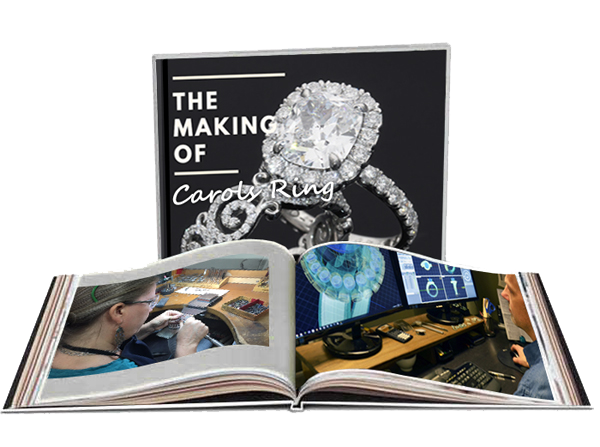 No matter what, in the end, you're the one that gets to tell the story of your marriage with your ring. It will always remind you of when you first met, and when you exchanged rings and vows. Your rings are about you, and you deserve rings that you adore. We'll make sure of it.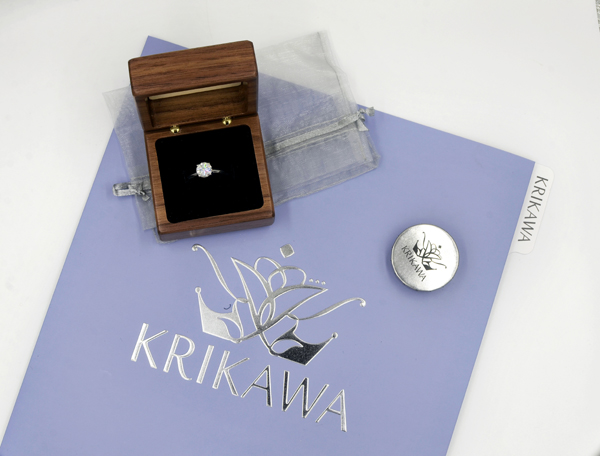 ---
What Unique Wedding Rings Tell Your Love Story?
Get help designing.
Take this Quiz or Meet Your Ring Design Consultants
and prepare yourself for the experience of a lifetime.

Or, explore on your own.
Unique Wedding Ring Portfolios:

Nature | Infinity Symbol | Creative | Vintage
Women's Diamond Bands | Curved and Contoured
Textured and Rustic | Plain Simple Bands