modern engagement rings
Clean Lines with Simple Elegance
Shop Modern Engagement Rings
Waxing nostalgic and waning traditionalism, your modernist ideals can be transformed into the clean-cut lines of a modern engagement ring. Typically rejecting the traditional prong set structure, modern brides want comfort, low profile, and durability.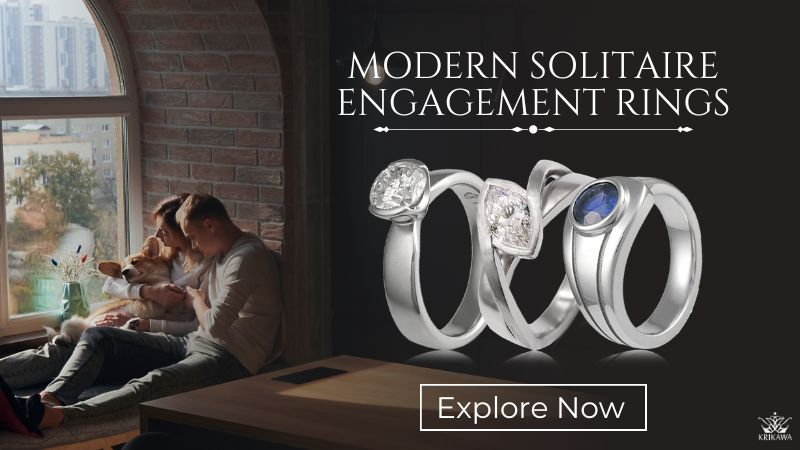 Think chic with these engagement rings that embrace and highlight your solitaire stone.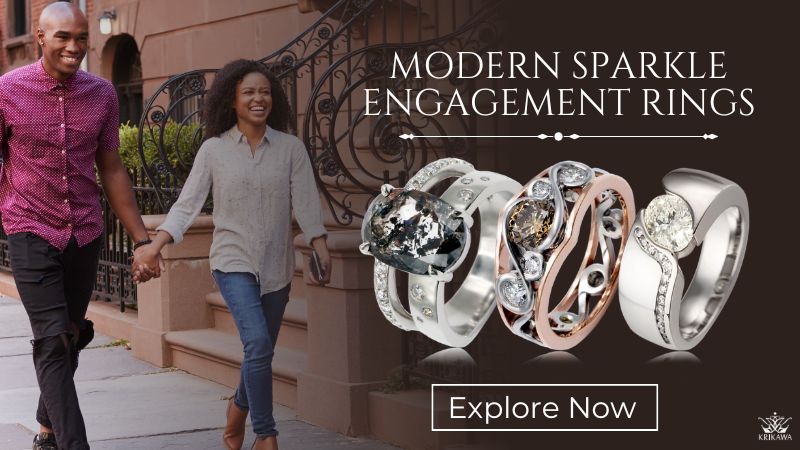 Sophisticated designs with radiant accent stones that are sure to dazzle.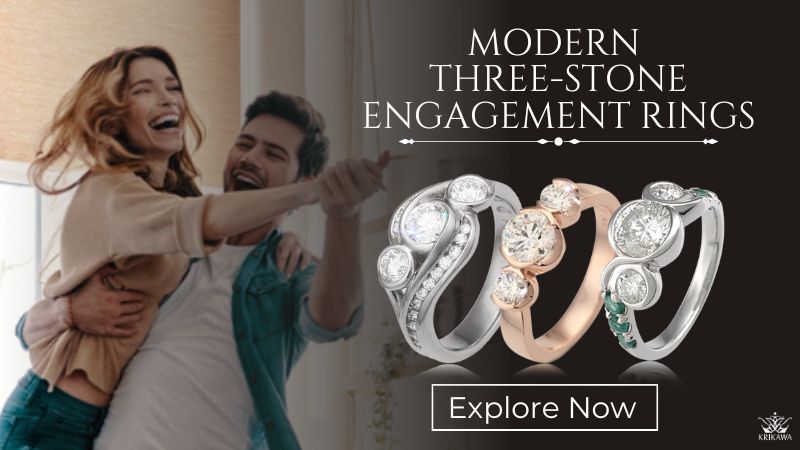 Triple the brilliance, triple the beauty with a Three Stone Engagement Ring.
---
A Ring for a Twenty-First-Century Bride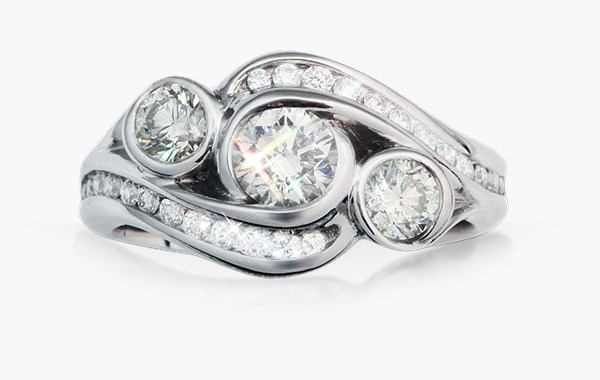 Lisa Krikawa loves to photograph sections of modernist buildings and is an aspiring minimalist. Architecture, outer space, artwork, and many other realms inspire her to create these modern rings and your favorite design can be modified to represent what inspires you!
You too can be mesmerized by the light rolling off the highly burnished precious metal of this unique collection. Check out the diversity of flowing curves, sharp angles, and geometrical shapes. What modern shapes inspire you?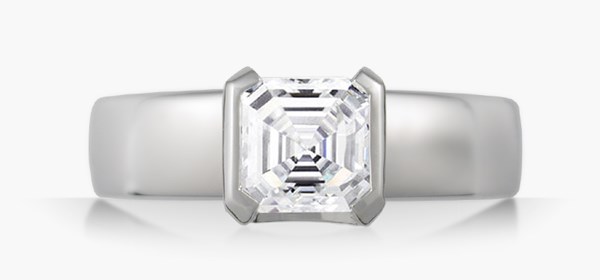 We've always made rings one at a time and we'll do it for you. Your love is worth more than a mass-produced, off-the-shelf stock item. Have it made to order at Krikawa.
What Is Modernism?
Modernism was a global movement that took place in the early twentieth century. Modernist pioneers yearned to abandon traditional beliefs and design structures, creating instead, simplicity of design and deconstructed cultural ideals.
What Classifies a Ring as Modern?
Since modern is a reaction to traditional, you won't find any traditional diamond engagement rings in our modern collection. The engagement ring sets shown here, while they may be halo rings, or solitaire rings, will have strong, simple clean lines that defy the traditional prong, set, and cast ring design.
Custom Engagement Ring from Krikawa
Going custom for a modern diamond ring setting is of particular importance. Because every line, form, negative space, and shape is of paramount importance, your Krikawa design consultant will make sure that the aesthetics of your modern ring scream perfection.
Modern Engagement Ring Features
First, consider your precious metals. Whether you go with white gold, rose gold, yellow gold, or platinum will play a big part in the overall appearance of your ring.

The stone type also matters. The color of your center stone should be carefully considered. Whether you go with a white or colored diamond, blue or pink sapphire, or another gemstone, the color will be a primary feature of your ring. If you need diamond education, you can connect with your Krikawa design consultant.

Since none of Krikawa's designs are preset, you can pick any design element you love, from split shanks to cathedral settings, Euro shanks, and other styles.
Matching Wedding Rings
Since your ring will be custom-built, your matching wedding band can be perfectly crafted to enhance your engagement ring. If you want them to stack perfectly without gaps, they'll fit together like a dream.
---
What Will Your Dream Ring Look Like?