Mokume-gane rings
The Perfect Symbol of Marriage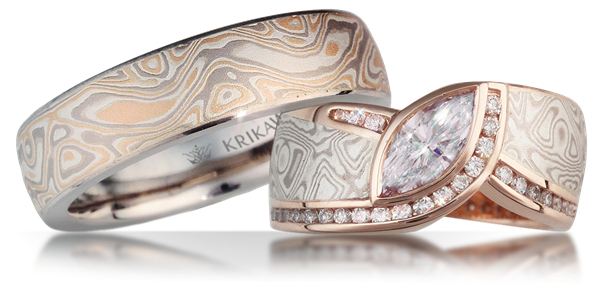 An ancient Japanese technique of forging and folding metals together;
mokume-gane is the precious metal version
of the Damascus blade of a Samurai sword.
Read the history >
Create Your Own Dream Ring in Mokume: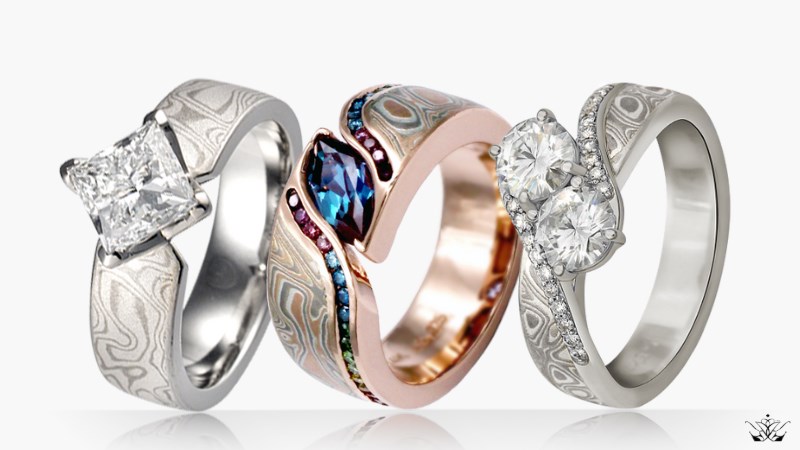 The
pies de resistance
for your engagement ring. The mokume band traces the profile of the ring adding color, depth, and creativity. Browse the many styles and see how mokume can pair with your style of engagement ring.
Wedding Bands enhanced with a mokume pattern. Choose between metal color, mokume gane flavor, and ring profile. The design evolves as your romantic journey grows.
What Mokume Rings Tell Your Love Story?

Get help designing.
Take this Quiz or Meet Your Ring Design Consultants
and prepare yourself for the experience of a lifetime.

Learn.
What is Mokume Gane? >
Six Mokume Flavors >
Rails, Liners and Finish >
The History of Mokume >

Or, explore on your own.
Mokume Engagement Rings >
Mokume Wedding Bands >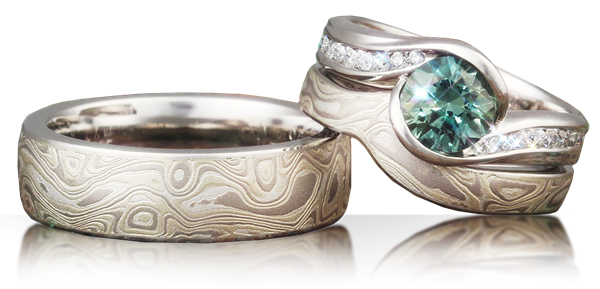 Each Krikawa mokume gane band is made to order.
Let your Krikawa design consultant guide you down the path
to the perfect mokume ring, or explore and design your own.
See the Rails, Liners and Finish options >

Each mokume gane is truly unique - no two are the same.
Made with a very detailed and time-consuming process,
multiple metals are folded to create a beautiful design.
Each flavor has its selection of metals and is folded, hammered,
and refined to create this stunning organic pattern. Learn more about each flavor