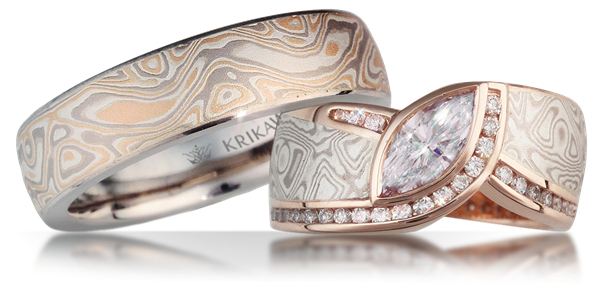 An ancient Japanese technique of forging and folding metals together;
mokume-gane is the precious metal version
of the Damascus blade of a Samarai sword.
Read the history >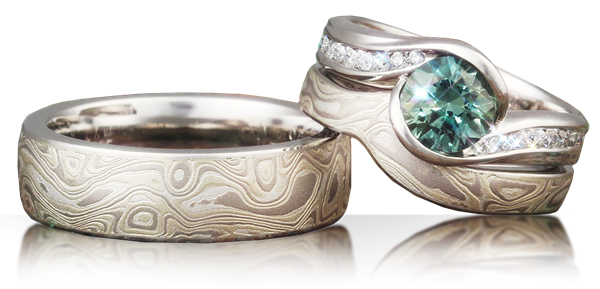 Each Krikawa mokume gane band is made to order.
Let your Krikawa design consultant guide you down the path
to the perfect mokume ring, or explore and design your own.
See the
Rails, Liners and Finish options >
Create Your Own
Dream Ring in Mokume:
Why Mokume Gane?

Marriage is the eternal union of two souls—souls who are nonetheless vibrant and alive now on this mortal plane of existence. Engagement and wedding bands often feature precious metals and nigh indestructible diamond, perfectly suited to the symbolism of eternity. But how can one capture the vibrancy and organic growth that characterizes a marriage? Enter mokume gane.

Forged between precious metals compressed upon the very cusp of alloying, mokume gane represents the best of both worlds between the immortal durability of metal and the delicate vitality of nature. Translated literally from Japanese, this "wood-grain metal" is undeniably organic in appearance. Moreover, because every billet is forged and patterned under slightly different conditions, the swirling concentric patterns of mokume are irreplicable and entirely unique. Just like every living being on earth: from mighty oak to delicate wildflower—or two sweethearts who found each other against the odds.

With eight flavors—unique combinations of gold alloys, sterling silver, and platinum—you will have abundant room to choose the precious metal pallet that best suits your sensibility. Moreover, with our overflowing design portfolio—and infinite possibilities afforded by our custom design process—your chosen mokume gane can be incorporated into the exact engagement ring or wedding band that speaks to you. Anything from a simple band of mokume gane lined by precious metal—which allows the mokume to speak for itself—to extravagant and show-stopping luxury rings.

When you design a mokume gane ring with Krikawa, you benefit from over two decades of world-class expertise and artistry. Our signature patterning is unlike any other jeweler's, and each ring has a living mokume pattern, the exact likes of which will never repeat. Add that to the limitless possibilities of custom design, and you have a one-of-a-kind piece. Choosing your engagement ring and wedding bands means choosing the most important articles of jewelry that you will ever own, and we at Krikawa are truly honored to play a role in your love story. Whether you came to our digital doorstep for our unparalleled custom-design abilities or our world-class expertise in mokume gane, we invite you to explore our portfolio.

Much like the love of your life, the perfect ring has been here all along, waiting to be discovered. Browse our mokume flavor options and discover which one speaks most to you. Explore our inventory, and get an idea of the designs that are a perfect fit for the unmistakable, unreplaceable person that you are. And please, please don't hesitate to reach out to one of our design consultants to help point you in the right direction—we're here to help.