Your custom Journey Wedding Bands
Tell Your Love Story with Unique Rings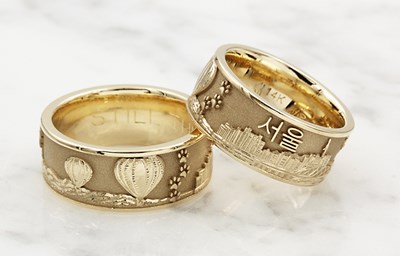 For the ultimate wedding ring, tell your unique love story. Create a diorama of how you met, where you proposed, and other magical memories. Our design team invests in your story as we create your own Journey Wedding Band.
We start by scheduling the first appointment via Zoom, phone, or in person. We'll collaborate with you to collect and narrow down every detail. We want the most poignant and important landmarks in your personal journey. Our design team will create a layout for you showing the elements of your journey. We love using photos to perfectly capture that moment. Other elements can be rendered by drawing specific elements. We love the little details, do you have pets? What little elements of your relationship make you smile every day? We want those details to illustrate your special story!

From approval of the graphic layout, a rendering is created for you to approve. This rendering shows the design outlines of the ring. The fine details start once our master jewelers get to work. They carfeully carve, etch and sculpt the remaining details.

As referenced, we created matching wedding bands with landmarks of the couple's story. The skyline of Seoul is masterfully crafted with Korean characters. As they moved to Hawaii, they got matching sun tattoos. Our design team used a photo the couple took of the Hawaiian coastline. Palm trees, waves, and distant mountains are engraved with a motif of their sun tattoos. Their final landmark is a memory of them watching hot air balloons in their backyard in Tucson. Paw prints of their cat trace the outline of their perfect new home.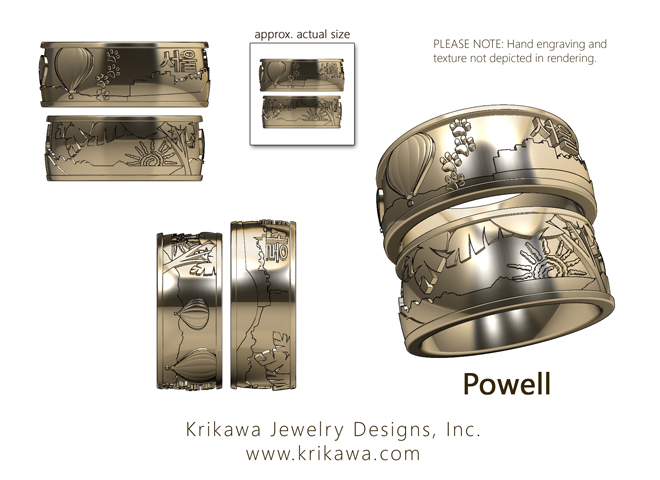 Interested in creating a custom wedding ring that tells your story? Our friendly staff will help you every step of the way!
Book an appointment today
for your Custom Journey Wedding Bands.