PRECIOUS metals for CUSTOM rings
A Vast Palette of Colors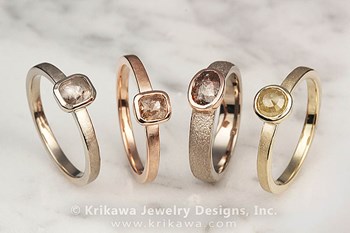 Why settle for a pre-made ring when you can have the ring of your dreams, in a metal color that suits your skin and your style. Your ring deserves to be handcrafted from the right metal. Pick the colors youself or let the team at Krikawa help you select the perfect metal, whether it is for your
unique engagement ring
or
wedding band
. Unsure what is going to look best with your skin tone or stone? We'll provide advice from our decades of experience, photograph your colors together, or ship your stone and metal samples together for you to see in person! Together, we'll create the ring for a lifetime. Call 1-888-KRIKAWA or
email us
today.
What Metal Will You Choose?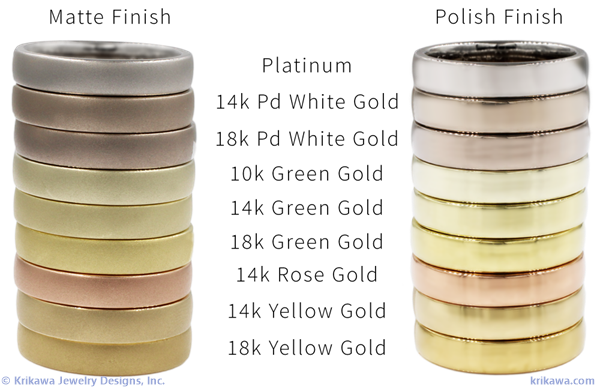 Your choices in precious metals offer you a range of colors. Your choices go beyond light cool gray to yellow. You'll explore the possibilities in color from copper to a light green, yellow or white. Krikawa artisans and goldsmiths will work from this broad palette to create your ring. You'll be amazed by our ability to "paint with metals," creating the masterpiece you'll love.
At Krikawa, your ring will be handcrafted and made-to-order with the precious metal of your choice. Choose from precious metals such as:
metal's durability
based on its unique composition and hardness. With our guidance, you'll understand how a metal's hardness will offer you different levels of resistance to dents. You can be confident knowing how your ring will hold up over time without wearing down.
White Metal. Right Metal?
Want to know
how to choose the right white metal
for your ring? In deciding on the right metal, let us help you consider important elements such as:
color
hardness
wear resistance
maintenance
Considering a light weight design? Have a preference for a larger, bulkier design? Talk to our experts for advice on selecting the right metal for your ring. You'll discover how different metals hold up during daily life. You'll know your options with white metals and the
various properties
of your selection.
Whether this is your first piece of fine jewelry or a new piece to your collection, our designers will help you make the most of every detail. You'll recognize the level of expertise and craftsmanship in every Krikawa ring. You'll understand why a Krikawa ring is the ring you'll wear for a lifetime.
Comparative Qualities of Krikawa Precious Metals
Alloy*
Approximate
Composition
Specific
Gravity
Melting
Temp. (° F)
Color
Vicker's
Hardness
950 Platinum
95% Pt
5% Ru
21.45
3235
light cool gray
130
18k Palladium White Gold
75% Au + Pd
14.6
1730
light cool
gray
210
14k Palladium White Gold
(Krikawa Standard)
58.5% Au
+Pd
13.7
1710
medium warm gray
150
14k Nickel White Gold
(Upon Request Only)

58.5% Au

+Ni

medium warmsih gray

170

18k Yellow Gold
75% Au
15.6
1700
rich yellow
125
14k Rose Gold
58.5% Au
+Cu
13.4
1520
copper
125
14k Green Gold
58.5% Au
+Cu
bright yellow
10k Green Gold
41.6% Au
+Ag
11.7
1480
light green yellow
170
*An alloy is a combination of different metals that are melted and blended together to create a new homogeneous metal with a uniform color and a new melting temperature (different from the parent metals). New alloys are created to achieve more desirable properties such as hardness and ductility.
Gold and Platinum Color Chart for Wedding Bands and Engagement Rings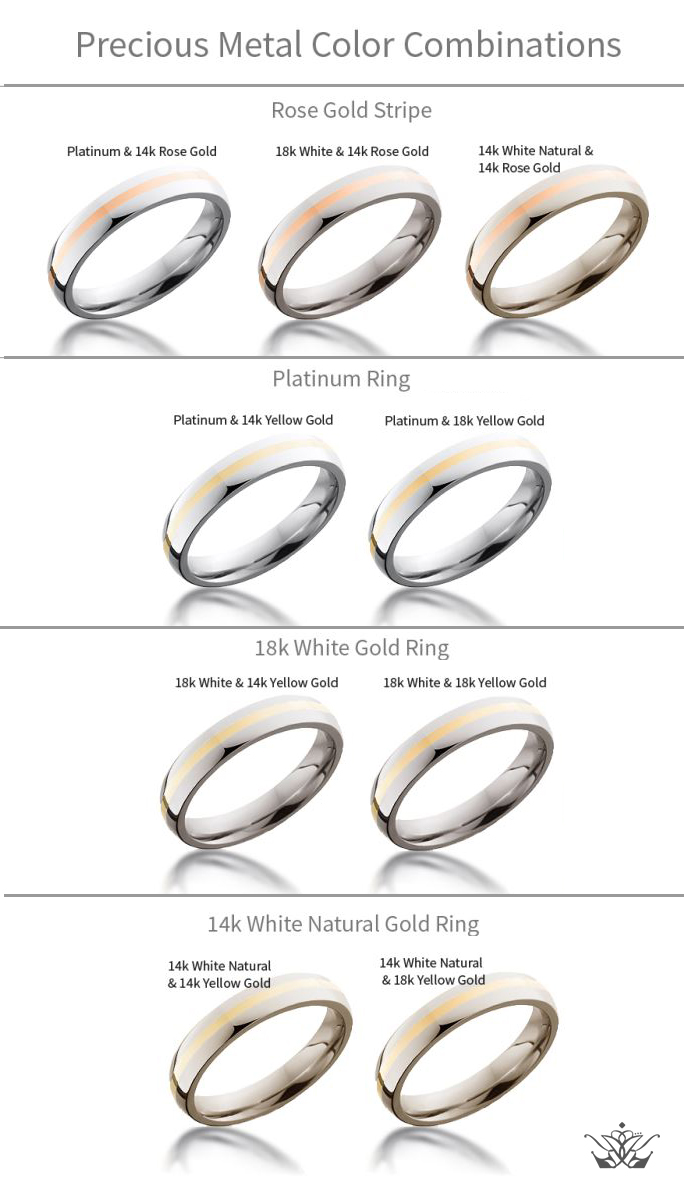 Keep in mind, your ring will be much smaller than shown above! See this scaled chart for another reference. You can see here why, with our decades of experience in making custom rings, we recommend platinum and 18k yellow gold, or platinum and 14k rose gold for two-tone designs.
Ways to help differentiate the two metals include matte and brushed finishes, and broken surfaces (such as a groove between the two colors.