Design Appointments
Not Required, Just Recommended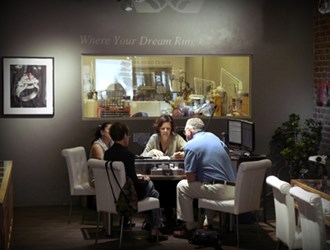 While most of our clients reside out-of-state, we welcome you to custom design your ring in-person if you are in Tucson, Arizona. We highly recommend appointments for custom ring design, jewelry re-design, restoration and repair. If you would like to meet and work with one of our ring designers, please make a reservation ahead of time to guarantee availability and to reduce your wait time!.
During your session, your talented designer will gather information about your design needs and answer your questions. Most sessions last about an hour, but some may take shorter or longer, depending on the design.
In-person or Zoom Appointments are available Monday - Friday 10-5. You may call 520-322-6090 or 1-888-KRIKAWA to reserve a time or book an appointment online: Schedule My Design Appointment.