Inside Ring Inscriptions
Personalize the Inside of Your Band With Heartfelt Words
---
Machine-Inscribed
Great for basic engravings such as dates and simple quotes. Inscriptions cost $30 for up to 15 characters, including spaces. Each additional character is $1. Messages may include a combination of letters, numbers, and the "&" or "-" symbol. A diamond-tipped engraving machine scribes your message in a single line of block or script text. The length of the inscription depends upon the space available inside your custom ring. 3mm wide rings and up only.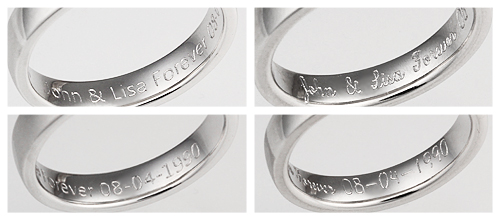 ---
Laser Engraving
With state-of-the-art laser technology, inscriptions are crisp and more complex. Laser engraving is perfect for messages on narrow bands (2mm wide), and complex or sculptural ring designs with limited engraving area.
Choose any true-type font, characters, or your own handwriting. Laser engraving for the inside of your ring starts at $220.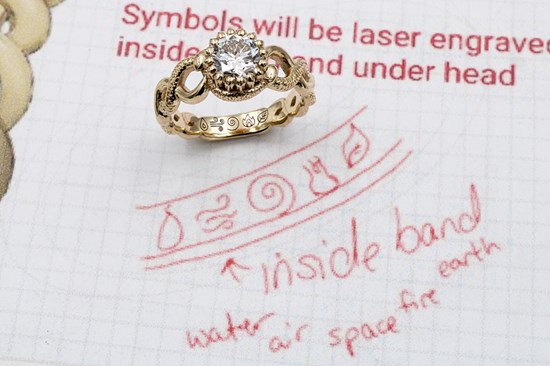 ---
Modeled Engraving
Make a bold statement in words, numbers, symbols, or images with modeled engraving on the inside of your custom ring. Pricing typically ranges $100-$300 for alphanumeric characters (A-Z, 0-9). Alternative alphabets (like Elvish), foreign alphabets, emojis, or black and white images may be modeled engraved, so send us your desired inscription and we will provide a quote. (Additional charges apply for converting color images to usable black/white line drawings.) Recommended for rings 3mm and up.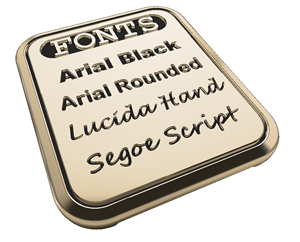 ---
Hand Engraved Letters
Hand-engraving the inside of a ring is completed by a professional hand engraver who will carefully carve your message using hand-held tools. Hand-engraving is suitable for rings at least 2mm in width or when you want that truly personal touch. Because it is labor intensive, hand engraving starts at $400, plus a $100 setup fee.
Note about Inside Ring Inscriptions
With narrow bands or lengthy messages compressed to the inside of a small space, an inscription can sometimes be difficult to read or need magnification to see it clearly. However, as the message is one that is dear to your heart, you will know what it says and means, even without magnification. Keep this in mind when choosing your message.