Mokume Engagement Rings
Breathtakingly Beautiful


This ring will leave you speechless.
Just like the moment you knew you were meant for each other.
You're promising your love for a lifetime.
Your mokume engagement ring will be
lovingly handcrafted just for you
in your choice of design and colors.
Discover our Mokume Engagement Ring Styles
Simple and elegant, a bezel can showcase your special stone.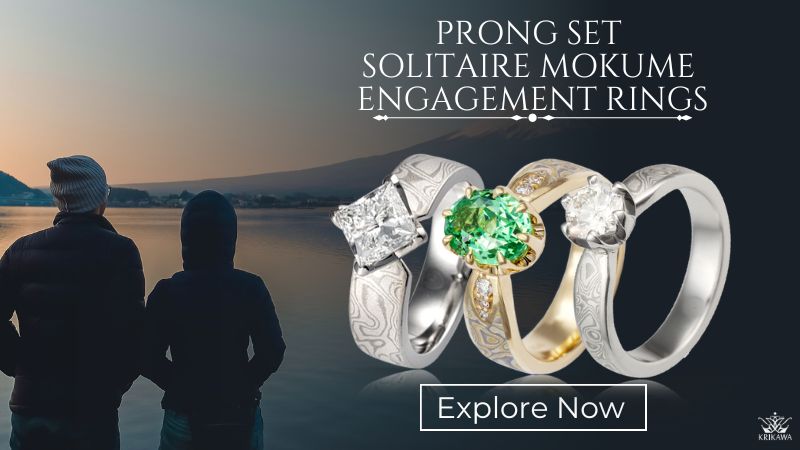 Simple and elegant, with a classic touch.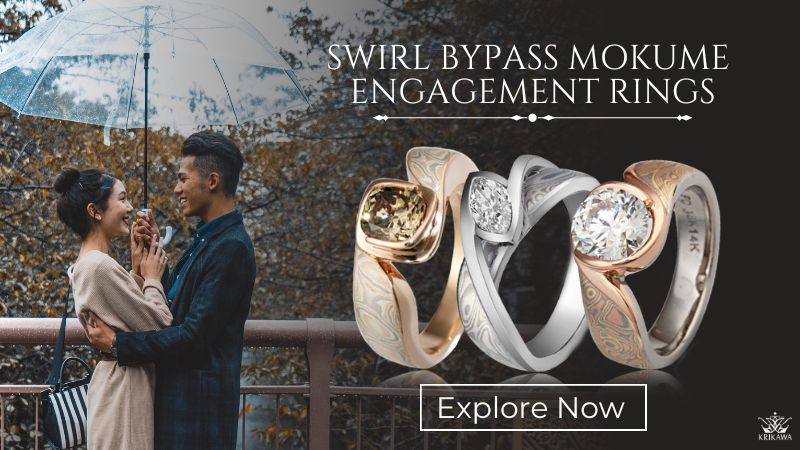 A contemporary swirl creates movement and life.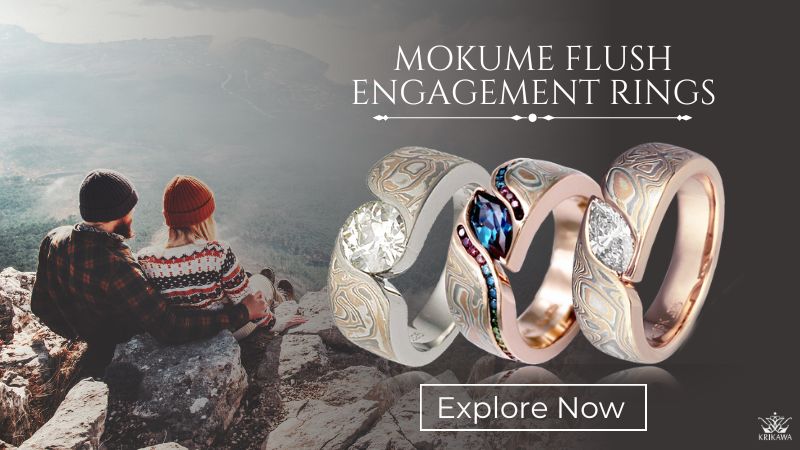 A low, flush set stone is perfect for the active, modern woman.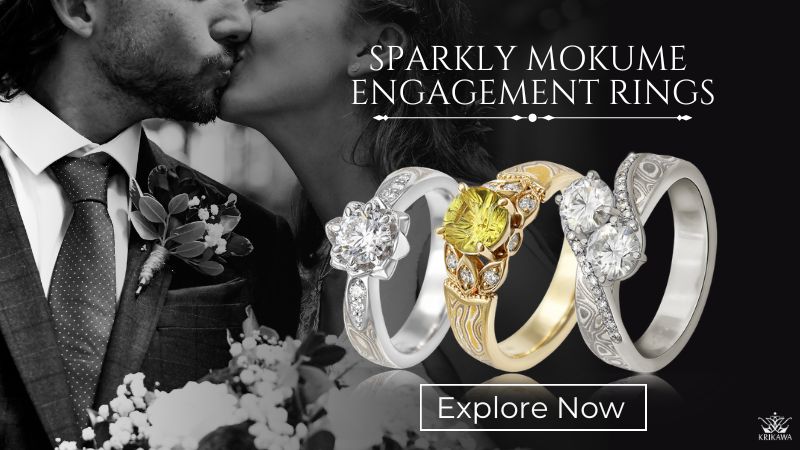 Bring the bling and sculptural decadence!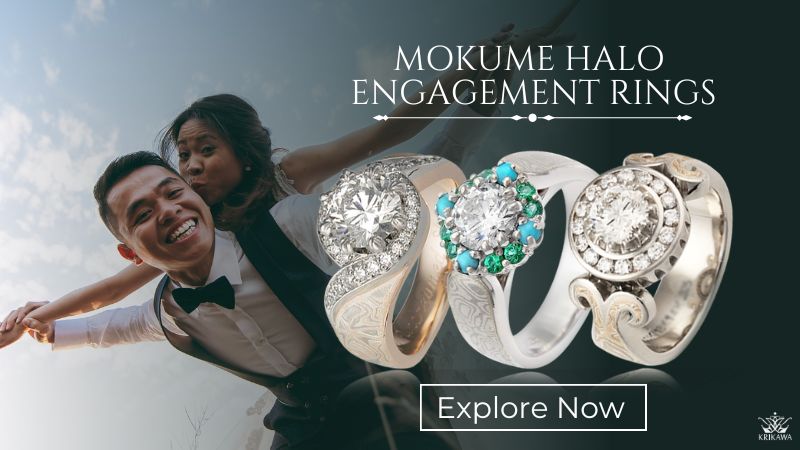 Enhancing the beauty of your stone, the halo is popular and brilliant!
The beauty of a traditional design with the uniqueness of mokume.
Designed to take your breath away.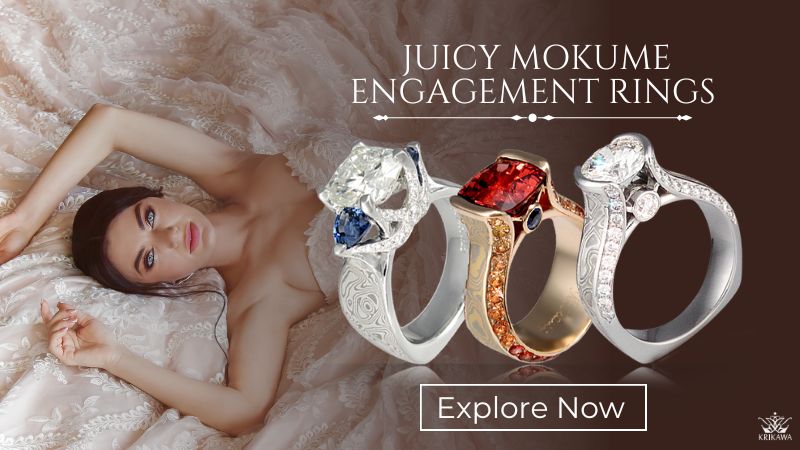 Sensual. Desired. Coveted.
Mokume Gane Engagement Rings:
Handcrafted Works of Art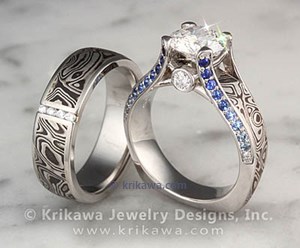 Your mokume engagement ring will embrace this brilliant artistry, whether you choose rose gold, green gold, 22k yellow gold, grey gold or platinum. The varying shades of metal will form the palette of expression for your ring. The metals you choose will be brought together for a lifetime. It'll be the perfect "marriage" of metals.
Peace-of-mind knowing a designer and stone expert will assist you in selecting a GIA certified diamond, sapphires or other gemstones.
Falling-in-love with the color and size of your stone; approving it before it's placed in the setting.
Customization of your mokume engagement ring with birthstones, symbols and engravings.
100% Satisfaction Guaranteed with our 15 Day Money-Back Guarantee
One-of-a-Kind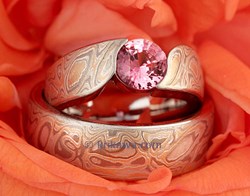 The exclusive Krikawa mokume pattern is inspired by the human heart beat. Witness its beauty from every angle. This distinctive pattern never repeats itself. It's as unique as the love you share.

Turn your Krikawa mokume ring and unveil the distinctive craftsmanship. Notice how the patterns flow smoothly. Like eddies in a river, the pattern moves freely revealing a tapestry of colors. A one-of-a-kind look is created just for you through the depth of the etches and the broadness of the pattern.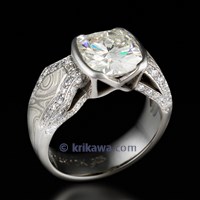 Mokume choices and customizations means your ring can express the beauty of your relationship. Let us transform your "wood-grain" engagement ring into a work of art, personalized just for you. You'll witness the "marriage of metals" through sketches and three-dimensional renderings. Delight in the possibilities.
You're marrying your one great love. It's time to join together our craftsmanship with the richness of a mokume-game engagement ring. Together we'll create the ring of a lifetime. Call or email us today.
What Mokume Engagement Ring Speaks to You?
Meet our friendly
design consultants
and prepare yourself for the experience of a lifetime.