WHY CHOOSE KRIKAWA MASTER JEWELERS?
To Create A Ring You'll Cherish Forever

Krikawa is an internet based, world class jewelry design house helping individuals around the world create custom, one-of-a-kind engagement and wedding rings. Krikawa is recognized as one of the finest custom jewelry designers in the country.

You've Found the Authority on Custom Ring Design
Lisa Krikawa and her team
of experts have been awarded with dozens of
design awards
and Lisa has spoken at numerous
industry speaking
engagements. Krikawa has created nearly ten thousand custom and made to order rings, and the team has over 100 years of combined design and manufacturing experience.
An expert design staff is here to help you design your unique engagement and wedding ring that tells your love story, and the manufacturing team will then carefully create your ring with cutting edge technology combined with old-world hand craftsmanship.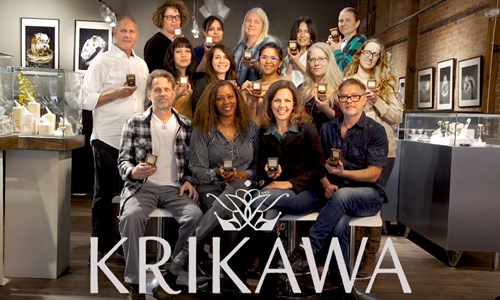 Your Satisfaction is Guaranteed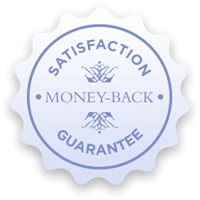 We have always offered a
100% satisfaction guarantee!
It is our mission to create jewelry that is about love, for love, and just simply loved. Krikawa stands behind every piece that we sell, including all pieces that our custom design artists produce, and ready-made items made by our hand selected artisans.
World-Class Design and Materials
Krikawa's focus is on high design and style, making sure that your ring is aesthetically pleasing from all angles, and structurally sound to last a lifetime. Krikawa's designers are also material experts, to assure that you receive the finest quality metal, diamonds and gemstones.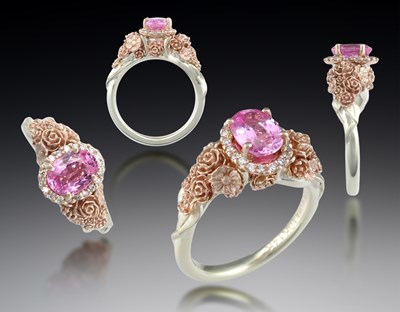 Cutting Edge Technology
With the use of computer aided design (CAD), 3-D print technology, microscopes and lasers, your ring will be created using the very finest of technology, starting with a
custom design rendering
.
Old World Craftsmanship
Your final ring will be crafted by the very finest jewelers in the country, with slow, meticulous attention to detail and expert stone setting and finishing. Get ready to be wowed!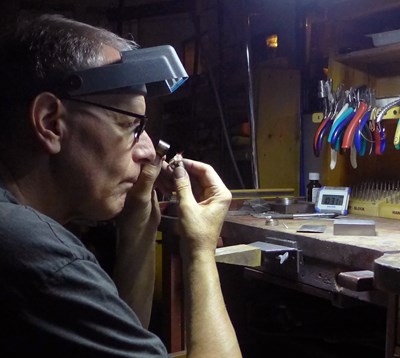 Personalize to your Heart's Content
Your handcrafted
engagement
or
wedding ring
will tell a story. It'll reveal a bit of your personality and reflect on a chapter of your life. Like this bear and cross mountain ring! This shows a sketch layout in progress, and then the final ring.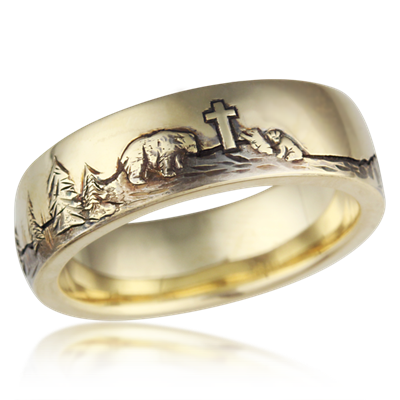 What Story Will Your Ring Tell?
What's special or uniquely you? What details do you want to include? Set the stage for your ring's story with personal details and embellishments. Perhaps you met on an island?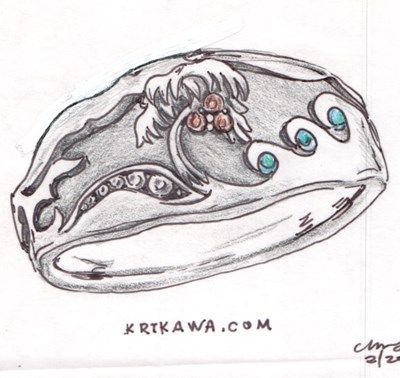 The Colors You Dream About
Your ring can reflect your personality or have one all its own. A variety of
metal embellishments and finishes
are yours to choose from. Color is always an important consideration. Color can evoke emotion and make a powerful statement.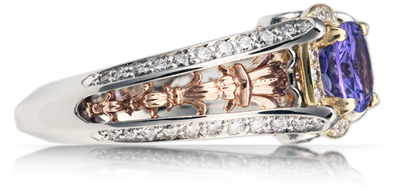 Get ready to choose from a full range of colors with
brilliant metals
,
sapphires
,
diamonds
,
birthstones and other gemstones
. At Krikawa, you can use the earths bounty of color in metals and gemstones as an artist uses a palette of paints.
Make the Most of Every Detail
Creating a ring unique to you means a whole host of options. Let the experts at Krikawa help guide you so your custom ring tell a story as unique as you are.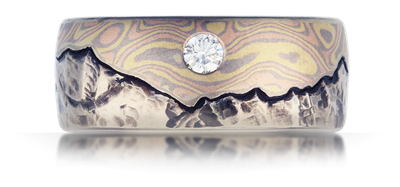 The Best in Mokumé Gané
Krikawa is also known worldwide as a premier
Mokumé Gané
artist. Krikawa's exquisite designs showcase this ancient Japanese metal which is the precious metal version of damascus steel. Krikawa continues in that tradition using the beautiful forged metals as inlays in its custom wedding jewelry.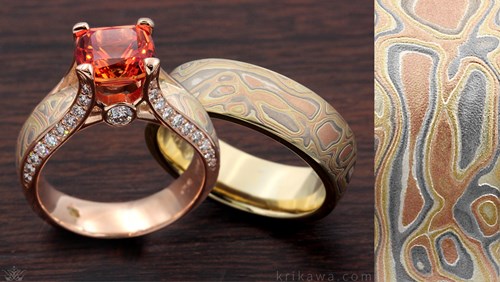 Foundation in Fine Arts
Krikawa Jewelry was founded in 1998 by Lisa Krikawa, and krikawa.com was launched in 2002. Lisa was formally trained in the fine arts at the University of Arizona, and brings that degree of artistry to everything she touches. Interestingly, most of the staff at Krikawa are artists and musicians, and enjoy creating works of art and music not only at work, but at home as well.

Responsible Jewelry Practices
As a certified member of the Responsible Jewelry Council, Krikawa is a socially conscious company that continues to raise the bar in
responsible jewelry practices.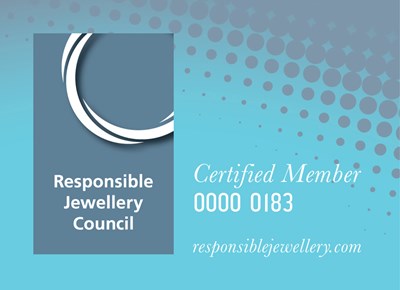 We are here to make a positive difference in people's lives. We believe in social responsibility, the functionality of art, and buying from businesses who are honorable.