Have you been considering a colorful stone for your engagement ring and/or wedding band? With several stone options out there that offer many color varieties, the choices seem endless. However, when other stones get compared against a
Fancy Colored Diamond
, the benefits of going with a diamond start to vastly outweigh any other stone choice.
see the full article
Your engagement ring and wedding ring are symbols of eternal love and commitment, cherished jewelry that will forever adorn your fingers. Designing the perfect engagement ring is an exciting journey that allows you to express your unique love story and personal style. To help you navigate this comp…
see the full article
Mountains settle the soul. "Climb every mountain!" is a directive that has pulled on millions of souls around the world.
I love going to the mountains. Hiking, camping, or just driving through; time in the mountains seem to put things into perspective. It's funny; the first date that my husband and I went on was actually camping. And, two years later, on our honeymoon, more than half of the three weeks was spent camping.
When I spend a day or two in the mountains, my mind clears from all the mundane garbage that seems to collect, and I feel a greater sense of clarity. As John Muir put it, "The clearest way to the universe is through a forest wilderness."
see the full article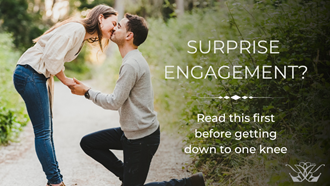 Surprise Engagement Ring? The Foolproof Way to Design a Surprise Engagement Ring They Will Love
April 05, 2023
Considering all the time, effort, and expense that goes into creating the perfect
engagement ring
, is it any wonder so many men want some element of surprise? It elevates their all-important question into a sweeping, romantic gesture -- not to mention, most women like it when their guy picks out the ring.
see the full article
When you want the engagement ring of your dreams, it can be hard to find a designer who can make your dream a reality. How do you organize your ideas and inspirations? Is your dream ring a juxtaposition of multiple styles? Is the concept of creating something from scratch daunting? That's … see the full article