Turn your Krikawa mokume ring and unveil the distinctive craftsmanship. Notice how the patterns flow smoothly. Like eddies in a river, the pattern moves freely revealing a tapestry of colors. A one-of-a-kind look is created just for you through the depth of the etches and the broadness of the pattern.
Get help buying with our complimentary concierge design service.
Email
now or call 1-888-krikawa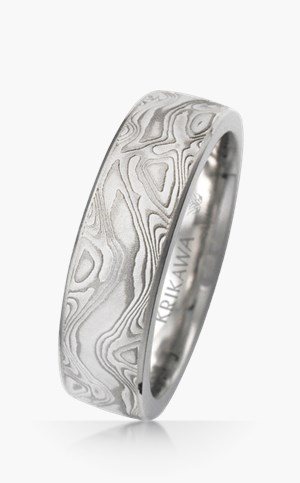 " My style is pretty clean, classic, and elegant, with some elements to make it a little funkier. "
-John Legend
Browse our eight different mokume gane flavors!
Shop Classic Mokume Collection >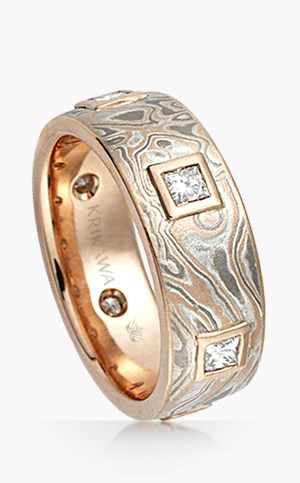 " A truly elegant taste is generally accompanied with excellency of heart. "
-Henry Fielding
Classic mokume bands get accented with brilliant diamonds and gemstones.
Shop Diamond & Sapphire Collection Now >
" Be brave enough to live life creatively. The creative place where no one else has ever been. "
-Alan Alda
Get creative with these exclusive designs that showcase your favorite mokume gane.
Shop Unique & Unusual Collection >
What Mokume Rings Tell Your Love Story?
Eight Mokume Flavors >
Rails, Liners and Finish >
The History of Mokume >
Mokume Engagement Ring Collection >
Mokume Wedding Band Collection >

Meet our friendly design consultants
and prepare yourself for the experience of a lifetime.