Textures and Finishes
For Your Custom Wedding or Engagement Ring
"Finish" and "Texture" are used to generally describe characteristics of a ring's surface. More to the point, "texture" is how the surface feels when it is touched. On the other hand, "finish" is how the ring looks. Over time, some textures may become more smooth with wear. Likewise, finishes are often superficial, and while they may show wear over time, they are still beautiful.
At Krikawa, we have a variety of textures and finishes that may be applied, depending on the design you choose for your ring. A design consultant can help you select the best texture, finish, or combination that will enhance the beauty of your piece. Most rings and designs can be refinished occasionally to bring back the original luster of the metal.
Here are the textures and finishes you will find at Krikawa.
​High Polish
Machine Brushed
Matte Finish
Stone Brushed
Stone Washed
Crosshatch
Machinist
Round Hammer
Long Hammer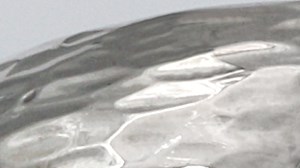 Millegraining
Millegraining is a decorative technique in which, historically, a little roller is rolled over edges to give the appearance of tiny round balls. Contemporary millegraining is done two ways: Larger beads are cast in place, for a larger look and a more affordable price (shown on left), or the traditional wheel is used for true millegraining (shown on right). Both can look great! It just depends upon the final look you are trying to achieve.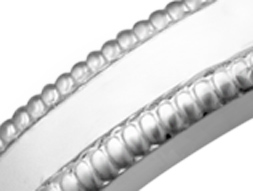 Black Rhodium Plating (aka Charcoal or Gunmetal plating)
A darkened finish is superficial and completed by electroplating with Black Rhodium. How dark a piece gets depends on the metal. Black Rhodium will not be dark as a "black leather jacket", but the difference between natural and darkened metals ranges from subtle to quite distinct.

Yellow or rose gold will achieve a dark, charcoal color.
White or green gold will be closer to gunmetal gray, so not as dark.
Platinum will not darken and the result is a muted gray.

Black Rhodium is a coating of metal over the surface and may fade over time. It has the most longevity in recessed areas of rings, where surface contact is less likely. If the original metal color ever starts showing through, the ring can be re-plated with Black Rhodium.
Precious Metals and How Darkened Finishes Look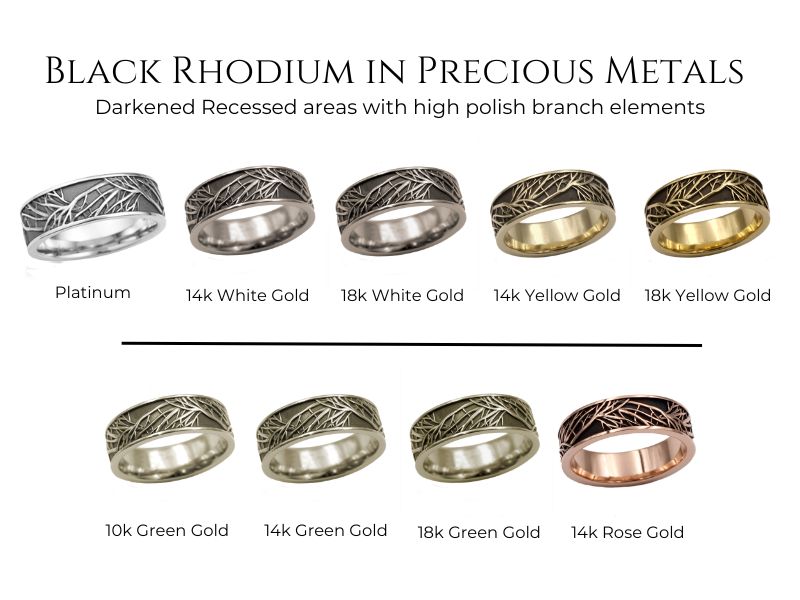 Please note: We do not recommend Black Rhodium on the raised areas of a ring (or over the entire surface of a ring), as the darkening can quickly wear off. The ring in the image on the right has been entirely plated with Black Rhodium. The look will wear much faster exposing the natural metal color.