UNIQUE Design PROCESS
Book Virtual and In-Person Appointments Below
When you sign up for a design appointment, one of our joyful design consultants will work with you via Zoom, phone or in our showroom in Tucson, Arizona. We will become your virtual database of information, images, stones, materials, design, and much more!

Over 80% of our clients live outside of our state. Creating custom wedding and engagement rings long distance is our specialty!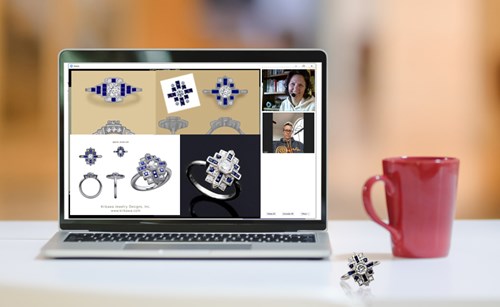 We're experts on fine art, design, engineering, manufacturing, cutting edge technology, old-world craftsmanship, and materials: the true recipe for fine jewelry. We've always loved making unique rings for couples all over the world, and we look forward to helping you create the ring of YOUR dreams.

Have Confidence in Your Jeweler
With dozens of design awards, the Better Business Bureau Ethics Award, unparalleled satisfaction guarantee on custom jewelry, and an efficient, electronic communication system, our staff is truly set up to create the ring of your dreams, every step of the way. Why choose Krikawa?
- We've designed and created over 15,000 custom rings in 20 years.
- Your ring will be made to last a lifetime.
- We care. We want you to love your ring, when you get it, and for your whole lifetime.
- Helping you to make educated decisions about YOUR RINGS is key to our process.
- Hundreds of 5 star reviews with an average on Google of 5.0.
- That's why we offer a 100% satisfaction guarantee. And a limited lifetime warranty.
We're honored and grateful to be chosen to create the most important jewelry you'll ever own. So create a ring you'll cherish forever, and schedule a delightful jewelry design appointment with Krikawa today.
You'll Also Receive...
- A comprehensive Ring Design Quiz, that will ask you questions you never even thought of, and load our designer with lots of information, so they can be prepared before the appointment!
- Mockups, Colorizations, and/or Illustrations of your Desired Design
- Colored Stone Videos
- The Colored Stone To Your Door (if desired, with a refundable deposit)
- Mokume and Metal Samples to Your Door (if desired, with a refundable deposit)
- Free Sizing Ring Kit (unless declined) with real metal sizing rings you can wear around to choose the perfect fit.
- A 3D CAD rendering of your design, for your final approval.
- Free shipping and insurance on your final ring, within the Continental US.
- Satisfaction Guarantee, a One Year Warranty, and Limited Lifetime Warranty, and Our Sincere Desire for you to be satisfied.
What if None of Our Appointment Times Work for You?
That can certainly happen, especially for our overseas clients. Pick the next available time slot, and in your message say "email only," and we'll connect with you via email, during the time allotted. We've helped thousands of clients via email only, and we can do it with you also.
Thank you, and we look forward to working with you!!!
Scheduling Showroom Appointments
You may book a showroom appointment in the calender scheduler below, or by calling 520-322-6090. Our talented and expert design consultants are in high demand, and they consult by appointment. The showroom is open to the public by appointment only. Please call 520-322-6090 to request a time or day that is not shown below.
Schedule Your Zoom or Phone Consultation Below
Schedule your free zoom or phone consultation here. We're excited to work with you to create the most meaningful ring(s) you will ever own.