TYPES OF STONE SETTINGS
Krikawa offers a variety of stone settings for your custom engagement ring or wedding band. For your luxury diamond-accented ring or custom bridal set, consider a combination of settings.

Four Prong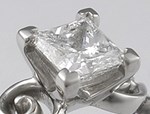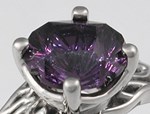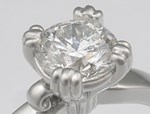 This is a popular setting style and allows the maximum amount of light to shine through the diamond. Prongs, or claws, are bent over and evenly spaced around the center stone. This setting allows for different stone shapes; shown above are a princess cut diamond, Larry Woods Medicine Wheel cut sapphire and a round brilliant cut diamond. On the right are stylized prongs in the Carved Leaf Engagement Ring.

Six Prong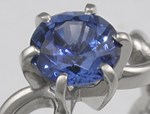 A six prong setting will offer more support to your center stone than a four prong.

Multiple Prong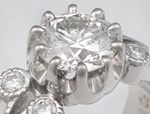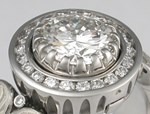 Multiple prongs reveal more features of the diamond while offering more security.

Full Bezel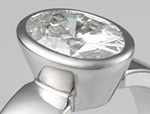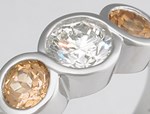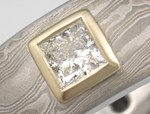 The center stone is set deep and is fully encircled by metal. Thus, this offers maximum protection to the stone. A full bezel can accommodate any gemstone shape and is used in many kinds of jewelry.

Semi-Bezel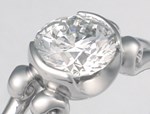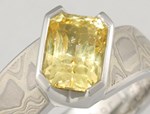 The semi-bezel shows off more of the diamond, while still protecting it. Light can enter through more angles than in the full bezel setting.

Flush Set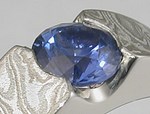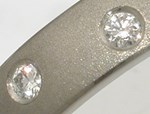 In the flush setting, the center stone is beneath the band, and is protected from wear.

Pave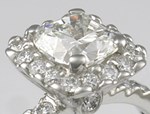 Stones are set closely together, separated by little beads of metal. Pave set accent stones can enhance a modest center stone. Traditionally, pave refers to a field or expanded area of beaded metal and stones. Above is a row of bead-set diamonds on each side of a cushion-cut diamond.

Pave with Millegrain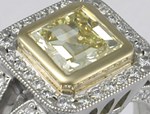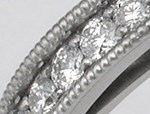 Millegraining gives a metal edge a beaded texture and is the perfect complement to pave-set diamonds. As opposed to a smooth metal edge, the light which reflects off does not compete with the sparkle of the diamonds. Ideal for luxury and antique-style engagement rings.

Channel Set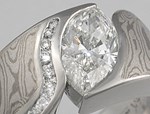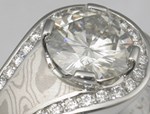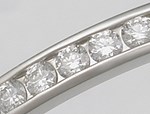 Small gemstones are set side-by-side in a groove. The stones are usually uniform in size. While channel set diamonds are typical in wedding bands, they can also be great accents to an engagement ring's center stone.
Bead in Channel
Small beads hold in the stones and are framed by low rails. Depending upond the design, the diamonds are typically still visible from the side. This method is usually cast in place beads.