Design Your OWn Engagement Ring
we'll help you design, create and build your rings
Whether you choose a design from our online portfolio and order it through the shopping cart, create a hybrid out of different designs, or create a custom ring from scratch, Krikawa will help you create your engagement ring and wedding bands. Whichever way you go, you'll have your own dedicated design consultant to assist you (even for cart orders!).

Explore and Favorite
Start by favoriting the designs you really love.
Get an idea of what your eye is drawn to, and see them all together in your Favorites. This is helpful for your design consultant, also! Then, you can start with a certain design and pick your colors, make modifications or just use as a starting point inspiration!

Take the Quiz

If nothing quite fits the bill, or even if you have a specific idea of what you want, the fastest way to see it is to take the
Ring Quiz
! There, you'll answer the questions that will enable your design consultant to put together your dream ring!


Metal and Stone Colorizations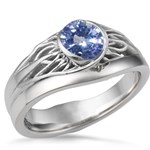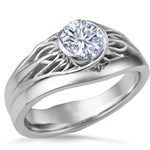 Do you love a design from our portfolio but just need a little more help visualizing it in the colors you love? Inquire on any style and specify the colors you want to see.

Colorizations can help you choose the perfect metal, accent stones, and center stone. Because your ring will be made to order, you can pick your favorite!



Receive Mock-ups and Sketches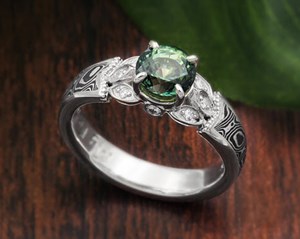 When you want to create something brand new, or create a hybrid of designs, your designer will help you visualize your design through a process of sketching, mock-ups, and colorizations. We can email you sketches and mock-ups for hybrids or brand new designs.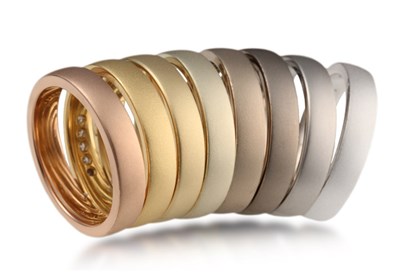 Choose your metal type! Because each ring is made to order in a single batch process, it can be made in any precious metal of your choice. Your designer can help you choose the metal if you want to learn more about its properties.
We offer you a variety of precious metals such as platinum, palladium, yellow gold and rose gold, and a few alternatives as well. Can't decide on a color? Go with a two-tone metal design, or incorporate mokume-gane.
Read More >

Find Your Perfect Diamond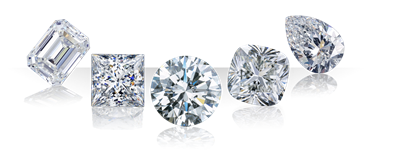 We have a vast selection of diamonds and diamond alternatives, like Moissanite, rose cut and unique diamonds, and lab created diamonds. Use the
Diamond Search Tool
if you know what diamond you're dreaming of, or use the
White Stone Wizard
to guide you through the decision making process. Alternatively, work directly with your designer who will provide you a tailored listing made just for you.
Read More >

Find Your Perfect Sapphire or Gemstone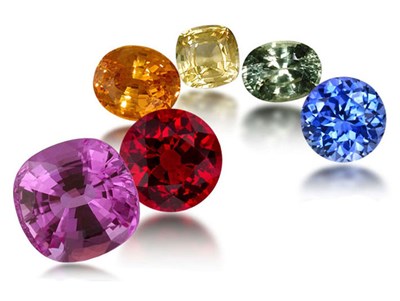 If it is color you desire, it is color you shall have. Whether it is a natural stone or a lab created colored stone that you prefer, your colored stone can definitely be found at Krikawa. Search our
online database
of colored gemstones or use the
Stone Wizard
to help you narrow down your choices!
You'll get expert help in your selection, and the only stones we list in our database are excellent cut, excellent clarity, and just bottom-line spectacular. You can have peace-of-mind in your investment, because your stones will be hand selected by your designer to match your size, shape, color and budget needs.
Read More >
Pick Your Accent Stones

Although white diamond is the traditional choice for accented wedding and engagement rings, here you can pick the stone type or color that you love best. Whether it is blue sapphire, ruby, emerald or fancy color diamonds, you're sure to find what your dreaming of.
See Choices >
Personalize with Symbols and Secrets


There's nothing more special than a secret birthstone or symbol inside the ring. This is more than a simple engraving, which we can also do. When we put a modeled symbol in your ring, it is deeply etched into the surface, never to fade away. It says, this ring was MADE for you.
Special touches such as birthstones or symbols on the inside of the ring can capture your memories and personality!
Read More >
Get Your Price Quote
Most existing styles can be priced with our online calculator, but you'll have to wait if you're designing something custom. Once your designer has provided you with the colorization, mock-up or sketch that defines you dream ring, you will receive an accurate and final price quote, that will be honored from start to finish. Of course, as size, metal or stone changes are made, the price will be updated.

Do you have a budget? If you want to stick within a certain budget, be sure to inform your design consultant so the brainstorming, sketching and designing is all done for a ring that is within reach. This way it makes the most of everyone's time!

Many Payment Options to Fit Your Needs
After you've settled on your favorite design and the metals and stones that you'll love, you can get the ring making process started with a deposit. Your design consultant will be helping you along the way, supporting your budget needs and providing fixed and accurate pricing.
There are many different options when it comes to choosing how to invest in your once-in-a-lifetime ring.
Read more >
Receive Sizing Rings, Metal Samples, and Colored Stones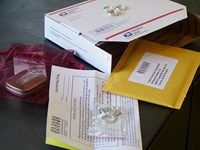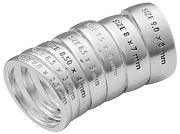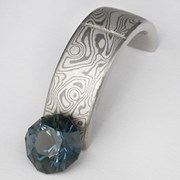 Enjoy our Concierge Design Service
If you don't see exactly what you want in our portfolio, create your dream ring with the help of our design consultants and stone experts, led by the design talent of Lisa Krikawa. Let us guide you in creating a different or unusual engagement ring, from affordable to luxury, that will be sure to delight.


Leave the Rest to Us!
Check out the process of How Your Ring is Made. Then fill out this Ring Design Questionnaire to get your dream ring started.

You've found the one person you'll cherish forever. Now, let a hand-crafted engagement ring from Krikawa capture your heart. Join us in creating your own unique engagement ring. Let's get started.

Your Satisfaction is Guaranteed


Krikawa has created nearly ten thousand rings, each one made to order in an exacting process. ?A handcrafted ring from Krikawa means your ring is born out of love, not from a mold, and always comes with our Satisfaction Guarantee.




How Will Your Ring Be Made?
Next: Behind the scenes
How Your Ring is Made