Inside Ring Inscriptions
Personalize the Inside of Your Band with Heartfelt Words
Machine-Inscribed
Inscriptions cost $30 for up to 15 characters (combination of letters, numbers and & or - symbols). Each additional character is $1. An engraving machine with a diamond tip cuts the metal in a single line in block or script lettering. The length of your inscription is dependent upon the space available in your custom ring. This is a classic way to inscribe your message. 3mm wide rings and up only.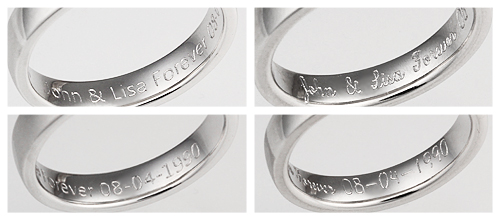 Modeled Engraving Inside Ring
This makes a bold statement. You have a choice of fonts, or you can have any black and white image etched into the inside of the ring. Great for wider rings. Pricing from $100-$300 depending on type and length of message, modeling time needed based upon complexity of symbol, musical phrase, or foreign letter phrase. (Additional charges apply for converting color images to usable black/white line drawings.) Recommended for rings 3mm and up.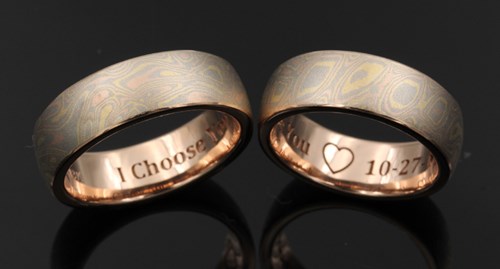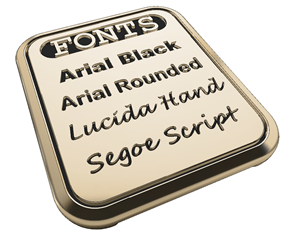 Hand Engraving Letters Inside Ring
Hand engraving can be done on narrow rings (minimum width 2mm) and in tight spots that can't be engraved by machine or modeling. Keep in mind that if the inscription needs to be that small it may be necessary to use magnification to see it. $100 setup and $100 for the first 10 basic script or block letters; $10 for each additional letter. Each letter is hand cut by a professional hand engraver.