PHILANTHROPY
KRIKAWA AND OUR COMMUNITY

March 2015
Medal for Felicia's Farm's Chef Challenge
We made a cute, custom medallion for Felicia's Farm's spring benefit. The medal was awarded to the winner of a chef challenge, with participants from great Tucson restaurants like Boca Tacos and Agustin Kitchen. Felicia's Farm is a non-profit, four-acre, urban farm that donates the eggs their chickens lay and everything else they grow to Casa Maria, a local soup kitchen.? We were thrilled to have the opportunity to support their cause!
November 2014
Fun Foodie Charms to Benefit the Food Bank
This holiday season, help get food on the plates of those in-need, and proudly wear your dietary choices around your neck. Are you Gluten-free, Vegetarian, Carnivore, Loca-vore, Pescatarian? Inspired by a growing community interest in food, diet and farming, we are unveiling a line of fun charms called "Toast or No Toast?" Symbols of food we eat or avoid, such as toast, chicken, fish, or milk, will be available. The "No" charm will be inside of a circle with a line through it. Mix-and-match the charms to tell your food story! Ten percent of the profits from these pendants will be donated to the Tucson Community Food Bank.
October 11, 2014
The Carousel of Hope
The Carousel of Hope, presented by Mercedes-Benz, happens every two years in Beverly Hills, CA, and benefits the Children's Diabetes Foundation. The MC for this year's event is Jay Leno! We made a stunning 14-karat white gold lapel pin with the event logo for their silent auction. A circle of paved diamonds encircles the purple carousel horse and child.
December 18, 2013
Youth On Their Own Food Drive
For the holiday season, we continued our tradition of giving to Youth On Their Own. The Krikawa staff collectively put together $1000 worth of school supplies, non-perishable foods and toiletries for the teenagers in-need.
May 4, 2013
The Green Tie Gala~An Evening of Hope
The Southern Arizona office of the JDRF (Juvenile Diabetes Research Foundation) Desert Southwest Chapter provides community support for children and adults living with type 1 diabetes (T1D) and their families. This benefit at Loews Ventana Canyon Resort will help to make a difference in their lives. The event will include a gift certificate from Krikawa in the auction catalog.
The Alzheimer's Association® Desert Southwest Chapter
aids over 120,000 people in the Arizona and New Mexico living with Alzheimer's disease. Wine to Remember provides the opportunity to enjoy some of the finest wines and culture Tucson has to offer while supporting the programs, services and research of the Alzheimer's Association. Support the research to combat Alzheimer's by bidding on a gift certificate from Krikawa at the Hacienda Del Sort Resort.
April 25-May 10, 2013
Spring Into Auction!
Our Family Services
is a Tucson organization that helps Southern Arizona through mediation, counseling, education, case management, housing, and information and referral. We are supporting this them through their online auction. This fundraiser will offer an exciting catalog of goods and services, from haircuts and manicures to dining, travel, entertainment and fine art. Our contribution is a $200 gift certificate good towards custom jewelry and repairs.
April 26, 2013
Divas in the Desert Gala Event
Divas in the Desert is a star-studded event hosted by The American Cancer Society. Performers include Jennifer Hudson and Jordin Sparks. Guests have the opportunity to bid on a $1500 Krikawa gift certificate during the live auction.
April 13, 2013
Talk of the Town
Youth On Their Own
, an organization dear to ours hearts, is celebrating 27 years of serving Tucson! This benefit at Loews Ventana Resort, is hosted by Mayor Jonathon Rothschild. Guests can bid on a Krikawa gift certificate during the silent auction, and enjoy cocktails with live entertainment.
April 12, 2013
El Rio Health Center Foundation Golf Tournament
The
El Rio Health Center
provides accessible and affordable healthcare primarily to under-served populations. They are hosting their 19th annual golf tournament at the Skyline Country Club. The auction features a $200 gift certificate from Krikawa.
April 5-6, 2013
Tucson Museum of Art CRUSH Festival
The CRUSH Wine, Food and Art Festival is comprised of a party at the Tucson Museum of Art and gala at Loews Ventana Canyon. Krikawa is donating a $200 gift certificate good towards custom jewelry and repair for the silent auction.
March 22, 2013
Cookies & Cocktails
The Girl Scouts of Southern Arizona are hosting Cookies & Cocktails at Skyline Country Club to benefit over 14,000 girls. Chefs from the top Tucson restaurants are creating decadent desserts using Girl Scouts cookies, and live entertainment is provided by the Bluerays. Krikawa is supporting the Girl Scouts by offering a gift certificate to the auction.
March 16, 2013
Gootter Grand Slam
The
Gootter Foundation
helps the fight against sudden cardiac death, and is hosting a tennis tournament and gala dinner at the Lodge at Ventana Canyon and Westin La Paloma Resort & Spa respectively. Krikawa is offering a gift certificate as a part of the dinner's live auction.
December 2012
Food Drive for Youth on Their Own
It has become a tradition for the Krikawa staff to give to those in-need every Christmas holiday. This year, we held a food drive for an organization close to our hearts,
Youth On Their Own
. This non-profit helps teenagers without homes finish high school and stay off the streets. We collected everything from sketch books to tooth brushes for the organization's commissary.
September 21, 2012
Grape Expectations for Ronald McDonald House
This fundraiser benefits the Ronald McDonald House Charities of Southern Arizona. Krikawa donated a gift certificate to the silent auction. This evening at St. Philip's Plaza features wine, live entertainment and food from over 40 local restaurants.
April 14, 2012
American Parkinson Disease Association Benefit
St Philip's Plaza is hosting Taste of Spring, an American Parkinson Disease Association event honoring Payton Davies. Krikawa donated a pair of Fair Trade blue zircon and white gold earrings.
March 30, 2012
Talk of the Town at Loews Ventana Resort
Enjoy a remarkable evening of delightful cuisine, a silent/live auction, and phenomenal entertainment benefiting Youth On Their Own! This organization is celebrating its 26th year helping teenagers graduate high school and stay off the streets. For tickets and more information, please visit the
Youth On Their Own
website. We donated this new, one-of-a-kind ring for the auction. It features a rose-cut diamond and white diamonds as part of a shooting star. The rose gold band has a textured finish.
December 10, 2011
Operation Holiday Open House

This holiday season, Krikawa staff donated gifts to the Arizona branch of
Operation Homefront
, an organization that "provides emergency financial and other assistance to the families of our service members and wounded warriors." The Open House was held at Tucson Air National Guard for all branches of Active Duty, National Guard, Reserve and their families. Children of service members were able to see Santa Claus and choose gifts to give to their parents.
November 6, 2011
Tikkun Olam Award Celebration
The
Tucson Hebrew Academy
is presenting this year's Tikkun Olam Award to Congresswoman Gabrielle Giffords. The Jewish concept of Tikkun Olam – "repairing the world" – is a call for all to do their part to help to repair the world, and this prestigious award is given to community members who exemplify this concept. Proceeds from Tikkun Olam benefit the Academy, Tucson's only Jewish day school that has been serving the community for more than 30 years. Krikawa is donating a $250 gift certificate to the silent auction.
October 21, 2011
Boys & Girls Club Benefit
Krikawa is donating a mokume wedding band to "
THE PARTY"
benefit for
The Boys & Girls Club of Tucson
. Proceeds from "The PARTY" will support operations for our six strategically located clubhouses which serve 7,000 at-risk youth annually. "THE PARTY" will feature multiplatinum-selling alternative rock band Third Eye Blind and appetizers from Fox Restaurant Concepts.
October 15,2011
Tucson Originals' Chili Cook-Off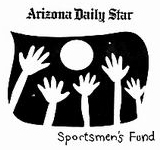 This fundraiser featured good chili from
Tucson Originals
restaurants such as Brushfire, Bushi, Chad's Steakhouse & Saloon, Eclectic Cafe, Frankie's, Jonathan's Cork, Pastiche Modern Eatery, Ric's Cafe and Risky Business. Proceeds went to the
Arizona Daily Star Sportsmen Fund's Send a Kid to Camp
, which helps economically disadvantaged kids attend camps hosted by the YMCA and Boy and Girl Scouts. Since 1947, this program has helped send more than 34,500 children to camp. Krikawa Jewelry donated a gift certificate to the event.
September 24, 2011
Diamond Children's Medical Center Gala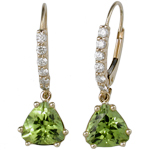 Share the Magic
is the second annual gala to benefit the Diamond Children's Medial Center Gala. It will be hosted by The Westin La Paloma Resort & Spa. The gala features cocktails, a silent auction, dinner and dancing! Entertainment will be provided by illusionist Michael Grandinetti and The Walkens. Krikawa donated a pair of Arizona Peridot earrings to the auction.
November 13, 2010
Homicide Survivors' Flavors of Fall: A Culinary Festival
St. Philip's Plaza hosted an event for
Homicide Survivors, Inc
. This evening helped raise funds to help rebuild the lives of those impacted by murder. Guests enjoyed food provided by seven local restaurants, jazz, karaoke, and a fabulous silent auction. Krikawa donated a pair of Four Peaks trillion cut amethyst earrings.
October 16, 2010
Krikawa Supports the Diamond Children's Medical Center Grand Opening!
Opening in 2010 on the campus of the Arizona Health Sciences Center at University Medical Center,
Diamond Children's Medical Center
offers a healing environment where families are at home and children feel safe while receiving the advanced care they need from the pediatric specialty physicians and researchers of the University of Arizona Steele Center, as well as community pediatric physicians. Diamond Children's Hospital Gala and Auction will be held on Saturday, October 16th, 2010 at 6 PM. Krikawa donated the
Coptic Cross Platinum and Diamond Earrings
to help benefit the hospital.
October-December 2010
Profits to Casa de los Niños Organization
Ten percent of all profits from Krikawa's new Arizona gemstone jewelry line to go to
Casa de los Niños
! Shown is an Arizona-mined turquoise pendant.
2010 - Krikawa Sponsors American Youth Soccer Organization
Krikawa Jewelry Designs is an official sponsor of the Tucson American Youth Soccer Organization (AYSO) chapter!

2010 - Krikawa Contributes to Local Charter School
Krikawa made a donation to Satori Charter School to assist in building their playground.
Spring 2010
Benefit at Shadowridge County Club
Krikawa donated a marquise diamond pendant to an event at Shadowridge County Club in Vista, California.
December 2009
Krikawa Staff Gives Gifts to Families In Need
Krikawa staff members donated holiday gifts to two families in need through
Casa de los Niños
, a Tucson organization that fights child abuse.
May 2009
Krikawa Participates in Homicide Survivors, Inc. Fundraiser
Tucson's
Homicide Survivors, Inc.
held a fundraiser in St. Philip's Plaza for innocent victims of crime. Guests enjoyed an evening of desserts, champagne, and a silent auction. Krikawa donated a pair of palladium diamond
Clover Earrings
for the auction.
July 12, 2008
Krikawa Bracelet at Los Angeles Concern Foundation Auction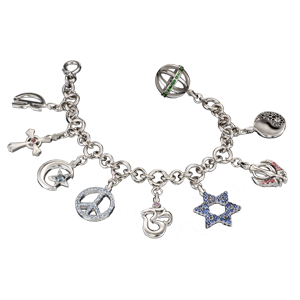 The Sacred Set Bracelet was part of a live auction for the
Concern Foundation
at their 34th Annual Block Party. The Concern Foundation, funding cancer research worldwide, has raised over $40 million dollars since 1968 to cultivate outstanding young scientists and to sustain the progress in prevention and treatment of cancer. With over 120 items included in their auction, only nine items were selected to be in the live auction. Over three thousand people attend this event each year, held in the back lot of Paramount Studios, Hollywood!
This exclusive bracelet is created in palladium with Fair Trade gemstones. It links symbols of the world's six major religions with the contemporary symbol of peace. This unique bracelet is currently
in store
for purchase!
2008
Krikawa Gives to EARTHWORKS

Krikawa was pleased to present
EARTHWORKS
with a check for over $8000 as part of our One Percent for the Planet commitment. EARTHWORKS is a non-profit organization dedicated to protecting communities and the environment from the destructive impacts of mineral development, in the U.S. and worldwide. EARTHWORKS stands for clean water, healthy communities and corporate accountability.
2006
Krikawa Donates to Arizona's Premier GLBTS Chorus

Krikawa donated a pair of custom diamond earrings to
Desert Voices
, an established chorus and organization "committed to promoting an ongoing, positive gay, lesbian, bisexual, and transgender presence in our community."