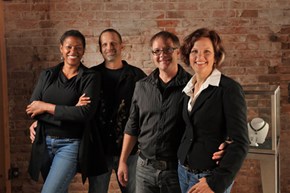 Krikawa Jewelry Designs is a family operated business, located in Tucson, Arizona. Krikawa is run by spouses and siblings! Husband and wife team John and Lisa Krikawa along with her brother Patrick Swartz with his partner LeCarie Whitfield. With passion and determination, these two power couples lead this award winning company, dedicated to creating one of a kind masterpieces for a clientele all over the world. Each team member below plays an important part in this synergy.
Lisa Krikawa
Designer, Founder, Business Manager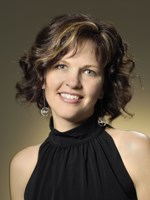 Born in Edmonton, Alberta, Canada, Lisa Krikawa moved to the United States in 1976. In 1997 she graduated from the University of Arizona with a Bachelor of Fine Arts degree, with emphasis in jewelry and metalsmithing. Her jewelry is inspired by historic and futuristic forms, influences that stem from Lisa's studies in traditional and contemporary styles of jewelry and metalsmithing, as well as her studies in art history. Lisa Krikawa is an award-winning mokume gane artist, and is recognized world wide as one of the leading mokume ring makers. With clients from Australia through the U.K. to Canada and all across the 50 United States, Krikawa has quite singularly nailed the mokume-gane bridal market with her client-inspired, co-created, one-of-a-kind masterpieces.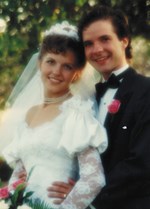 Lisa & John married, 1990
John Krikawa
Master Modeller and Information Technologist

John Krikawa is a Technologist and Artist at Krikawa Jewelry Designs. John has been interested in computer graphics and design since 1985. He attended the University of Arizona, College of Electrical Engineering where he was able to further explore his outstanding computer abilities. He has a special affinity for the combination of visual arts and computer graphics. In 2004, he joined Krikawa Jewelry Designs, Inc. and has been performing CAD/CAM modeling of Lisa Krikawa's ring designs. John has received numerous awards from GemVision for technical modeling and artistic rendering.

LeCarie Whitfield
Chief Financial & Operations Officer


LeCarie joined the Krikawa team in February 2013. LeCarie's diverse experience as an attorney and business coach are aligned with Krikawa's corporate vision and values. It is "particularly exciting to work alongside my sister-in-law, Lisa Krikawa, in growing and developing Krikawa.com and the local brick-and-mortar studio," LeCarie says. "We mastermind like the Wonder Twins!" In her spare time, LeCarie is on faculty at University of Phoenix. LeCarie holds her Juris Doctor from University of Notre Dame.

Patrick Swartz
Chief of Production


Pat brings to Krikawa the skills and experience gained from his long career as an industrial CAD designer, product developer, and scale model builder for off-shore technologies. His in-depth industrial experience is tempered by his highly artistic nature. He is a guitarist, composer, inventor and the mastermind of the Jam Kat and FLiP!, spring-loaded guitar pick holders on which he holds world-wide patent rights. Lisa is particularly thrilled about working with her older brother. These siblings possess a collaborative energy that invigorates and inspires new designs regularly.