EXHIBITIONS
Museums and Galleries Showing Our WOrk

June 27, 2015–January 4, 2016
Carnegie Museum
of Natural History
We were invited to exhibit our
Sputnik Engagement Ring
and
Moon Wedding Band
in
Out of This World! Jewelry in the Space Age
at the Wertz Gallery inside Pittsburgh's
Carnegie Museum
.
November 2, 2013-May 4, 2014
Birds, Blooms, and Bugs
at Phoenix Sky Harbor International Airport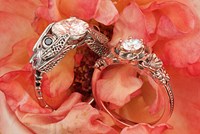 With an abundance of feathered creatures, colorful flowers and intriguing insects, the world is alive with inspiration for artists. This exhibition features a diversity of artwork by 63 Arizona artists from 22 cities around the state.
Krikawa's
Dragonfly
and
Rose, Poppy, Daisy Engagement Rings
were featured in this show at
Phoenix Airport Museum
.
March 16-September 7, 2013
Out of this World!
Jewelry in the Space Age Exhibition
We are excited to announce that we were invited to participate in an exhibition to be held in the Forbes Building galleries. The exhibition is curated by Elyse Zorn Karlin, Co-Director of the Association for the Study of Jewelry & Related Arts. The works on display will be pieces of jewelry influenced by space exploration. We are submitting our
Sputnik Engagement Ring
!

April 28, 2007-October 28, 2007
Krikawa Displays Jewel
at "Arizona Gems" Phoenix Airport Museum
Arizona ranks second in the US in gemstone production. This is an exhibition featuring gemstones native to Arizona, and 16 Arizona artists. Krikawa's piece features a Concave Cut Four Peaks Amethyst marquise, Ant-Hill Garnet, and Kingman Turquoise. Along with the amethyst and turquoise, San Carlos peridot is another important Arizona gemstone that was featured in the show.