Decorative Hand ENGRAVING
True Old World Hand Engraving for that Vintage Touch
From patterns to images, we offer you different ways to add an engraving to your unique ring. Symbols may be engraved on the outside or inside of a ring. You may also
add hand engraved text on the inside
.
Hand Engraved Symbol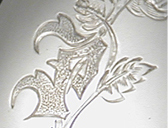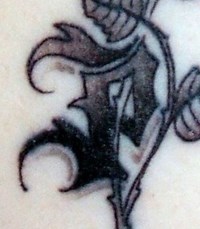 Any symbol can be hand engraved onto the outside of a ring or many other jewelry items. This is done by hand, so a large amount of detail is possible. Depth is pretty shallow, and cuts are bright. It's a sparkly technique! This image was created from a tattoo.
Reverse Hand Engraved Symbol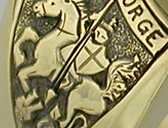 The same technique as above, except the background is engraved, making the symbol appear raised.
Supply your own black and white image, and we will reduce it down and modify it for hand engraving!
Decorative Hand Engraving
There are a variety of classic
hand engraved styles
. A wide variety of patterns and customizations available!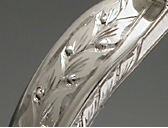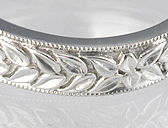 Lettering and Monograms
Hand engraved lettering and monograms done in old-school style. Classic hand engraving at its best.