The Ultimate Proposal Ring - The Temp Solitaire
Description
Here is the engagement ring you can't screw up! Have the surprise proposal and then let your new fiance design their dream ring with the stone you've picked out just for them. This proposal ring is a simple 14k white gold band that will hold the stone you choose in a classic prong setting. After the proposal, let them design their dream ring from scratch. When the perfect custom ring is ready for the stone, simply ship the ring to us in the pre-labeled package, and we'll put your stone in the new ring.
When you return the temporary setting, you receive a $100 credit applied toward your ring design!
Want help picking your stone, or don't see your perfect stone in our online listing? Order your ring online for Priority Service and a consultant will contact you to help you pick out your perfect center stone.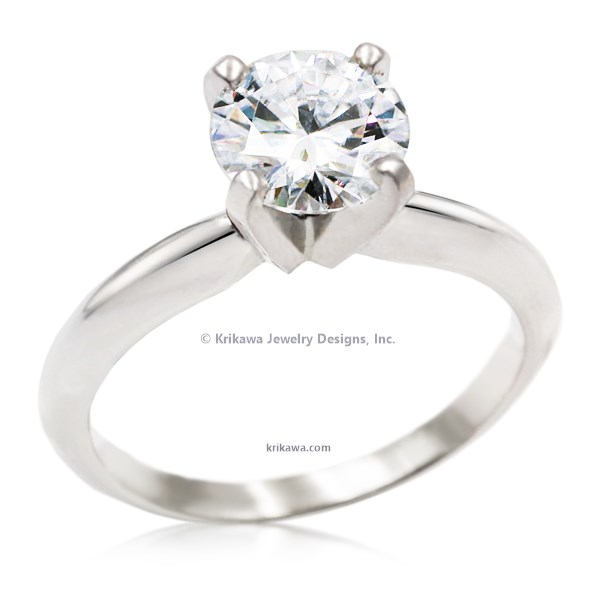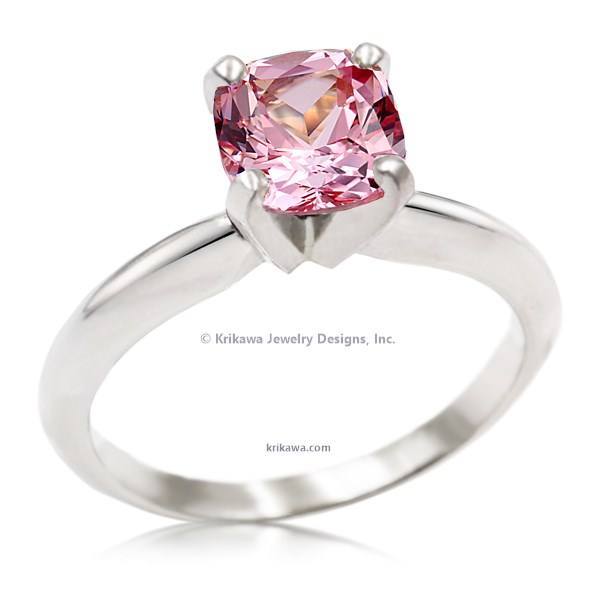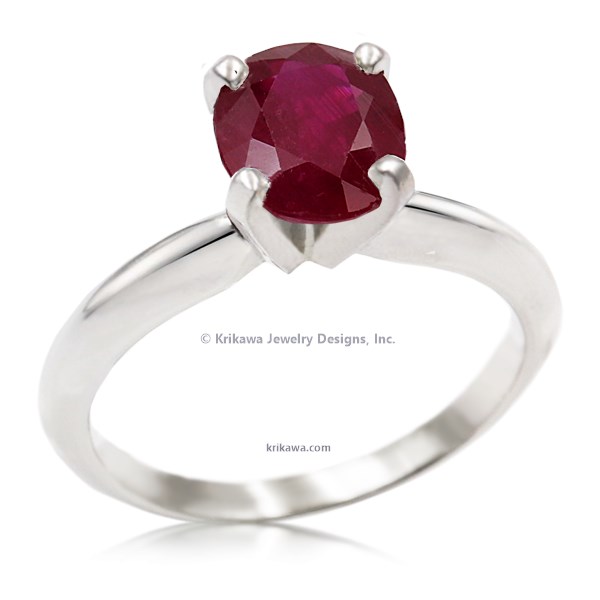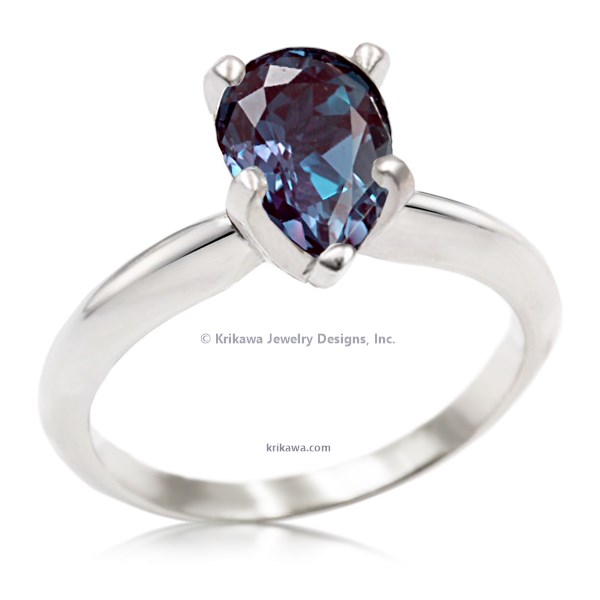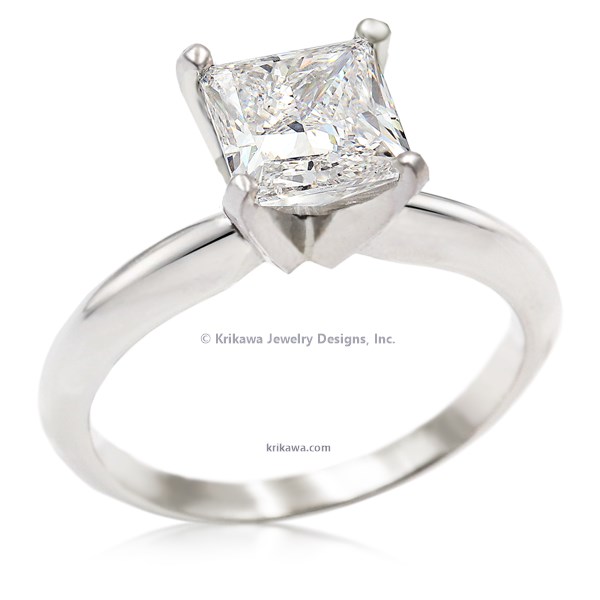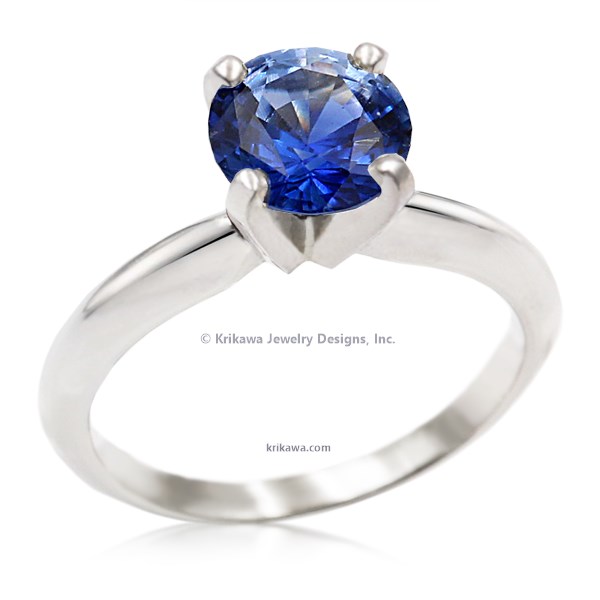 You can request a custom image for any color combination





After you place your order, you'll receive sizing rings that you can wear for a day or two to confirm your perfect size, unless this is a surprise. Ring size is important! We want your custom ring to fit just as much as you do. Here at Krikawa, we go a little over the top to get the very best size possible.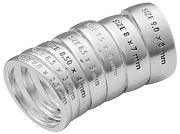 This service is complimentary if you have a deposit on file and live in the US (see international, below). We even include additional advice on ring size and return packaging. All you have to do is drop it in a mailbox when you are done! Please inquire about international charges.
Inscriptions are FREE with shopping cart orders. *Some styles are not engravable. If the ring can accept an inscription, we will contact you after your order is placed to find out what you want inscribed.
PRICING
Inscriptions cost $30 for up to 15 characters. Each additional character is $1. An engraving machine with a diamond tip cuts the metal in a single line in block or script lettering. The length of your inscription is dependent upon the space available in your custom ring. This is a classic way to inscribe your message. 3mm wide rings and up only.
CAST IN WORDS AND SYMBOLS
See examples and pricing.
Turnaround Time:
Most items on our site are custom, made-to-order.
Made to Order*: 6-10 Weeks
Available Now**: 1 Week
Rush: 4-6 Weeks
*Turnaround time varies, depending upon our backlog, time of year, and item type. The current estimated delivery time can be provided at any time
through a simple inquiry
! Almost everything shown on the site is custom, made-to-order, just for you, to spec.
** We have a very small collection of inventory items. They are all located in our
Available Now section
and will ship in the next business day.
Shipping Method
FedEx 2 Day (Free for orders over $1000)
FedEx International (call or email for pricing)
When your item is completed, you will be contacted for a shipping address. Domestic U.S. orders ship via FedEx 2-day, fully insured. For international orders, we collect FedEx International transportation fees in advance, however, customs and duties are billed to you directly by your home country at delivery.
Guarantee
Limited Lifetime Warranty: We offer a one-year warranty against accent stone loss (up to 3mm) and a limited lifetime warranty for manufacturing defects. We offer for purchase a separate five-year extended full-service plan for added peace of mind!
100% satisfaction guarantee: We will do everything in our power to make sure you love your custom, made-to-order jewelry. Read more about our Guarantee and Return Policies.
Build Your Ring

You'll be quite taken by our simple custom design process, dedication & our money-back satisfaction guarantee.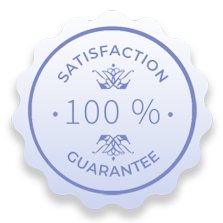 Notes From Our Wonderful Clients
"I got the package today before noon as the shipping stated, and the ring is BEAUTIFUL!!! I couldn't be happier! The images you guys send are so enlarged and zoom in on the detailing so much. The setting is just perfect the way you sent it. It's hard to gauge when you're looking at such a enlarged photo of the detailing versus the actual size. "

Jessica H. Hanover Park, IL USA

"I received the ring this morning. Just wanted to say that I am extremely pleased with the result. I will definitely recommend your business to my friends. Thanks very much for a painless buying experience. "

Louis V. Cambridge, MA USA