100% satisfaction guaranteed
we want you to love your Krikawa piece!
Satisfaction Guaranteed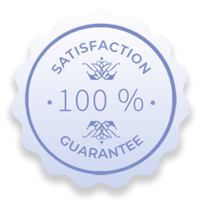 We have always offered a
100% satisfaction guarantee!
It is our mission to create jewelry that is about love, for love, and just simply loved.
Krikawa stands behind every piece that we sell, including all pieces that our custom design artists produce. Our guarantee is that your piece will match the order details you approved, and will be hand-made with quality and craftsmanship that is unsurpassed.
If you are not completely satisfied at the time your jewelry is delivered or picked-up, let us know on the spot and we will improve, exchange or refund the piece. Share your concerns with us immediately and return the unworn piece with original packaging and certifications within 15 days.
We will work until the piece matches your order and meets your satisfaction. (The only charge may be for the difference in price if any upgrades are requested).
Custom jewelry can take several weeks to create from start to finish and you are involved in the design process, so we rarely receive requests for refund. If you do request a refund, please understand that we have incurred fees, spent time and labor for correspondence, mockups, CAD design, and procuring materials for your project, credit card processing, shipping and packaging fees, and the like, so a 15% cancellation fee will be retained from the refunded amount. Rush, appraisal, and shipping fees are not refunded.
We want you to love your jewelry for a lifetime and are willing to explore many solutions for each situation.
What We Do to Ensure That You Receive Your Dream Ring:
Sizing rings are sent upon every order to guarantee a great fit and confirm desired width.
For new custom designs not pictured on the website, or for major modifications to existing designs, we offer sketches or detailed computer renderings. We obtain your approval before your ring enters production.
Extensive education is available on diamonds, gemstones, and metals.
You may request mokume gane and precious metal samples.
Expert selection of the diamond or gemstone that will be showcased in your ring.
Colored stones can be sent to you for approval.
You will receive expert advice on design considerations.
Ring care guidance and support.
One Year Warranty
We do warranty all small accents stones
in the rings for the first year and will replace them free of charge if they fall out with normal wear within the first year. Krikawa will cover the round trip shipping charge for warranty items.
Order Cancellations
We understand that sometimes things happen and should you need to cancel your order, please do so within one week of placing your deposit and receive a full refund of your deposit (less shipping charges for any samples that have been sent at your request). After that time, a cancellation fee of up to 15% will be retained from the refunded amount. P
lease understand that we have incurred fees for credit card processing, shipping, packaging and the like, and spent time and labor on correspondence and phone calls, creating mockups, CAD design, and procuring materials for your project.
Diamond & Gemstone Return Policy
Colorless Diamonds: If you purchase your diamond through Krikawa, we guarantee it will match the GIA or AGS certification. We are happy to email a copy of the certification for your approval. We typically do not ship diamonds for approval because grading is highly standardized, quality is easily communicated, and each diamond is evaluated for premium cut, color and clarity by our designers.
Colored Gemstones: Upon request and with a full deposit to cover the stones, we can ship up to 3 colored stones to you for approval, in a single shipment. (International clients please add $100.) Subsequent shipments will be subject to a non-refundable shipping charge.
Colorless Diamonds and Colored Gemstones valued at over $3,000 are nonrefundable.
Please Read and Understand
We do not remake, exchange or refund for buyer's remorse, breakups, or surprise designs. Even in these cases, we always guarantee the craftsmanship and overall quality of the piece.
Our return policies do NOT apply to altered inventory items, items marked "final sale", or items purchased from our estate or pre-owned collections. Please ask in advance about these items, as many are not returnable or exchangeable.
We allow exchanges or return for a store credit, minus a 30% restocking fee for up to 60 days from the date of delivery or pick-up. The item must be returned in perfect, unworn condition, with all original packaging and certifications.
If more than 60 days has passed or your item is in less than perfect condition, consider consignment with us. Contact our client concierge to discuss your situation.
Enjoy the services of a unique international custom jeweler who is a member in outstanding status with the
Better Business Bureau
, and winner of the 2009 Southern Arizona Ethics Award from the BBB. We understand that your purchase is very special and symbolic, and we are honored to be chosen to make this jewelry for you.
Krikawa Jewelry Designs specializes in custom made-to-order pieces specific to each client's individual finger size and stone size, as well as metal and mokume preference. We specialize in long-distance custom ring design.
Which Ring Tells Your Love Story?