interesting gem facts
Learn More About the Amazing Variety of Gemstones
Birthstones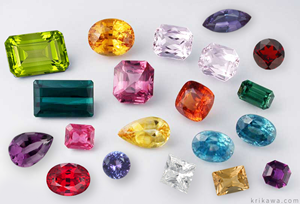 Birthstones date back to the 18th century and are commonly worn as lucky charms. It is believed wearing your birthstone improves your physical and metal conditions. Although the tradition of a monthly birthstone is a somewhat modern concept, many stones have been praised throughout ancient history as symbols and talismans that endow the wearer with strength, passion, wisdom, etc. Each stone is unique and comes with it's own powerful attributes and tales of lore.
Fair Trade Sapphires
As a
certified member
of The Responsible Jewellery Council, Krikawa is proud to offer fair trade sapphires from Columbia Gem House, Inc.. Purchase your sapphire with a clear conscience, knowing no human rights were violated and the stones were mined with emphasis on the protection of the environment during the mining, cutting, and jewelry manufacturing process.
What Color Will Light Up Her Eyes?
Search our database:
Gemstone Search Tool >

Get help finding your stone:
Take this Quiz >

Explore ring designs on your own:
Unique Engagement Ring Collections >