Plain Wedding Bands
Simple and Elegant With a Perfect Fit Every Time

For some, a simple band of gold or platinum is the best expression of marriage's commitment. Behind that apparent simplicity though, there are still a myriad of options: Profiles (the cross-section), widths, thicknesses, metals, finishes, engravings, and shapes.

At Krikawa, you can achieve the perfect plain wedding band. Down to the smallest detail, your Krikawa plain band will be lovingly crafted and a guaranteed perfect fit.
Shop Plain Wedding Bands
Simple, classy, and unique. Our minimalist women's wedding rings are understated, yet exquisitely crafted. Wear alone, or stacked with your engagement ring.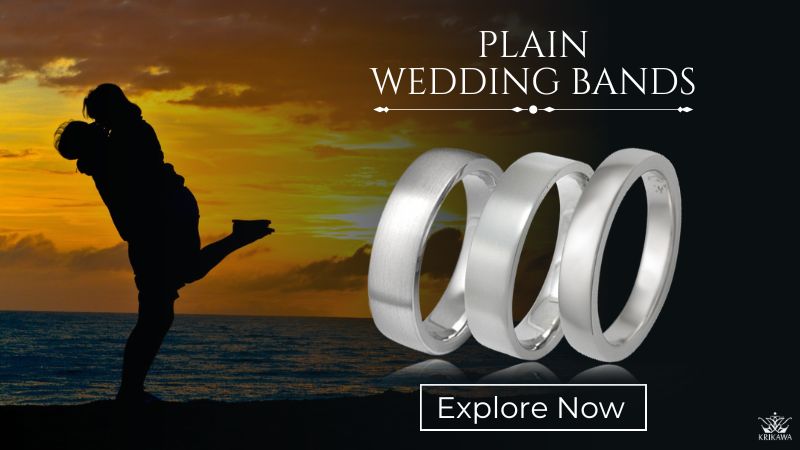 High-quality materials and made-to-order Krikawa craft meets the classic precious metal band. Our plain wedding bands are the perfect option for anyone looking to marry craftsman quality with a budget.
Why a Plain Wedding Band?
At Krikawa, we truly are custom jewelers, and our only goal is to help you realize your dream ring. While portfolio and custom designs are unique to our studio, we know that you have a wider range of choices when it comes to a simple precious metal band. So, why Krikawa?
Proven Quality.
At Krikawa, we have been making rings to order for over twenty years…and we afford the same exacting attention and standards to a simple band as we do to an extravagant luxury piece.
Customization.
Think all plain bands are the same? Think again! From profile to finish to thickness, at Krikawa, you'll have full control over all the variables to achieve your perfect plain wedding band.
Keep it Simple.
Perhaps one of you prefers an ornate piece, while the other is more a gold band type of spouse. Or, maybe you already have a Krikawa sparkler for your engagement ring, which you don't want your band to overwhelm—but at the same time, you want to make sure that it fits perfectly with your engagement ring. Whatever the reason, Krikawa can do it all, delivering your complete wedding set made to the highest standards!

What will Your Dream Ring look like?

Options for Your Plain Krikawa Wedding Band:


Continue Exploring:
Get help buying.
Email
now or call 1-888-krikawa