Custom Engagement Rings
AND CUSTOM WEDDING BANDS

Congratulations! This is one of the most amazing times in your life. Your engagement ring and wedding bands will be the most meaningful jewelry you or your beloved will ever wear. Here at Krikawa, we've made over 10,000 custom rings, one at a time, so rest assured you are in the best hands. You will find an enormous portfolio of designs that you can gain inspiration from, order to your specifications, or mix and match!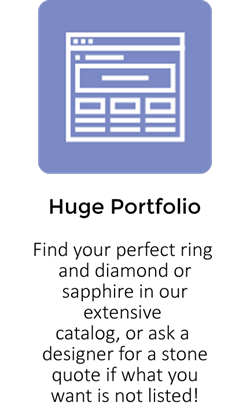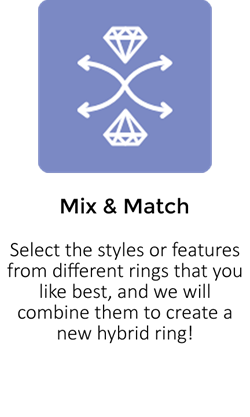 How to Design Your Own Ring
Whether you know exactly what you want, or you need help figuring out what you love, your design consultants at Krikawa are here to make your custom ring experience easier. We have tips and tools to help you on your journey.
Read more here >
How Is Your Custom Ring Made?
From sketch to illustration to rendering, we'll take your input, mix it with our design and engineering expertise, and deliver you design ideas, inspiration, and graphics to help you visualize your dream ring. Then, it goes to our master modelers and bench jewelers to bring your vision to life!
Read more here >
Take the Ring Quiz!
Not sure what questions you should be asking yourself? The ring quiz will guide you through a series of questions that will help our design consultants quickly narrow down a solution for you, as well as sparking your imagination. Sometimes, knowing what you don't want is as vital to us in helping you find what you do want!
Take the quiz now >
Know Exactly What You Want?
If you have already designed your own ring because you know what you want, and you've either drawn it on a napkin, you've modeled it in CAD in your basement, or some other unique combination, use this handy form to submit your request for a quote. We've made some very unique rings designed by our clients!
Submit request for quote now >
Meet Your Design Team!
We have a fabulous and intimate staff ready to answer your questions and get you started down the path to your dream engagement ring or wedding bands. What's the best way to proceed? Truly, taking a little time out of your day to talk over the phone can give them far more information to helping you create the perfect rings than a slow back and forth email process. Keep in mind there are just a few of them and answering emails with in depth information can take a long time. Do yourself a favor and schedule a call!
Meet the team now >
The Making of a Ring at Krikawa
In this short video you can see our studio and some of the processes we use to make custom rings!
Design Your Own Engagement Ring From Scratch
If you have an idea for a ring, whether you've sketched out a design on a napkin or just have the idea in your head, we can help. We've built thousands of rings from scratch, and you'll love the process!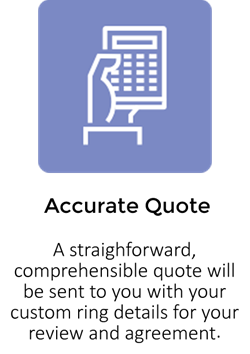 For inspiration, you can explore our huge selection of unique
wedding rings
and
engagement rings
.
A great way to get started is to browse the site for inspiration, and "favorite" the designs you love the most (by clicking the little heart). You can order a ring directly from the site, or you can inquire about a particular design if you would like pricing or customization.
Next, you can take our
comprehensive ring quiz
, which asks many of the questions we'll like to know in order to help you create your dream ring! We want to make it fun and easy, and this is a great way to get the ball rolling.
The Finest Center Stones for your Custom Engagement Ring
From the finest
master cut sapphires
to
loose diamonds
in all shapes and sizes, you can find your perfect stone in our diamond or sapphire search tool, or let our design consultants source you the stone of your dreams. The majority of our unique stones are not online, as the inventory is constantly shifting, so take advantage of our concierge stone searching services!
See the Making of YOUR Ring!
If you really love the ring creation process, you may also want to receive a custom book on the making of your ring! If you order the book with your ring, we'll document the process of the making of your ring, and show you all the steps we took to carefully hand craft it.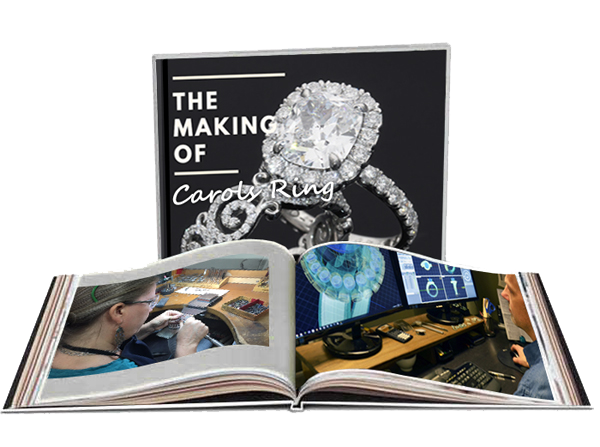 ---
Frequently Asked Questions about Custom Engagement Rings
What is the custom engagement ring process with Krikawa?
Get ready to be thrilled and delighted. With over 10,000 custom rings made, Krikawa is your go to source for designer jewelry. Our fine jewelry skills combine with our decades of jewelry making and our award winning designs to create exquisitely unique engagement rings. Our heart-centered customer service and desire to treat every human being with kindness and respect result in a fun, win-win experience that gets you an experience and a ring you'll cherish for a lifetime. Read more about our custom process.
What is a custom engagement ring?
A custom engagement ring is a ring that is made from scratch. Often starting from a sketch or a collage of different parts, a truly custom engagement ring will be built from the ground up around the customers design inspiration, center stone selection, and other aspects.
At Krikawa, your design consultant will collect all of the inspiration and criteria you have, and work with you to produce a sketch or a mockup to communicate design ideas back to you.
Then, the design is created in 3D for you to see from all angles, and ultimately, it is cast into the metal of your choice and sculpted and perfected at the jeweler's bench.
---
FAQ: Cost
How much do custom engagement rings cost?
You can definitely expect to pay more for a ring that is created as a one-off than one that is mass produced. You're essentially creating a master model, and the expertise required to build a custom ring is top level. From design to engineering to goldsmithing and stone setting, making a unique ring for the first time simply takes more time, communication, and expertise to create.
At Krikawa, every ring we make is custom, not from a mold. While we do have design portfolios that inspire new rings, and some designs that get produced more than others, every single time we make a ring, we make a new master model.
A new master model is required for Krikawa rings, because our center stone settings are integrated into the rings. We don't use peg heads and slap any diamond onto any mounting. Every ring is engineered to have the right aesthetics and durability for the stone size and ring size and metal ordered.
Are custom rings more expensive?
The short answer to that question is yes. Custom rings are more expensive than mass produced, off the shelf engagement rings.
Typically at a commercial jewelry store, the mounting is a mass produced, molded and mass-cast, mass-set ring, often made in production facilities off-shore. The time it takes to make a mass-produced ring is far less than a custom ring.
Imagine that in each scenario, one master model is made and tested, but in the mass produced ring, that master model cost is spread out over the thousand or 10,000 rings produced from the resulting mold. In the Custom Ring Scenario, you are paying for the master model, which can be any creation your heart desires.
How much should you spend on an engagement ring?
You should spend the amount you are comfortable with. Keep in mind this is the most important piece of jewelry you will every purchase or wear, and it is the only thing from the wedding that you will look at every day (besides each other :). It should last the test of time, both in design and quality.
---
FAQ: Turn Around Time
How long does a custom engagement ring take to make?
You can expect a 4-8 week turnaround time for a designer ring from Krikawa. The variables include:
-time for you and design consultant to finalize your design,
-time for CAD modeler to model your design in a 3D space and render it for your review,
-time to print the wax and cast into precious metal (1 week),
-time for the jeweler to fabricate parts, set stones, pattern mokume, sand, polish, etch, carve, pave, polish, and more!
Does it take less time to make a wedding ring?
It is a little easier to design and make a wedding ring, because the center stone does not have to be considered. As far as turn around time goes, often the ring goes in the production schedule next in line, just like an engagement ring, so it might not actually be delivered any sooner than a custom designed engagement ring.
---
FAQ: Ring Details
How do you get the ring sizing to be accurate?
We send out
metal sizing rings
after your order is placed so that you can pick the best size for your engagement or wedding ring.
What are the best precious metals for a custom designed ring?
There are three primary factors to consider regarding your precious metal: color, hardness and wear resistance. Take some time to review our
precious metals information
, or
schedule an appointment
with one of our design consultants.
Do you make custom anniversary rings?
Yes! Everything we make is custom, made to order, so you can have any piece of jewelry for any occassion, made perfectly just for you.
---
FAQ: Stone Details
How big is a 1 carat diamond?
A one carat diamond has a diameter of around 6.3mm. The diameter will vary, depending upon what the shape and depth of the stone is.
See stones on hand here.
What are the different stone shapes?
There are the standard
diamond shapes
, and then there are many unique and unusual stone shapes for
unique diamonds
and
designer cut gemstones
.
Are lab created diamonds less expensive than natural diamonds?
The short answer is yes,
lab created diamonds
are less expensive than natural mined diamonds. That doesn't make them inexpensive, however there is definitely a growing inventory of lab created diamonds to choose from.
Are there any diamond cuts that are better than others?
Round diamonds have the most sparkle, as they are mathematically designed for the most light return, like a perfect prism. Other cut diamonds like cushion cut and princess cut can also be very sparkly if cut well. The emerald cut has a beautiful geometric appeal like the Asscher cut, and oval cut diamonds are popular for vintage style designs.
Is blue sapphire the only color of sapphire?
While blue is the classic sapphire color, other popular colors are pink, yellow and purple!
Natural sapphire
is found in a full rainbow of colors, and
lab created sapphire
is available in blue, pink, yellow, padparadscha, and peach.
---
A Message to You From Our Founder, Lisa Krikawa: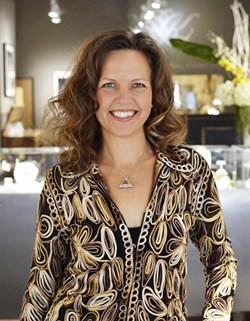 "
Welcome to Krikawa.com!

Creating your dream ring just got a lot easier.

Let's be honest. The ring buying process is complicated. You start out excited to find your ring, but along the way, you become overwhelmed with information and fearful of making a poor investment. You are after all, going to be wearing this ring for the rest of your life.

If you are serious about creating a ring that will have you or your beloved beaming and you raving about the process, consider connecting with a Krikawa design consultant today.

With 20 years experience in designing, engineering and creating wedding and engagement rings for people all over the world, hundreds of five star reviews, and over 10,000 rings made in a single batch process, you can rest assured that your design consultant at Krikawa has all of the knowledge, know-how, and design resources at their finger tips to help you get what you want: a unique ring that represents your love story, that you will cherish forever.

Sign up for your consultation today. We're here to help you create the ring of your dreams!"
With Love,
Lisa Krikawa
Next Step: See How
How to Design Your Ring >