Custom Engagement Rings
Design Your Own Handcrafted Engagement Ring

Your Custom Engagement Ring Guide
Are you ready to take the plunge and ask the most important question of your life? With Krikawa Custom Jewelers, crafting the perfect engagement ring is a thrilling adventure filled with sentiment and excitement. Embark on your special journey with us by designing a custom engagement ring that tells your unique love story. Whether starting from scratch or adding a personal touch to an existing portfolio design, this comprehensive guide to custom engagement rings ensures you'll present a ring that leaves your partner utterly breathless.
Lovebirds, your fairytale continues here! Calling all romantics and dreamers! Prepare to embark on an enchanting journey of creating an exquisite symbol of your boundless love.
Krikawa: Exquisite Craftsmanship and Spectacular Service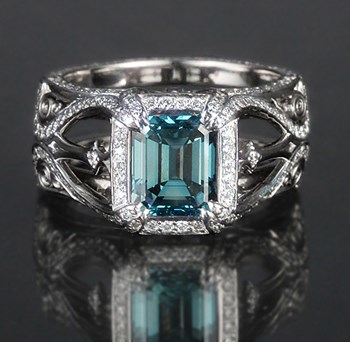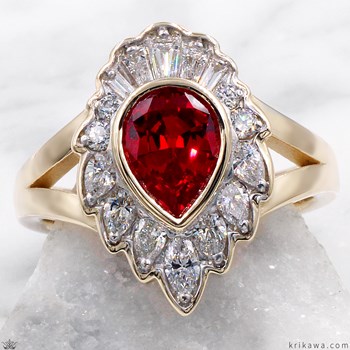 Your engagement ring and wedding bands hold unparalleled significance, and your joyful custom journey is our mission. With 10,000+ handcrafted custom rings and hundreds of 5.0 Google reviews, you can trust Krikawa for expert design, service, and care. This is what we do. We are the authority in custom rings. Our process intertwines creativity, craftsmanship, and love. We believe in love.
Each ring made in the Krikawa studio is meticulously crafted, one at a time. Our artisans are master craftspeople with decades of experience making custom rings and collaborating with couples from around the globe.
Creating the ideal engagement and wedding rings involves weaving imagination, craftsmanship, and love into a beautiful tapestry. At Krikawa, we are artisans who illuminate your path, guiding you through a world where dreams take tangible form. Our realm encompasses personalized wedding bands, ethically sourced gemstones, and meticulously designed diamond engagement rings. It's a canvas where your individuality shines, allowing you to craft a lasting testament to your unique love.
Care for the Planet with Ethical Choices
At Krikawa, our commitment to caring for the planet drives every choice. From ethically sourced natural gems to lab-created alternatives and conflict-free diamonds, we prioritize materials that align with our eco-conscious values. Additionally, we embrace sustainability through our use of recycled gold and platinum. With each decision, we aim to create beautiful pieces that reflect your love and contribute to a more ethical and environmentally responsible future.
Elevate Your Love Story: Transforming Dreams into Realities
Say farewell to ordinary choices and embrace the opportunity to express your love with a ring as exceptional as your connection. Let us guide you on this creative path, bringing your vision to life in stunning detail. We'll help you find the perfect center stone to match your love story and design a setting that reflects your unique bond. Get ready for an adventure that concludes with the embodiment of your everlasting commitment – the flawless symbol of your love story.
As you embark on this journey, remember that Krikawa is here to turn your dreams into cherished symbols of devotion. Your engagement and wedding rings aren't just an accessory – they'll be masterpieces that capture the very heart of your extraordinary bond. Let your love story radiate through the timeless elegance of a custom-designed ring.
Why Choose a Custom Engagement Ring?
Nothing stands out quite like a bespoke creation in the world of engagement rings. Choosing a custom engagement ring empowers you to design a special symbol of your affection – a piece that reflects your unique bond and your partner's individual style. Unlike mass-produced options, custom designs offer endless personalization possibilities, ensuring your engagement ring design shines amidst the ordinary.
With a custom engagement ring, you can tailor every detail in the gleaming precious metal, the eternity band, the accent stones, and the graceful setting. This depth of personalization transforms your ring into more than just a visual delight. By crafting a ring for your unique story, you infuse it with deep meaning and symbolism, creating a genuine representation of your love.
Discover the range of center stones available, from captivating natural diamonds or lab-created gemstones that grace the center stage, capturing the essence of timeless beauty. Explore a range of engagement ring styles, guided by our skilled design team, who will transmute your vision into art. Whether it's the classic elegance of a solitaire diamond engagement ring or a bedazzled pave diamond ring, your one-of-a-kind ring will be a pure expression of commitment.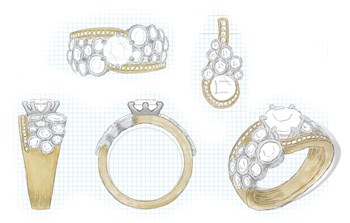 Personalize your dream ring with various choices – from colored gemstone rings adorned with a dazzling halo or delicate diamond pave to eternity rings with red rubies or blue sapphires. Our lifetime warranty will make your ring setting a cherished keepsake.
Remember, a custom engagement ring is more than just jewelry; it's a lifelong symbol of your connection.
Factors to Consider When Designing a Custom Engagement Ring
Designing a custom engagement ring requires careful consideration of various factors. One of the most important factors is your partner's personal style. Take note of their jewelry and consider whether they prefer classic, modern, or vintage designs. This will help guide you in choosing the right design elements for the ring.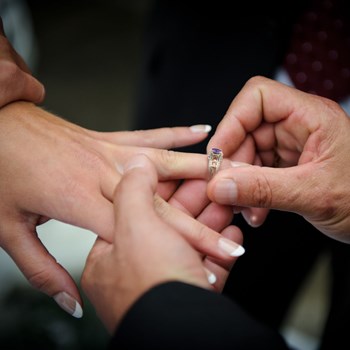 Another consideration is the practicality of the ring. Think about your partner's lifestyle and daily activities. If they have an active lifestyle, you may want to opt for a more durable and low-maintenance design. On the other hand, if they prefer a more delicate and intricate style, you can focus on designs that showcase intricate details and craftsmanship.
Budget is also an important factor to consider. Custom engagement rings vary greatly in price, depending on the design's materials, gemstones, and complexity. Set a realistic budget and work with our jewelry designer, who can help you create the perfect ring that fits your budget without compromising quality.
Finding Inspiration for Your Custom Engagement Ring Design
Picking the perfect engagement ring design often starts with finding inspiration. Dive into our extensive and truly outrageous design portfolio, gather inspiration, or craft a blend uniquely you. Your personal expression is our inspiration.
Look for sources of inspiration that align with your partner's taste and style. Browse through our website, and save your favorite designs. You can also explore online platforms like Pinterest and Instagram for design ideas. Save images of rings that catch your eye, and take note of the specific design elements you like.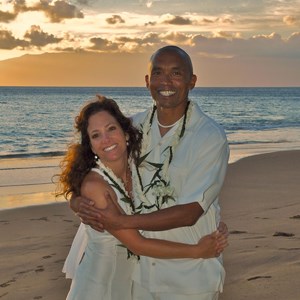 Another source of inspiration is your own love story. Consider special moments, shared interests, or significant symbols you can incorporate into the ring design. Whether it's a favorite flower, a meaningful engraving, or a birthstone, adding personal touches will make the ring even more meaningful.
Not Just for Women: Custom Men's Engagement Rings
While the process is the same, the results are a little different. No worries, though, men, we got you! We've designed many
engagement rings for men
and always love the opportunity to create new men's designs. Men's engagement rings can run from modern and simple to extravagant statement pieces.
From platinum to mokume gane, green emeralds to black diamond accents, the materials for your men's ring will be chosen to express his style. Your custom men's engagement ring will symbolize your commitment and stand the test of time.
Collaborate with a Jewelry Expert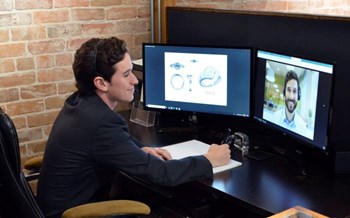 Once you have a clear idea of your custom engagement ring, it's time to chat with our design consultants. They'll help you turn your vision into reality. In the Zoom call (or in-person appointment, should you be so lucky to live in the Southwest), share your design thoughts, budget, and needs. Our jewelry expert will give great advice, make suggestions for the longevity and wearability of your design, and help you pick gemstones, metals, and settings.
Design Your Own Engagement Ring From Scratch
Unleash your creativity and bring your unique ring vision to life. Whether you've sketched it on a napkin or visualized it in your mind, our expert design consultants are here to assist you every step of the way. They'll skillfully translate your ideas onto paper, breathing life into the masterpiece that is the ring of your dreams. With our guidance, your imagination knows no bounds, and the result will be a one-of-a-kind symbol of love that captures your essence and story.
The Stages of Custom Ring Design
Making a custom engagement ring happens in stages. It starts with a conversation with our design consultant, where you will discuss your ring ideas and center stone desires. Some designs start with the stone, and some start with the ring, and either way, our designer will proceed with experience and expertise to turn your ideas into sketches or computer images, tweaking as needed.
When picking a center stone, our design consultants will have enormous inventories to help you find the perfect natural or lab-created diamond or gemstone. They'll help with quality, cut, color, and weight, giving your budget the importance it has for you.
With the gemstone chosen, it's time to decide on the metal. Your designer will help you with suggestions regarding hardness and color.
With design and materials chosen, pricing is provided, and a 50% deposit is placed. There might still be elements to finalize, but now you'll be in the production schedule and have a good idea of turnaround time.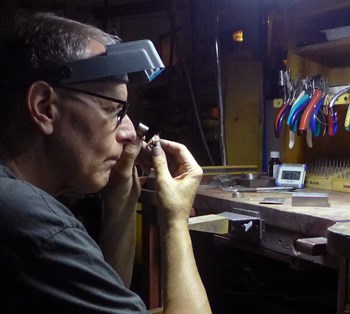 You'll be kept in the loop as your design makes its rounds through the hands of our craftsmen and women. Ultimately, when you open your box and see your creation for the first time, we dream you'll feel like our other clients who have left raving 5-star reviews.
Adding Your Personal Touch: Customize Your Engagement Ring with Symbols
Creating a custom engagement ring means adding personal elements that set it apart. Add touches or symbols incorporated into the design that hold sentimental value or reflect your partner's tastes and personality.
Engravings and modeled symbols on the inside of the ring are a popular way to add a personal touch. It could be a special date, a meaningful phrase, or your partner's initials – engraving adds an intimate and sentimental layer.
Birthstones are another way to make the ring yours. If you prefer, incorporate your partner's colored birthstone alongside the main gem or create a design featuring both birthstones. If you want to keep the color timeless, simple, and elegant, consider putting your birthstones on the inside of the ring as a secret symbol of your partnership.
Budgeting for a Custom Engagement Ring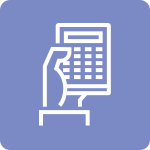 As with any significant purchase, it's important to establish a budget when designing a custom engagement ring. Your budget will influence the choice of gemstone, metal, and overall design complexity. Communicate your budget clearly with the jewelry designer or jeweler to ensure they can work within your financial constraints.
Remember that custom designs often require a higher investment than mass-produced rings. However, a custom engagement ring's uniqueness and sentimental value make it a worthwhile investment. Prioritize the most important elements and be open to compromises to ensure your budget is respected without compromising quality.
The wedding day passes, but the rings are with you every day, part of your morning coffee, lunch break, and happy hours. While the ring cost might play a major role in your wedding budget, you'll admire it every day.
Choosing Your Gemstone: The Heart of Your Custom Ring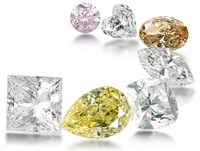 The center stone is a crucial part of any engagement ring. Consider durability, color, and meaning when picking a diamond or gemstone for your custom design. While natural, GIA-certified diamonds are the traditional choice, natural fancy-colored diamonds, lab-created diamonds, and natural and lab-created colored gemstones have gained popularity for their unique beauty and personalization.
Diamonds are known for lasting elegance, making them a top engagement ring choice. When choosing a diamond, think about the four Cs: cut, color, clarity, and carat weight – all influence how it looks and its price. Many different diamond shapes are available, with round, princess-cut, and cushion-cut being the most traditional, and other shapes like pear and oval-cut a little more unusual.
Colored gemstones offer lots of customization. From blue sapphires and green emeralds to red rubies and peach morganites, they bring vibrant flair. When selecting, consider your partner's favorite colors, birthstones, or special meanings of the stones.
From the finest master cut sapphires to loose diamonds in all shapes and sizes, you can find your perfect stone in our diamond or sapphire search tool or let our design consultants source you the stone of your dreams. Most of our unique stones are not online, as the inventory constantly shifts, so take advantage of our concierge stone-searching services!
Exploring the Elements of Engagement Rings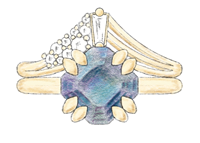 Creating your dream engagement ring blends individuality, creativity, and craftsmanship. Our design consultants are like artists, turning visions of brilliant diamond engagement rings and captivating colored gemstone rings into wearable art.
Uncover engagement ring settings with hidden halos, delicate accent stones below the main gem, and modern split-shank designs. Discover classics like solitaire engagement rings and pavé engagement rings with diamond accents. For those seeking luxury, halo engagement rings - with a halo of diamonds encircling the center stone - radiate refined beauty.
Selecting the Metal for your Custom Engagement Ring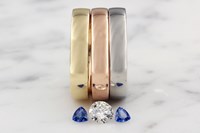 The choice of metal for your custom engagement ring plays a significant role in its overall aesthetic and durability. Platinum, gold, and white gold are popular choices for engagement rings, but at Krikawa, your choices expand into green gold and rose gold.
Platinum is a premium metal known for its durability and hypoallergenic properties. It has a naturally white color that does not fade or tarnish over time, making it an excellent choice for showcasing the brilliance of gemstones.
Gold is a classic choice that offers versatility in terms of color. Yellow gold, rose gold, and white gold each have a distinct appearance that can complement different gemstones and personal styles. Consider your partner's preference and skin tone when selecting the gold color.
White gold is a popular alternative to platinum, offering a similar appearance at a more affordable price. It is created by mixing gold with other white metals and is often coated with rhodium to enhance its whiteness.
Personalizing Your Ring's Look: Customize the Band, Setting, and More
When crafting your custom engagement ring, the band, and setting are vital in its overall appearance and practicality. The band encircling your finger and the setting, securing the gemstone, define its essence.
The engagement ring band can be embellished with pavé or channel-set diamonds or explore unique designs with intricate engravings or delicate filigree.
The setting is a pivotal feature that highlights the gem and ensures its safety. Popular setting styles include prong, bezel, and halo. Prong settings use metal prongs to hold your gem, while bezel settings create protection with a metal border with a modern appeal. Halo settings add a dazzling touch, encircling the center stone with smaller gems.
Your Krikawa design consultant will help you explore various diamond shapes to find the perfect fit for yourself or your partner. Delight in the allure of hidden halos and toi et moi designs that add intrigue. Explore ring styles that mirror your love story, whether a pavé engagement ring or a timeless solitaire. Accent stones like diamond pavé enhance the elegance.
As you design your dream engagement ring, consider a ring set that complements your style. Find the engagement ring setting that captures your heart – from the classic solitaire to the enchanting diamond halo. Let every detail reflect your journey, creating the perfect ring that symbolizes your unique love.
Understanding the Timeline for Designing and Buying a Custom Ring
Designing and creating a custom engagement ring takes time, so planning ahead is important. The timeline can vary depending on the design's complexity, materials availability, and the jeweler's workload.
The initial design consultation is just the beginning of the process. It may take several iterations and adjustments to finalize the design. Once the design is approved, there are many steps to creating the ring, from ordering materials, modeling, casting, soldering, sanding, polishing, stone setting, and final shipping.
The manufacturing process can take weeks to months, depending on the design's intricacy and the jeweler's workload. Communicating your desired timeline with your design consultant is important to ensure our jewelers can accommodate your needs.
Tips for Buying a Custom Engagement Ring Online
Buying a custom engagement ring online offers convenience and access to various design options. However, taking certain precautions ensures a smooth and secure purchasing experience.
Research reputable online jewelers with a proven track record of delivering high-quality custom designs. Read customer reviews and testimonials to gauge their reliability and customer satisfaction levels. Check out our 5.0 on Google with over 300 reviews!
Take advantage of virtual consultations and design tools offered by online jewelers. These tools allow you to visualize your design and make necessary adjustments before placing your order.
Ensure the online jeweler provides detailed information about the materials used, including gemstone quality and metal purity. Look for certifications and guarantees that validate the authenticity and quality of the materials. While not all stones are certified, the jeweler's reputation is your guarantee of quality.
Your Own Heirloom Diamond
Elevate your custom design with cherished history by incorporating your own heirloom diamond, a treasured gem that carries generations of sentiment. At Krikawa, we understand the significance of heirlooms, and we offer you the opportunity to infuse your custom piece with a deep connection to your family's legacy. Your heirloom diamond becomes the focal point of a new chapter, seamlessly woven into a design that speaks to your personal style and love story. Embrace the beauty of tradition and modernity as you create a unique masterpiece that honors the past while crafting your own future heirloom.
Crafting Your Personalized Wedding Bands
Krikawa's artistry extends to custom wedding bands. Designed and handcrafted with the same care as your engagement ring, your customized wedding rings tell the next chapter of your love story.
Your design team will help you with ring size, width, comfort fit, eternity style, and contoured ring elements. You'll decide whether to have matching rings, complementary rings, or styles uniquely suited to your individual tastes.
Beyond the Rings: Anniversary Celebrations
All anniversaries are worthy of celebration, but years one, five, ten, twenty, and beyond hold extra special meaning. A unique anniversary design from Krikawa might be ready to ship, but you can count on something especially unique if you plan ahead and design something special, like ethically sourced gemstone earrings and bracelets, symbolic pendants, or mokume and diamond earrings.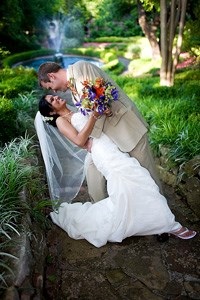 Unique gemstones take full advantage of Krikawa's artistic sophistication! From enchanting green sapphires to regal blue sapphires and fiery red rubies, each gem exudes charm and design potential. Lustrous emerald-cut and cushion-cut diamonds capture light and hearts. Intriguing toi et moi rings, adorned with dual gemstones, mirror the intertwining of two souls and create interesting right-hand anniversary rings
At Long Last: Your Life Partner Adorned with A Symbol of Your Enduring Love
Crafting a custom engagement ring is a journey filled with love and creativity. With a custom design, you create a beautiful ring and a meaningful representation of your relationship.
From choosing the perfect gemstone and metal to personalizing the band and setting, each step adds to the story of your love. With the guidance of an experienced jeweler, your dream ring becomes a reality that will leave your partner in awe.
Embrace this adventure of designing and obtaining a custom engagement ring – a lasting testament to your commitment. Your unique ring will hold special meaning for generations, encapsulating the depth of your love and devotion.
---
Explore In More Depth:
How to Design Your Own Ring >
Whether you know exactly what you want or need help figuring out what you love, your design consultants at Krikawa Custom Jewelers are here to make your custom ring experience easier. We have tips and tools to help you on your journey. Read more here >
How Your Ring is Made >
From sketch to illustration to rendering, we'll take your input, mix it with our design and engineering expertise, and deliver design ideas, inspiration, and graphics to help you visualize your dream ring. Then, it goes to our master modelers and bench jewelers to bring your vision to life! Read more about the process here >
See the Making of YOUR Ring!
If you love the ring creation process, you may also want to receive a custom book on The Making Your Ring! If you order the book with your ring, we'll document the process of making your ring and show you all the steps we took to carefully hand-craft it.
Click on the image below to flip through an actual book!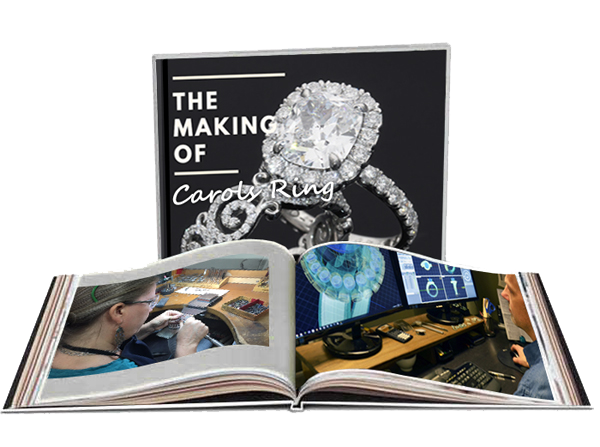 Take the Ring Quiz! >
Not sure what questions you should be asking yourself? The ring quiz will guide you through questions like stone shape, setting style, accent stone colors, and more to help our design consultants quickly narrow down a solution for you and spark your imagination. Sometimes, knowing what you don't want is as vital to us in helping you find what you do want! Take the quiz now >
Know Exactly What You Want? >
If you have already designed your own ring because you know what you want, and you've either drawn it on a napkin, modeled it in CAD in your basement, or some other unique combination, use this handy form to submit your request for a quote. We've made some very unique rings designed by our clients! Submit a request for a quote now >
Meet Your Design Team! >
We have an expert, fabulous, and friendly design staff ready to answer your questions and start you on your dream engagement ring or wedding band. What's the best way to proceed? Truly, taking a little time out of your day to talk over the phone can give them far more information to help you create the perfect rings than a slow back-and-forth email process. Remember, we have only a few design consultants on staff; answering emails with in-depth information can take a long time. Do yourself a favor and schedule a call! Meet the team now >
Behind the Scenes in Our Studio
This short video shows our studio and some of the processes we use to make custom rings.
Next Step: See How
How to Design Your Ring >