Engagement Ring Advice for Men

Should you surprise her with an engagement ring? Before you get too deep into looking at engagement ring designs, it is good to take this first point into consideration. Here are a variety of ways to approach this decision.

Total Surprise

She has no idea what is coming. This is the traditional method, and the one that is most romanticized in the media. You select the design,
metal
,
diamonds
,
sapphires
and ring size based upon your detective powers, personal taste, and ideas of what you think she would want. You may choose to purchase one of the following:
Complete Bridal Set. You purchase both the engagement ring and the wedding band. She doesn't have to lift a finger (except for her ring finger, that is), and she has absolutely no choice about her rings.
Engagement Ring Only. You purchase one ring, and let her be involved in the selection of the wedding band(s). Traditional method.

Pro:
You can create a magical moment, sweeping your loved one off their feet, causing a strong emotional response. There will be a great sentimental value in the fact that you did all of the work yourself, and your beloved is sure to love anything you select. Great choice for a sentimental gal.
Con:
She will have no input as to design, metal, stones, or size. The ring may need to be sized. Will you worry about if she likes it? Will she pine over another design to grace her finger?
Partial Surprise

There are a number of ways to still create that magical moment of the engagement ring proposal, with a little less stress and guess work.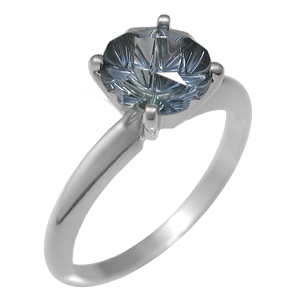 Put the stone of your choice in temporary mounting. You can focus your surprise on the stone, by choosing a special diamond, sapphire, ruby, or spinel, and then have this stone set in an ultra simple prong setting. After the proposal, you can let her know that you want her to be involved in the selection and custom design of her special ring. Being allowed to participate in the design of her own ring, collaborating with you and the jeweler, will be a rich and rewarding experience for her. This is a great choice for a contemporary woman. It also allows you to spread out the cost a little bit (stone first, some shopping time for her, before you need to put down a deposit on the mounting).
Stand-in Engagement Ring that will be kept later for sentimental value, most likely to be worn on another finger, on a chain, or as a wedding band, usually with small stones or just metal. This is an unusual method for an alternative couple, and is cost effective for someone on a tight budget. This could also be considered a promise ring, as in promise of bigger and better things to come.
Surprise on Engagement Ring Style.She knows it is coming. You have been engagement ring shopping with her, and have a very accurate ring size on her. You may have shown her a variety of images, or asked her to show you some images. You may even ask her to shop on her own and give you some ideas of what she wants.
Surprise on Proposal Only. She may know what engagement ring is coming. You and she have selected the design. But she may not know what stone you selected, and she certainly does not know when it will be presented to her.

Pro:
She will love being involved in the creation of a fine piece of jewelry. This is something that she will wear and look at every day, and it will be an expression of her style as well as your commitment to her.
Con:
Some of the surprise element is missing, and she may get antsy in anticipation of when you are going to present it to her.
It's Your Decision

Whatever you choose, you can rest assured that the love of your life will appreciate all the thought and consideration you put into choosing an engagement ring for her. At Krikawa, we have helped many men with the myriad of choices there are to make in choosing an engagement ring. You can take advantage of our extensive
experience
, in-depth knowledge and above all our passion for creating unique engagement rings. We honor your journey and look forward to making this an amazing experience, captured in the ring of a lifetime.