PRESERVING TUCSON JEWELRY HISTORY
THE ORIGINAL LOCATION OF ONE OF TUCSON'S FIRST JEWELRY STORES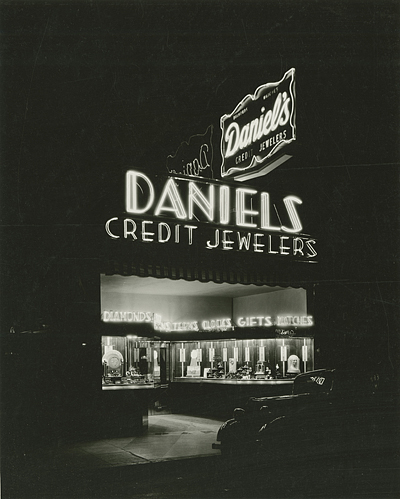 Courtesy of Arizona Historical Society
When I first learned that our new home Downtown was the location of one of Tucson's original jewelry stores, I got chills."
--Lisa Krikawa, Owner, Founder, Designer
Through divinely orchestrated synchronicity, Krikawa Jewelry Designs finds itself in the former space of one of Tucson's earliest jewelry stores, Daniel's Jewelers. Looking at 21 E. Congress Street, you will find remnants of Daniel's: a modernist, marble and glass façade with the name embedded in terrazzo floor tile. Take a stroll around the block to Broadway and Church, and you will see another ghost of historic Downtown: a tall, mounted clock that bears that business' name. To learn about Daniel's, we go back in time to the Roaring Twenties.
Daniel's Jewelers: A Gem in the Desert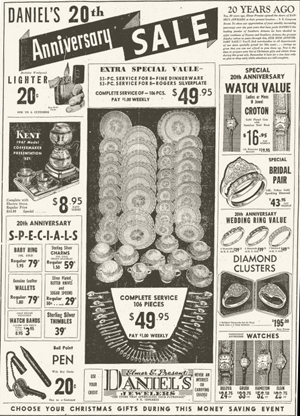 Like many prone to respiratory illness, Elmer Present and his wife were drawn to the dry, warm climate of Tucson, Arizona. In Toledo, Ohio, Present was previously an optometrist, and opened the first Daniel's with his brother William in 1916.
1
A decade later, the Presents left the Midwest and moved to the Sonoran Desert. They opened a Daniel's Jewelry store at 9 E. Congress St. in Downtown Tucson. After 27 years at that location, Present moved the store a couple of doors down to 21 E. Congress. His first Tucson shop employed four people; when he moved, he had seventeen.
2
In addition to jewelry, they carried household appliances, china and silverware.
Over the years, Daniel's expanded to 19 stores throughout Arizona and Michigan, and Present's son, Paul, took over managerial duties Downtown. Their branch that opened in the El Con Shopping Center boasted a $1 million collection that included a tiara and platinum garters!
3
In 1962, Elmer Present sold the Daniel's chain to the Gordon Jewelry Corporation.
4
Continuing a Jeweler's Legacy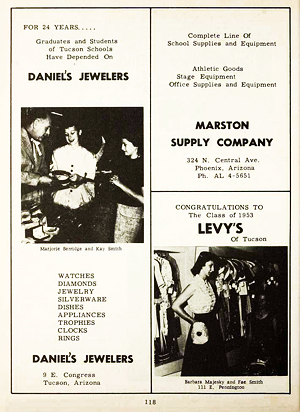 Amphitheater High School yearbook ad
Civic leader. Community supporter. Elmer Present was very well-known in the Tucson and Jewish communities. He was President of Temple Emanu-El for ten years and director of the YMCA and local Boy Scouts of America.
5
Fast forward several decades later, Krikawa is Tucson's jewelry store that regularly supports K-12 schools and nonprofits, such as
Youth on their Own
.
What else connects Krikawa Jewelry to the lineage of Daniel's? Social responsibility. Present was director of the National Association of Jewelers, which "maintains ethical standards for the industry."
6
Similarly, Krikawa is a member of the
Responsible Jewelry Council
and
Jewelers of America
, two organizations which both advocate "high social, environmental and ethical business practices."
Today, like Daniel's, Krikawa is bringing sparkle back Downtown in the form of a family business that has grown over two decades. Krikawa has called a few spots in the Old Pueblo home, but is very excited to be Downtown, where exploding culture and business is putting Tucson on the map. Like Elmer Present who was passionate about "keeping up with the progress of Tucson," we look forward to growing in this thriving community.
7
1. Jewelry firm founder dies. (1975, May 20.) Tucson Daily Citizen, p. 21.
2. Daniel's Jewelers Moving. (1954, April 2.) Tucson Daily Citizen, p. 9.
3. Daniel's Jewelry Opens El Con Store Tomorrow. (1961, October 5.) Tucson Daily Citizen, p. 15.
4. Daniel's Moves Begin Next Month. (1953, March 17.) Tucson Daily Citizen, p. 38.
5. Daniel's Jewelers Moving.
6. Ibid.
7. Daniel's Moves Begin Next Month.