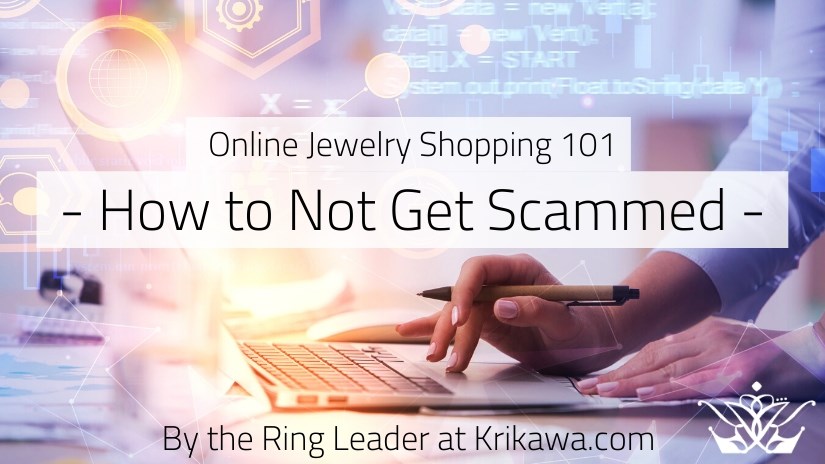 Online Jewelry Shopping 101 (or How Not to Get Scammed)

LISA

I'm a big fan of online shopping. In fact, a healthy amount of our business comes from our online store. But even as we're becoming savvier Internet shoppers, I still have customers bring in sub-par stones they bought online--and paid way too much for. And hey, I get it: It's tough to assess a piece of jewelry's quality based solely on a website photo.

While nothing can replace holding a piece in your hands and inspecting it from all angles, shopping brick-and-mortar-style isn't always feasible. Sometimes you browse a site and end up falling hard for a piece you can't imagine living without. Or sometimes you're pressed for time and find that it's easier to handle the whole transaction from the comfort of your laptop or smartphone. But before you click "buy," check out these tips to help you suss out the real deals from the all-out scams.

Check the reviews.
Whether you prefer Yelp, Jewelers Vigilance Committee, Wedding Wire, Better Business Bureau or Google, reading up on customer reviews is a no-brainer. It's a great way to get a feel for the kind of service you can expect to receive. If you're buying a stone online and having it set in a store, ask the jeweler there for his or her opinion before purchasing. A professional jeweler can educate you on buying quality stones, from the cut and visible inclusions to the price. This holds especially true for engagement rings: You're going to be looking at it for the rest of your life -- it should sparkle, not crack in half.

Ensure the jeweler belongs to a reputable organization.
Narrow down your list of vendors to ones that belong to an association whose members must subscribe to a code of ethics. Examples include Jewelers of America and the America Gem Trade Association.

Make sure the diamond is certified.
The stone should be GIA or AGS-certified -- settle for nothing else. Both have strict grading parameters, so you'll know you're getting a quality diamond.

If it seems to good to be true, it probably is.
You really get what you pay for when it comes to jewelry. If you spot a "synthetic" diamond for cheap, run in the other direction. Fast.

Research the origin and nature of the stone.
I see it a lot on sites that sell directly from overseas, especially Sri Lanka and Madagascar: passing off a synthetic stone as the real thing. Those rubies and emeraldson eBay, for example, may look pretty but chances are they're filled with glass and hardly durable. While a professional can test a stone to tell whether it's natural or treated, it can be tough for the average consumer to determine.

Only shop sites with a return policy. I just don't see how you can do business online without allowing customers to send back what they bought. If you can't find a clearly marked return policy on the site, save yourself the headache and shop somewhere else.
Look Around