Mountains settle the soul. "Climb every mountain!" is a directive that has pulled on millions of souls around the world.
I love going to the mountains. Hiking, camping, or just driving through; time in the mountains seem to put things into perspective. It's funny; the first date that my husband and I went on was actually camping. And, two years later, on our honeymoon, more than half of the three weeks was spent camping.
When I spend a day or two in the mountains, my mind clears from all the mundane garbage that seems to collect, and I feel a greater sense of clarity. As John Muir put it, "The clearest way to the universe is through a forest wilderness."
see the full article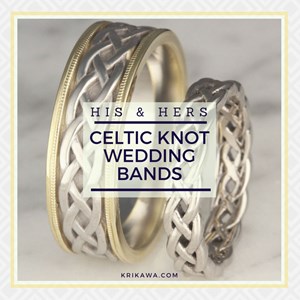 Are you considering a matching set of wedding bands, but would like to retain your own unique individual expression? This was the case for a couple who came to Krikawa looking for custom wedding rings. Although the couple both loved the idea and symbolism of the Celtic Knot, they did not want their rings to be "matchy matchy." Thus, a wedding band set was created that is kindred in style but not identical.
These
Celtic Knot Wedding Bands
feature the same eternity knot wrapping around the entire band, however that is where the similarities end.
see the full article