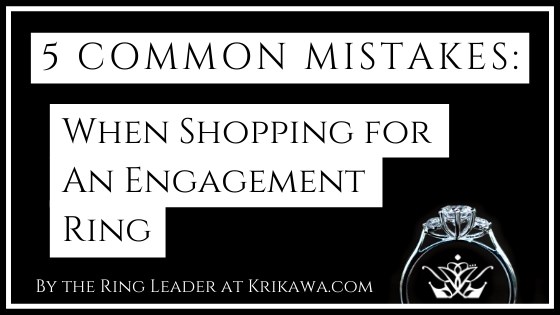 5 Mistakes Everyone Makes When Shopping for an Engagement Ring

LISA

I don't know about you, but I'm not a big fan of stuffy jewelry stores. They tend to be imposing and even a little intimidating, which is not the way most of us want to feel when making a major purchase like an engagement ring. Still, even in the most casual of settings, it's tough not to feel overwhelmed by all the choices. While any jeweler worth his or her loupe will help guide you through the process, missteps will happen. Here are some of the most common mistakes I see customers make—and my best tips on how to avoid them.

1. You Have No Idea What to Get
I don't expect anyone to visit my website or come into my store and already have the 4C's down pat. One of the jeweler's responsibilities is to educate shoppers, and it's something my staff and I take great pride in. That said, it helps if you look at an assortment of rings—either online or in magazines—beforehand, just to get an idea of which sizes and colors you like.

If you're buying the ring without your partner's knowledge, come armed with a few pieces of information: her ring size (here's how to estimate it), her sense of style and her taste in jewelry. Consider asking her closest family and friends for their input, too. Still unsure? Pick out the stone and place it in a temporary mounting. She can come back after the proposal and design the ring of her dreams.

Finally, figure out what's most important to you and your partner and communicate that right off the bat to your jeweler. Whether you want the best value, the rarest stone, a truly unusual setting or a conflict-free diamond, these criteria will help the professionals narrow down the choices—and keep you from feeling overwhelmed.

2. You Didn't Consider the Wedding Band in Your Design
Sometimes, in the excitement of creating an engagement ring, it's easy to forget about the wedding band. Big mistake. Depending on the design, some engagement-wedding ring combos will be impossible to pull off. For example, she may want a straight wedding band, so she can wear it alone sometimes, in the future, but her engagement ring requires a contoured band. Thinking about the wedding band early on will save you lots of headaches (and possibly even money) down the line.
The Gemological Institute of America is a non-profit gem research institute that's best known for its highly accurate grading of diamonds. It has the strictest standards in the industry, so when you buy a GIA-certified stone, you're getting the full scoop on its cut, color, carat and clarity from a trusted source.

4. You Didn't Give Yourself Enough Time
A customized engagement ring typically takes anywhere from four to eight weeks to make, so keep that in mind when you're planning out your proposal.
5. You Overshot Your Budget
There's an expectation that you have to go big or go home with your engagement ring, and that's simply not the case. We work with ring budgets of all sizes and never judge customers by theirs. Forget about the three months' salary rule and be honest with yourself about how much you can afford to spend right now. When you start shopping, be sure to tell your jeweler that number so he or she can find exactly what you want for exactly the price you need. It will save them, and you, precious time and money.
Look Around