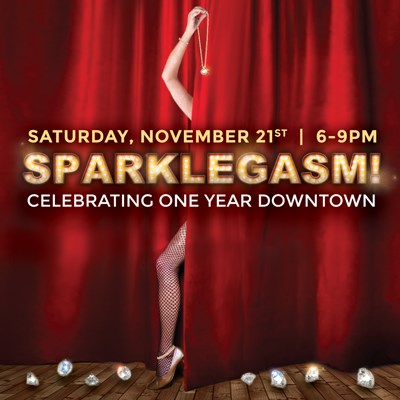 Nov 03, 2015
Empowering Kids Through Art With Our Anniversary Event
LISA
18 years ago
, Krikawa Jewelry Designs was born.
9 years ago, the company moved out of Lisa's garage.
One year ago, the biggest leap yet, Krikawa moved downtown, to the heart of Tucson.
Now, Krikawa Jewelry is all grown up. At the prime age of 18, it's time for a coming of age event and a celebration of a wonderful year in the downtown community.
We're opening our one year downtown anniversary show, called
"Sparklegasm,"
on November 21st, 2015. "Sparklegasm" is a fabulous word a customer used after receiving one of our
engagement rings
.
Urban dictionary
defines "Sparklegasm" as:
The physical and emotional sensation experienced at the peak of sparkly excitement, usually resulting from stimulation of the eyes by glitter, jewels or otherwise shimmery, shiny objects.
On Saturday, November 21st, you can expect a perfect mix of sparkle, sensuality, and philanthropy. There will be a thoughtfully curated selection of provocative works, thanks to Terry Etherton at
Etherton Gallery
. Handcrafted works of jewelry art will be there to dazzle you. However, this reception will not only support local artists by providing prime real estate to showcase their work, it will also be the center stage for a charity benefit for a fabulous local non-profit organization, Arts Express.
The purpose of
Arts Express
speaks to the heart Krikawa. As stated on their website:
"The mission of Arts Express is to change lives and build a better community by creating opportunities for children and adults to learn and experience the power of the arts."
To raise money for Arts Express, we're raffling off a gorgeous necklace and earring set that retails for $2,450. It's made of 14k white gold, diamonds, and a Tahitian pearl. What lady wouldn't want this sparkly delight put in her stocking this holiday season? We're only selling 500 tickets, so get yours while they last! Each ticket is $20, and you can go online to buy as many as you want.
Click here to purchase your tickets now!
Even Lisa Krikawa will have a piece of art and a piece of jewelry on display for this show, and that's a first!
Comments are always welcome! Let us know what you think.
Krikawa
.
Where Your Dream Ring Comes True.
Look Around