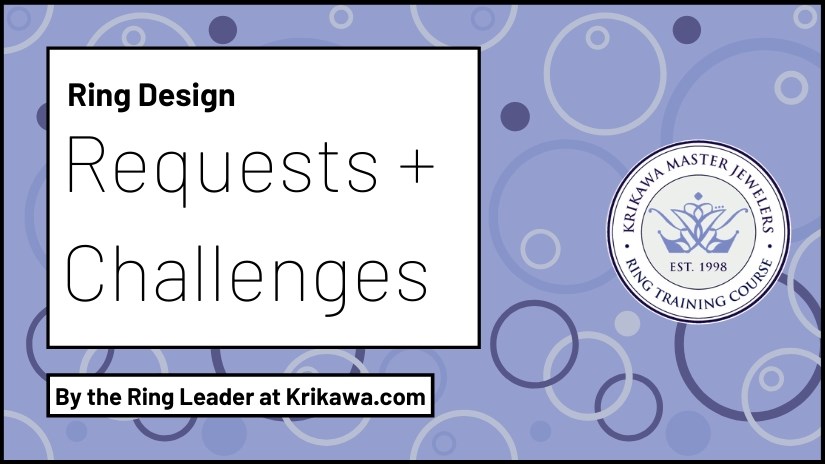 Ring Design Requests and Challenges

LISA
As a custom ring design studio that manufactures inhouse, Krikawa believes that when selecting your engagement ring design, you are in the driver's seat and we are your GPS guide. A true guide maps the best and safest route, navigates the obstacles for you, and gets you to your destination with a sense of ease. Of course, as designers we will make recommendations for your finished piece based on your intention and your daily activities, however we will never put you in the position of having to design the ring yourself.
Everyone is an Artist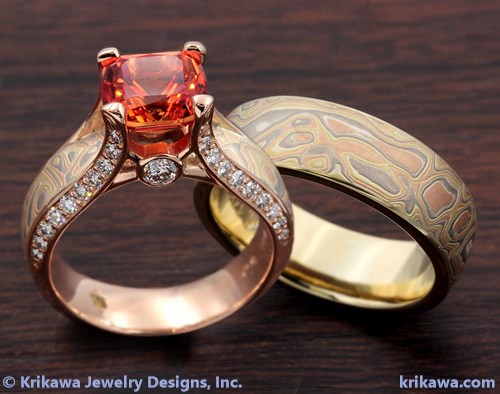 Many clients start shopping for an engagement ring after spending weeks, months, or even years looking at rings and they already have an idea of what they want. Others are truly undecided and want a designer to make decisions for him or her. Still others will approach a designer with an idea drawn on a napkin or a CAD file. (Yes, both of these have happened to me and I love it!) Everyone has an artist within and when you are inspired to put down on paper what is in your heart, don't hold back.

When we begin with a client, we ask for your inspirational images during our initial discovery session and find out what's important to you about the design and about your life. We use your sketches as a starting point for the design. From there, Krikawa's master jeweler team--from our design consultants to CAD engineers to goldsmiths--combine our expertise and work to figure out the best way to incorporate those aspects that are important to you in a piece that is structurally sound and aesthetically beautiful.
Three Common Design Requests

One of the biggest challenges in bridal jewelry is telling a client they cannot have exactly what they want. However, when you are in the business of making rings that will last a lifetime and beyond, sometimes it is necessary to "just say no" to a specific design request. As much as I hate saying "no", there have been instances when I've had to stand firm and not include an element that compromises integrity or aesthetics. Three design requests we often receive and overcome are described below.
1. Small Prong Requests

Clients want the center stone to be the star of the show and a common request is for an engagement ring with super thin or short prongs. Super thin prongs are prone to breakage—even from a slight impact—and short prongs are insufficient to hold the center stone in place. A vulnerable center stone is a serious hazard to an engagement ring. It is because of a center stone's importance that we will never design or create a ring in which the center stone is prone to loss. There are plenty of styles that will show off a center stone and not affect the integrity of the ring.
2. Soft or Alternative Metal Requests
Just like a marriage, every ring will face stress over its lifetime, and a good engagement or wedding ring will weather that stress while remaining flexible. Although I have never met a metal that I didn't like, Silver is such a soft metal I do not recommend it for engagement or wedding rings. While all precious metals show wear over time, scratches and dings will age silver far more quickly than other precious metals.

On the other end of the scale, a material can be too hard. Alternative metal wedding rings have been in vogue for some time now, stainless steel, cobalt chrome, meteorite, titanium, and zirconium are so hard that they cannot be resized. So, if your finger size ever changes (due to injury or weight), you may be stuck with a ring that you can no longer wear – and try explaining that to your spouse!

At the risk of sounding cliché, the best metals for engagement rings and wedding bands are (not in any particular order): platinum, palladium, 14k gold, and 18k gold. Even within this field, there are ring elements that I would not recommend for certain metals – for instance, I do not recommend palladium for fine, lacy elements in a ring. Having worked with both precious metals and non-precious alternative metals for over 20 years, good rings are made from a material that grows gracefully with your marriage, neither vulnerably malleable nor so inert that it cannot change at all. That is why our design consultants will only recommend metals that are best suited for your ring design and lifestyle.
3. Symbol Ring Requests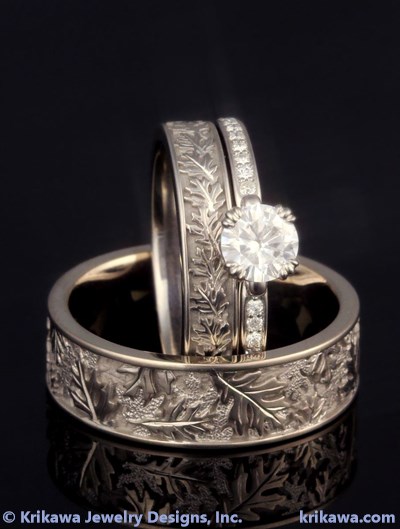 Some features that are genuinely attractive today may nonetheless be poorly suited to a forever ring—for example, a specific symbol capturing only a slice of the wearer's identity. While your beloved may adore tennis, even Serena Williams is not solely defined by the sport and I don't think she would want to wear an engagement ring shaped like a tennis racket for the rest of her life when there is so much more to her—entrepreneur, fashion icon, wife, and mother. (Serena, please weigh in on this if I'm mistaken.) With the help of an experienced design consultant who is genuinely interested in memorializing your love story in precious metals and stones, we'll provide guidance on how to incorporate meaningful symbols into your ring design.

Remember ring can be the most meaningful symbolic representation of the magic that brings two separate and beautiful people together and makes them into more than the sum of their parts. The Krikawa master jeweler team wants to guide you through our simplified custom ring process and help you create rings that beautifully define the magic of your relationship today and for decades into your future. Look Around