Emerald Engagement Rings
Emerald Facts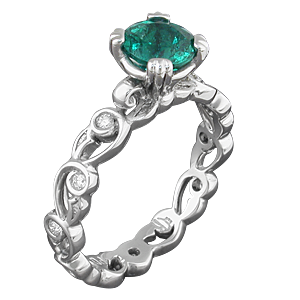 The emerald evokes thoughts of old Hollywood and even the days of Cleopatra. The legendary color of green found in emeralds cannot be found naturally in any other stone. Emeralds are rare; most of them seen today have a very strong degree of enhancements to give them more clarity. While it is a very beautiful stone, it has many qualities that make it problematic for daily wear.
Cons of Emeralds
Emeralds are oil treated as part of the post-lapidary process to improve their clarity. They cannot be cleaned in an ultrasonic or with chemicals because of their treatments.
Many emeralds are heavily included, and can have surface breaking fissures. All of these can create a stone that is weak, cracks easily and also does not have good clarity.
Emeralds have a 7.5 to 8 on the 10 point Moh's scale of mineral hardness which is good, but they are not tough and can be brittle. This makes it a poor choice for a piece of jewelry that will be worn daily.
There are lab created emeralds that have better clarity and are much less expensive, but they also have issues with their strength.
Sapphires and fancy diamonds make a better choice for a colored stone. However, they will not be the color of an emerald.
These issues do not preclude you from an emerald ring, but they are considerations.
Ideas for Emerald Rings
Emeralds look beautiful set in white metals, including White and Winter mokume gane.
Emeralds are most often set in traditional and vintage design styles, however they look great in modern designs as well.
Many people like to include a birthstone in their rings to represent their loved ones. Emerald is May's birthstone.
Beyond the problems an emerald poses, it is a beautiful stone and if treated with care you will be able to enjoy it in your custom designed Krikawa ring.