NATURAL SAPPHIRE
A Rainbow of Colors for your Sapphire Engagement Ring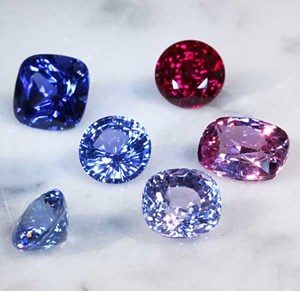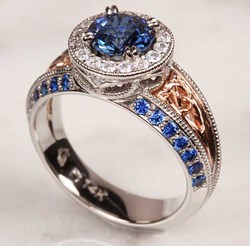 If you are looking for the finest gemstone to come out of the earth, a natural, untreated sapphire is a rare beauty to behold. Each gem is unique, with its own personality expressed in hue, saturation, shape, cut and inclusion characteristics. With our strict standards for cut, clarity, quality, and our personalized color approval system, you are bound to find your perfect, unique and rare sapphire at Krikawa. Your gemologist at Krikawa has an immense network of fine, reputable quality sapphire dealers and is adept at locating rare, untreated gems. Your sapphire is out there, and if we don't have it, we will find it.
Email us
for a personalized gemstone quote, or
start perusing our searchable database
.
Sapphire and Ruby Color


Sapphire is a variety of corundum, like ruby. Although sapphire has always been associated with the color blue, sapphire is actually available in a full spectrum of colors, including pink, orange, yellow, green, purple, violet, gray, black, and brown, as well as colorless. In addition to the hue, most sapphire colors can be found in a variety of intensities, also known as saturation. Rubies are classified by their telltale saturated blood red color, but can also include those stones with a slight pink hue. Any corundum that does not qualify as ruby is considered sapphire.
Not only does fancy sapphire exist in all the aforementioned colors and intermediate hues, there is even fancy sapphire that exhibits the phenomena known as color change. Most often color change sapphire appears purple under incandescent light and violet or blue under daylight or fluorescent lighting, but the phenomena can occur occasionally with other colors. Colorless sapphire used to be a popular diamond imitation, but there are now much better diamond simulant alternatives widely available to the public.
Hardness and Refractive Index

Sapphire is a fantastic choice for an engagement ring, as it is rated 9 on the Moh's hardness scale, compared with diamond, which is rated 10. It is considered "excellent" for everyday wear, as is diamond. However, we do not recommend setting colorless sapphire in an engagement or wedding ring. Unlike diamond, which is highly dispersive, sapphire has a lower refractive index, so colorless sapphire appears dull and lifeless. The refractive index of sapphire is still among the highest of all gemstones, and lightly colored sapphires can be extremely beautiful.
Value Factors and Heat Treatment of Sapphire
Sapphire has different value factors than diamond. Communicating color and quality is much less standardized and can be subject to interpretation. For this reason, we deal only with the most reputable gem dealers. Sapphire is bought and sold primarily on color, but there are other important factors that affect rarity, and therefore, expense.
Untreated, Natural Sapphire:
A natural sapphire that has not been enhanced in any way by heat or other treatments is very rare, and therefore, costly.
Heat-Treated, Natural Sapphire:
These are mined sapphires that have been exposed to heat to permanently alter the color and/or clarity. Sapphire is routinely heat treated (experts estimate that up to 95% of all blue sapphires undergo some sort of heat treatment), and often, low heat is simply used to remove the host rock from the crystal. This may not affect any change on the gem's appearance, nevertheless, any evidence of heat means that the stone must be considered heat treated. All else being equal, a natural heat treated sapphire is more affordable than a natural untreated sapphire due to the difference in rarity.
There are also a number of other treatments widely used to improve the color and/or clarity of sapphire, including (but not limited to) lattice diffusion (heating to very high temperatures in the presence of a coloring agent), fracture filling with oil or epoxy, cavity filling with epoxy, resin, or glass, and irradiation. It is our policy not to deal in the sale or trade of treated sapphire, since the affected changes are not permanent with any of these treatments.
To learn more about lab treatments of sapphires and other gemstones, see AGTA's
Gemstone Enhancements: What You Should Know
(PDF).
Designer Sapphire Engagement Rings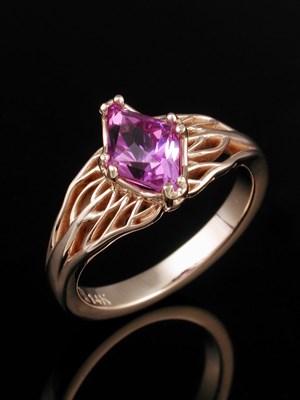 Nearly every engagement ring at Krikawa can be made with a natural sapphire and/or sapphire accent stones. Rated excellent for everyday wear, a sapphire is the perfect choice for the person who likes to express themselves with color. Find inspiring sapphire engagement rings in our collection.
What Sapphire Will Speak to You?