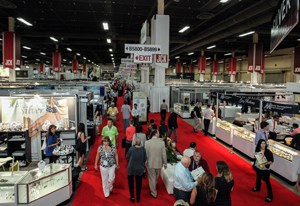 8 Hot Jewelry Trends in 2015

LISA

Every year in June, the who's who of the jewelry industry descend upon Las Vegas for the international convention JCK. Besides walking the floor and feeling like I've been transported to another country, I love seeing what design trends are emerging.

Here are eight of my favorites:
STONES
Tourmaline
This stunner of a gemstone was featured in everything from cocktail rings to big, colorful pendants to earrings. Though tourmaline is available in an array of colors, this year's hot shades are rubellite (pink), watermelon (green and pink) and green.
Ruby
Over the last few years, we jewelers have had slim pickings with rubies. But a new mine recently opened in Mozambique, and miners there discovered a veritable motherlode of them. Expect to see these beautiful red stones in all types of fine jewelry.
METALS
Rose gold
This pinkish metal has been wildly popular in recent years, and it's showing no signs of slowing down. With its statement-making color and flash, it's a natural fit for engagement rings. My favorite new look? A two-toned ring with rose gold accents.
MOTIFS
Butterflies
There were lots of butterflies fluttering around Las Vegas this year! I saw this sweet motif used in a variety of designs and in everything from pendants to brooches to bracelets.
Mother Nature
Designers are bringing the great outdoors into jewelry using gorgeous, organic shapes. Think pendants with flowers covered in pave pink or yellow diamonds or blue sapphires, or a vine-like ring with diamond-encrusted leaves jutting out onto the finger.
Negative space
This ultra-modern trend was borne out of the recent recession, when jewelers were forced to lighten up their design to cut costs. Thankfully, even though our economy is on the upswing, negative space is still an industry favorite. One stunning look I'm loving: a couple of delicate, open squares that overlap and are set on an angle—perfect as a topper for a ring or pendant.
STYLES
Baguettes
Sure, baguettes first made a splash in the 1950s, but this trend is back in a big, modern way. On engagement rings and wedding bands, the stones are set parallel to the finger, a la Scarlett Johansson's sparkler. Similarly, I saw stones set in a row on a bar necklace.
Collar necklace
You couldn't walk three feet of the convention floor without running into one of these showstopper necklaces. They're open in the front—they look almost like a big wire going around the back of your neck—so they don't require a clasp. But even better is how many ways you can play with the trend. I saw necklaces that were asymmetrical, one that wrapped around on one side and still more that hinged at the back.
Look Around