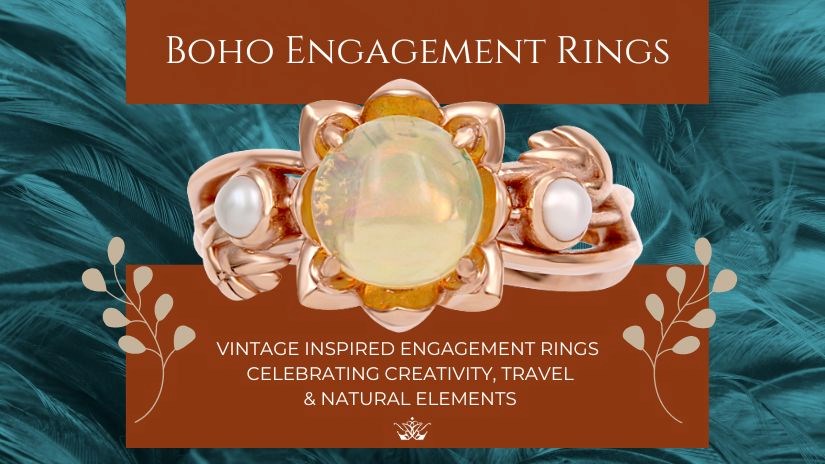 The Secret Sauce of a Boho Engagement Ring: Show Your True Chic Style

LISA
Boho-style engagement rings and wedding bands are trending because couples are breaking the old, established traditions of weddings. The expression of off-beat designs, unique reception locations, and handpicked elements resonates with the free-spirited couple. Many of today's couples want to show off their freedom-loving nature when they celebrate their ceremony, which gets carried through for a lifetime when they have a touch of Boho on their hand every day.
---

The Origins of Boho
Boho (Bohemian) Style is inspired by 1960s-1970s flower child design and lifestyle. Youthful people didn't want the American Dream that the post-war style encouraged. These people were curious about the world and other lifestyles outside the suburbs. Celebrities like Janis Joplin and Stevie Nicks wore long lavish imported clothing. Their clothes consisted of tassels and ornate patterns. The fashion was designed to be comfortable, softer, and whimsy. Men and women placed flowers in their overgrown hair and adorned handmade jewelry. People quit their desk jobs and traveled by VW buses with a community of friends to explore the world. Sounds like fun, right?
The Design Elements of Boho
Just like with all great styles, this one has come back with a unique twist. The lush psychedelic fashion has evolved to a simpler and delicate style, with elegant accents and elements.
This trending style includes color schemes with earth tones with pops of color. Natural elements of wood, pampas grass, rattan, leather, and other natural products are common. Handmade and recycled items are major keys to this style. Thrifted glassware and flatware for a dinner service give a quirky and relaxed style. Hand-crafted elements include dried flower arrangements and macrame decoration.
This fashion style is comfortable with natural materials and color choices. It's simple linen-made shirts with rattan furniture and cluster-style jewelry.
So What's the Perfect Center Stone for your Boho Engagement Ring?

The relaxed, recycled and natural vibe translates well to your center stone. While you may still opt for a natural white diamond, perhaps you switch it up by going for a unique shape, or going lab created instead, for the earth-friendly angle. Is white just too traditional for you? Diamonds vary in multiple colors such as Salt and Pepper, champagne, color-enhanced, and lab-created, so you can get those pinks, blues, and greens you may be dreaming of.
A variety of stones is very Boho chic. Krikawa designers help guide you in the pros and cons of all of your options. Many popular styles use stones that are softer and can be easily broken. You just have to weigh having the stone that you love and accept that it may need to be replaced occasionally. Moss Agate, opals, pearls, turquoise, and jade are examples of stones that could chip or scratch due to everyday use. While we'll make recommendations for stones that will have the best longevity, the final decision of what stones to put on your dream ring will be up to you!

---
Popular Boho Engagement Rings and Wedding Bands from Our Portfolio
Whether you 1) love an existing design just as it is, and have us make it with the gems and metals of your choice, 2) use a design as a starting point for your own custom design, or 3) start from scratch and have us design your perfect ring starting with sketches, you're sure to be inspired by a few favorites from our collections.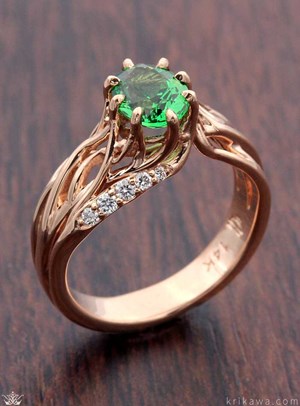 Connect with nature and whimsy. These natural designs are sculptural rings studded with precious stones. Tree branches embracing create a unique engagement ring that's expressive, beautiful, and meaningful.
Shown in rose gold with a one-carat oval tsavorite garnet and diamonds.
A mixed collection of unusual stones is perfect for Boho couples. Clusters of precious stones can symbolize what makes you special and unique.

Shown in 14k rose gold with a diamond center stone and sapphire accents.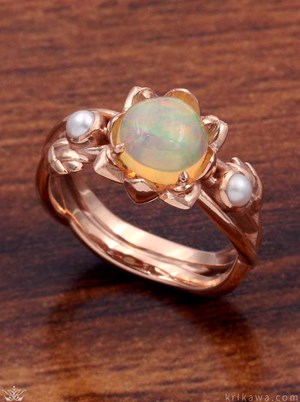 The boho style loves to break the rules. Your engagement doesn't have to be a diamond. The options are limitless: Sapphires, color-enhanced diamonds, garnets, and emeralds!
Shown in 14k rose gold with 7.3mm round Ethiopian Opal and freshwater seed pearl accents.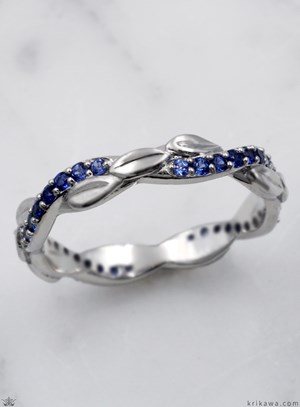 A dimensional ring with elements of nature. The twisted leaf wedding band is perfect for the boho-chic style. It still celebrates the style, without the weight. Dainty rings with unique engravings, motifs, and gemstones are ideal for the Boho-Chic style.
Shown in platinum with blue sapphire accents.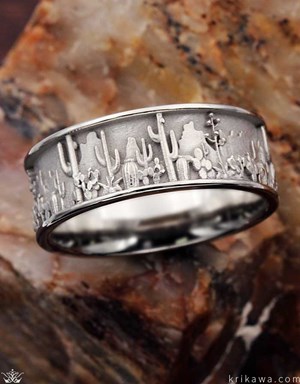 Nature-inspired wedding bands can tell a story. Create a story of a hike that time-stamped when you first fell in love. These rings have unique hand-crafted motifs of mountains and nature elements. And most of all, these are truly custom and one-of-a-kind.
Shown in platinum.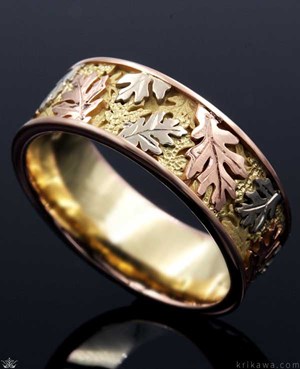 A wedding band doesn't have to be simple! This style includes hand-crafted motifs and layers of texture and color. Show off your creative side with unique designs that are special to you.
Shown in platinum, 14k rose gold, and 14k yellow gold.
How You Can Create Your Perfect Boho Wedding or Engagement Ring
So are you settled on a Boho design for your wedding and/or engagement ring? Maybe you know exactly what you want it to look like, or you have a few ideas and you don't how to get to your final solution. You're in the right place. Schedule an appointment with Krikawa today and meet our friendly design team. We're excited to help you create the ring of your dreams. We'll ask all the right questions and help you make wise choices. With sketches, mockups and renderings, we'll help you create a ring you'll cherish for a lifetime. Make an appointment for your free consultation now!
Look Around