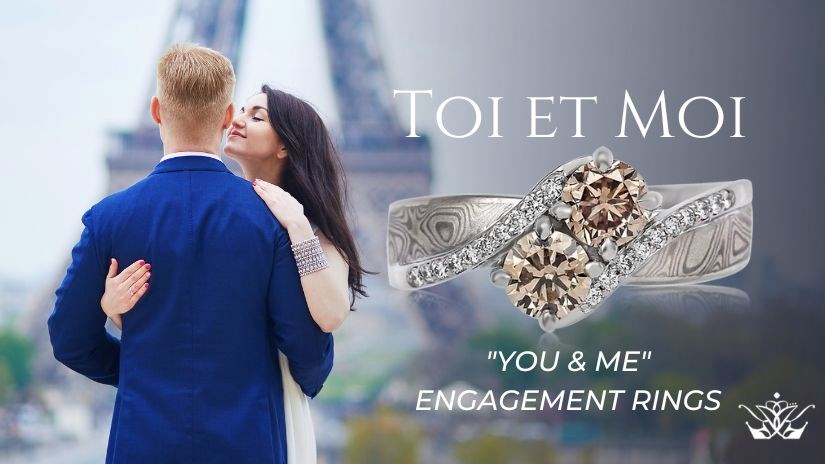 Two Stone Engagement Rings: It's "Toi et Moi" Forever!

LISA
Toi et Moi, or "You and Me" engagement rings are a unique design choice, and gaining popularity! The idea behind this style is that there are two center stones to represent the couple, rather than a single center stone. One for you, and one for me. The appeal of this style is that you don't have to choose just one cut or type of stone.

Celebrity Toi et Moi Engagement Rings
Celebrities like Megan Fox and Ariana Grande have received stunning Toi et Moi engagement rings. The appeal of this is mixing stone types, colors, and cuts. Fox's engagement ring consists of two pear stones of an untreated emerald and diamond. Whereas Grande's engagement ring has an oval diamond and pearl. A vintage style was First Lady Jackie Kennedy's engagement ring, by Van Cleef & Apparels, which paired an emerald and diamond wrapped in a floral wreath.

Choosing your Toi et Moi Stones
The sky is the limit when you are deciding what gems to represent you and your partner. Perhaps you'll keep it traditional, bright, and sparkly, and go with a diamond. At Krikawa, you'll have a choice of lab-created or natural.
Want color? From natural-colored diamonds to sapphires and other gemstones, a whole rainbow of options is at your fingertips. Your Krikawa design consultant will help you match stones that complement each other, whether they are a perfect match or a unique set.
Want to incorporate a diamond that has been passed down to you? Heirloom stones are perfect for this style! Someone is able to use a stone that has history and meaning and pair it with either another heirloom or a new stone. Your Krikawa design consultant has access to conflict-free diamonds and gemstones, including Old Mine and Old European cuts for a vintage feel to your Toi et Moi ring.

Creating your Custom Two-Stone Engagement Ring
Whether you 1) customize a design from our portfolio and have us make it for you with your favorite gems and metal colors, 2) take elements from different designs and have us create a new design, or 3) start from scratch and get your design started with sketches, you'll love working with our friendly team. Even more, you'll love your finely crafted work of art.

Here are a few designs from our portfolio to get your ideas flowing:
This dynamic engagement ring has it all. The band supports two round center stones. . A pave swirl frames the organic mokume style. Shown here with (natural?) diamond and ruby. Shown in 14k yellow gold with summer mokume and 1-carat ruby and diamond.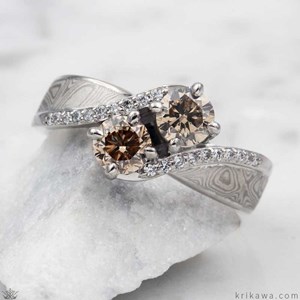 Framed by diamonds, two round diamonds shine on this engagement ring. The organic mokume pattern curves along the band. The matching stones represent the couple and the new adventures and possibilities ahead of them. Shown in 14k white gold with white mokume and champagne diamonds.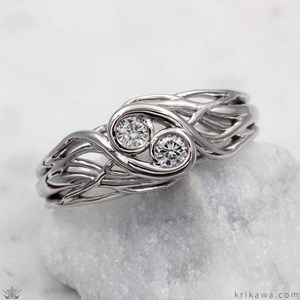 An iconic Krikawa tree branch engagement ring nesting two precious stones! The bezel-set stones are delicate as the thin branches intertwine. Perfect for the nature lover. Shown in platinum with diamonds.
Get help with your design ideas and stone decisions by booking a complimentary design appointment today and get ready to immortalize your union with a unique, one-of-a-kind Toi et Moi engagement ring.
Look Around